Samsung, Huawei and Apple ship the most phones in Q2 of 2020
Ivan, 06 October 2020
As expected, the second quarter of 2020 has been less profitable for smartphone makers than the same time of 2019, with the global pandemic and all. Overall Q2 of 2020 saw 20.4% fewer phones shipped at 294.7 million compared to Q2 of 2019's 370.3 million.
There haven't been drastic changes at the top - Samsung and Huawei got 20% share of the pie each with Apple sitting in third with 13.5% market share. Digging into the numbers reveals a bit more, however. Samsung shipped 54.7 million phones, down from 75.1 million in Q2 of 2019 and down from the 60 million in Q1 of 2020. Huawei shipped 54.1 million, compared to 58 million in Q2 of 2019, and captured 42.6% of the surging Chinese market. Apple was the steadiest with 38.3 million phones shipped in Q2 of 2020, compared to a nearly identical 38.5 million in Q2 of 2019. Gartner attributes Apple's good performance on an improved business environment in China.
The rest of the top brands were Xiaomi with 10.2%, nearly identical to its Q1 2020 result of 10.7% and Oppo with 8.6%. Meanwhile Realme is the only brand to score double digit growth with 11% over Q2 of last year.
According to data from Omdia, the Apple iPhone 11 was the best selling phone in the first half of 2020 with 37.7 million units. We've reported on the iPhone 11's Q1 performance, which at the time stood at 19.5 million units. Samsung's Galaxy A51 remains the second best seller with 11.4 million units and Xiaomi's Redmi Note 8 and Note 8 Pro following closely at 11 and 10.2 million. Apple's iPhone SE (2020) sold 8.7 million units, followed by the iPhone XR at 8 million, the 11 Pro Max at 7.7 million and the iPhone 11 Pro at 6.7 million.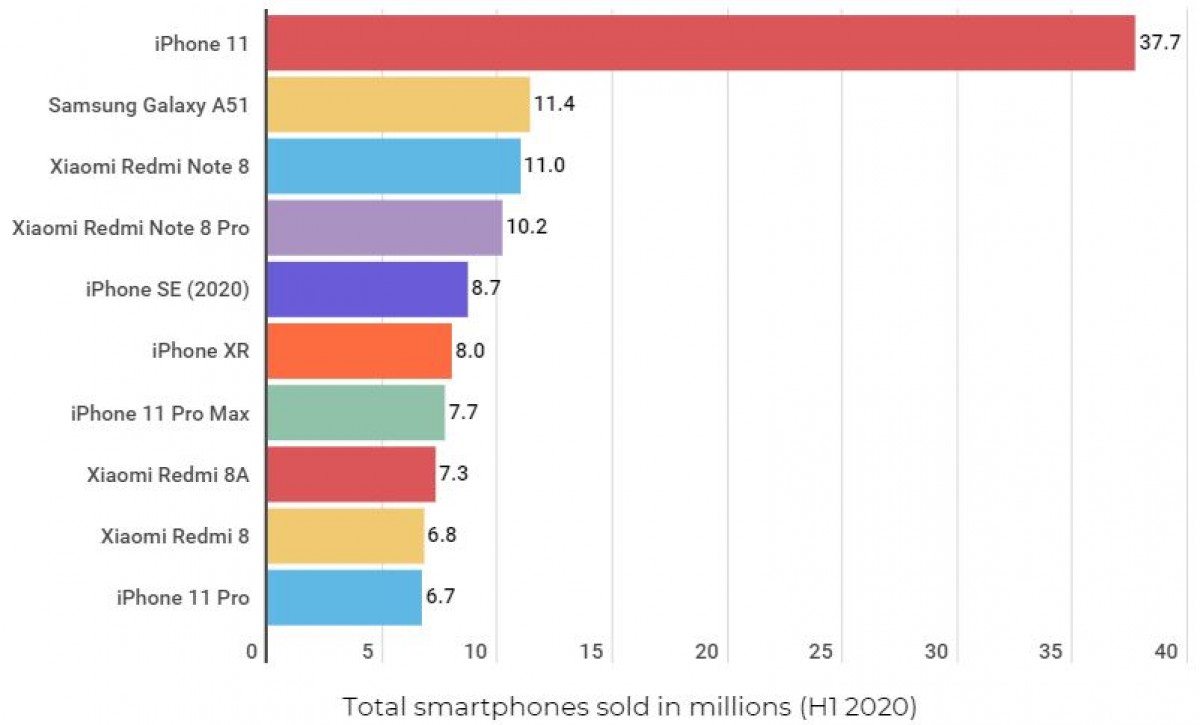 Related
I know samsung flagships don't sell like hot cakes, but I'm surprised a brand new galaxy S couldn't even sell more than 6.7 millions (lowest number in the chart for reference) in the launch's initial 3-4 months
Adul Al Salami Kebab
13 Oct 2020
nrX
Yes the US does have those issues but also the iPhone is cheaper there than ANY OTHER REGION, Scandinavia on the other hand is one of the most costly places to buy a iPhone and yet their share is sky high there... :I
Dont even get me started on the US. They have the worst choice of phones to choose from. And people are locked by the carrier system where only popular phones aka phones available on All carriers sell the most. And with the increasing amoun...
Popular articles
Popular devices
Electric Vehicles