Samsung Galaxy 3 and Galaxy Apollo review: Galactic twins
Galactic twins
GSMArena team, 12 August 2010.
Capable video player – DivX/XviD clips but no 720p
The Samsung I5800 Galaxy 3 packs a dedicated video player which supports both DivX and XviD. It handles DVD resolution just fine and that's the resolution most DivX videos are in.
The 720p video samples proved too much for it though and it can't play .MKV files (the format of choice for HD videos, even Google's WebM uses an MKV-based container). That's OK though, the screen doesn't have enough resolution anyway and there's no TV-out either.
Thanks to DLNA you can still display photos and videos on DLNA compliant hardware – like TVs or computers with the right software (the latest version of Windows Media player for example).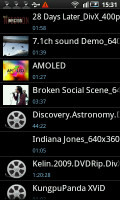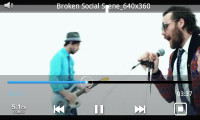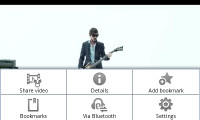 The Galaxy 3/Galaxy Apollo have a very good video player
The interface of the video player itself is as simple and as it could possibly be. You get a list of all videos available on the phone and the on-screen controls boil down to play/pause and skip buttons as well as a draggable progress bar.
Music player is really nice
The Samsung I5800 Galaxy 3 makes use of the TouchWiz music player. The interface consists of several tabs for the sorting options: current playlist, all tracks, playlists and albums, artists and composers. You are free to remove those you don't need to make the interface easier to navigate.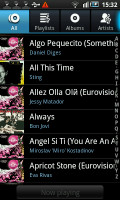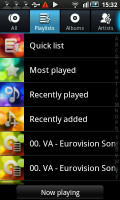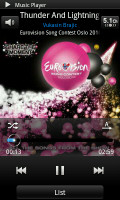 The music player has benefited greatly from the TouchWiz UI • Now Playing view
In addition, Samsung have enabled equalizer presets on the Galaxy 3 along with Samsung's DNSe technology. You can use the album art for the song (if present) or you can switch on the visualizations.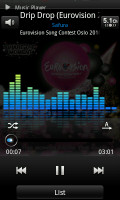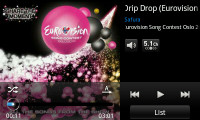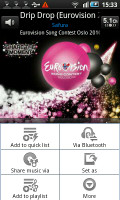 Visualizations • Landscape mode • settings
The great feature that allows you to quickly look up a song on YouTube or via Google search is also here. The handset also prompts you to select whether to look up the artist, the song title or the album. What's even better, the YouTube search results are loaded straight into the YouTube client.
FM Radio on board
The Samsung I5800 Galaxy 3 is equipped with an FM radio with RDS too. The interface is simple – there's a tuning dial and you can save as many as 6 stations as favorites. You can also listen on the loudspeaker, but the headset is still needed.
Great audio output
To be honest we were a little surprised by the performance of the duo here. Not that we aren't used to seeing decent performance by the Samsung devices, but those two did a bit better than the I9000 Galaxy S in our test. With pretty high volume levels and nicely clean audio output, the Galaxy 3 and Galaxy Apollo can easily replace your dedicated MP3 player.
There is really nothing to whine about with those two as they did excellent in each and every part of the test. As you can see from the table below all the readings are great and place the mid-range Galaxy handsets among the best performers out there.
And here come the results.
| | | | | | | |
| --- | --- | --- | --- | --- | --- | --- |
| Test | Frequency response | Noise level | Dynamic range | THD | IMD + Noise | Stereo crosstalk |
| Samsung I5800 Galaxy 3 | +0.02 -0.04 | -91.2 | 90.5 | 0.016 | 0.020 | -89.9 |
| Samsung I5801 Galaxy Apollo | +0.03 -0.04 | -91.0 | 90.3 | 0.017 | 0.021 | -89.9 |
| Samsung I5700 Galaxy Spica | +0.26 -3.47 | -88.6 | 88.5 | 0.011 | 0.774 | -80.2 |
| Sony Ericsson XPERIA X10 mini | +0.18 -1.64 | -86.5 | 88.9 | 0.028 | 0.409 | -83.8 |
| HTC Tattoo | +0.12 -0.63 | -84.8 | 87.2 | 0.018 | 0.156 | -84.8 |
| Samsung I7500 Galaxy | +0.13 -1.04 | -83.8 | 86.3 | 0.023 | 0.118 | -75.2 |
| Apple iPhone 4 | +0.01, -0.07 | -90.1 | 90.0 | 0.0068 | 0.012 | -89.6 |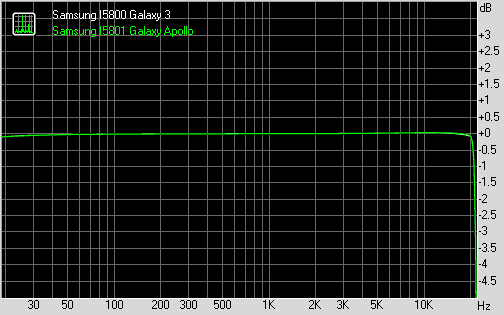 Samsung I5800 Galaxy 3 vs Samsung I5801 Galaxy Apollo frequency response
You can learn more about the whole testing process here.
I still have i5801 & it works fine. I 've fallen in love with android due to this phone. It was my 1st android phone & m proud that i made a right decision. Looking forward to upgrade it with NEXUS 5.
AnonD-175629
14 Aug 2013
utG
My First Android Phone. (Since Oct'2010) The phone which made me fell in love with Android. It has never visited a service center for almost two years, in-spite of me dropping it from the top of a cooling tower (49 feet). Steel lining took the im...
AnonD-171332
01 Aug 2013
Hkq
Try using earphones that too the ones came with the phone itself & u will know what they r saying...