Samsung I8700 Omnia 7 review: A whole new galaxy
A whole new galaxy
GSMArena team, 11 October 2010.
Gallery on an amazing screen
The Pictures hub is the photo gallery of Windows Phone 7. When you start it, it shows the most recent photos (including those from the camera), What's new (which shows photos from online services) and a menu, which lets you view all photos, photos sorted by date and the favorite photos.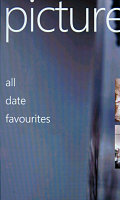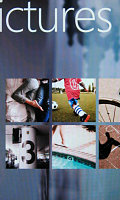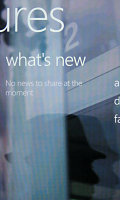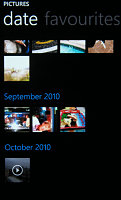 The Pictures hub • pictures can be organized by date
Viewing an individual photo supports pinch zooming and you can easily upload the photo to Facebook or share it on some other service. And as with the Samsung Galaxy S, the SuperAMOLED screen makes photos really pop.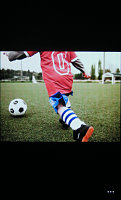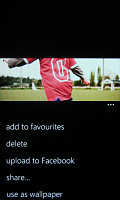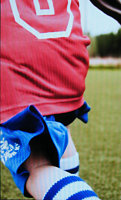 Viewing a single photo • zooming in with a pinch
We've had no issues with speed – Microsoft's minim spec requirement guarantees that even 5MP photos are handled without a snag.
Even so, Microsoft has decided to downscale photos when they are transferred from a computer to the phone using the Zune software (much like emailing a photo).
Music and video player
The media players reside together in the Music & Videos hub, which bears the Zune logo. When you start it, it shows the History, which gives you quick access to the last two things played, or you can go to the full menu and start the music or video player, listen/watch podcasts (both audio and video podcasts are supported), start the FM radio or go to the Marketplace.
The music and video players are simple and have straightforward interfaces. You won't have any difficulties using them. However there are some things missing – like equalizers. Another missing feature is the ability to scrub through a song with your finger – you have to press and hold on the FF/rewind buttons to simply jump back and forth.
It's interesting that you can pin individual items to the homescreen – like a song or video, even an FM radio frequency.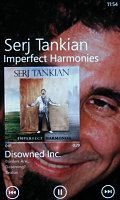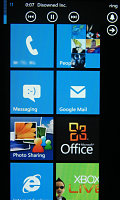 Playing some tunes • the handy music player control
The players can of course work in the background with a nice shortcut – when you press a volume key, the name of the currently playing track also appears along with play/pause, next and previous buttons (they can also scrub through the song).
The video player doesn't recognize .AVI files – in other words, don't expect DivX or XviD support. However, the Zune software on your computer will automatically convert such files to .MP4 – so, you can watch those formats on the Omnia 7, it's just that the transfer to the device can take quite a while (depending on your computer configuration).
Here's a video demo of the Pictures and the Music&Videos hubs:
FM radio is limited
The Samsung Omnia 7 also has a built in FM radio with a dead simple interface. You have the current frequency in very large digits – swiping left and right changes the frequency and a swipe and release automatically searches for the next available station in that direction.
You can mark some stations as favorites, which will allow you to pin them to the homescreen. There are some limitations though – we didn't see RDS or an option to play the sound through the headphones (their cord serves as an antenna) – the sound always comes out of the loudspeaker.
Audio output is quiet but clear
Samsung I8700 Omnia 7 did well in our traditional audio quality test. It's among the quietest handsets we have seen but it makes up for that with nicely clean output with audio tracks sounding just the way they were meant to. When attached to an active external amplifier (i.e. your car stereo or your home audio system) the device is doing an impressive job with the cut-off extreme bass frequencies the only thing to frown at.
When headphones come into play, the Omnia 7 remained a pretty solid performer and the worsened stereo crosstalk and intermodulation distortions are the only things that changed.
Here come the detailed results:
| | | | | | | |
| --- | --- | --- | --- | --- | --- | --- |
| Test | Frequency response | Noise level | Dynamic range | THD | IMD + Noise | Stereo crosstalk |
| Samsung I8700 Omnia 7 | +0.13 -1.14 | -84.4 | 85.1 | 0.017 | 0.266 | -82.5 |
| Samsung I8700 Omnia 7 (headphones attached) | +0.31 -0.33 | -80.5 | 81.1 | 0.016 | 0.311 | -37.7 |
| Samsung I9000 Galaxy S | +0.03 -0.04 | -90.7 | 90.6 | 0.014 | 0.019 | -90.6 |
| Samsung I9000 Galaxy S (headphones attached) | +0.40 -0.12 | -90.7 | 90.6 | 0.018 | 0.329 | -43.3 |
| BlackBerry Torch 9800 | +0.20, -3.87 | -89.0 | 87.5 | 0.0089 | 0.019 | -89.2 |
| BlackBerry Torch 9800 (headphones attached) | +0.27, -3.49 | -85.7 | 83.3 | 0.0088 | 0.248 | -40.4 |
| Apple iPhone 4 | +0.01, -0.07 | -90.1 | 90.0 | 0.0068 | 0.012 | -89.6 |
| Apple iPhone 4 (headphones attached) | +0.01, -0.07 | -90.4 | 90.4 | 0.0036 | 0.092 | -68.4 |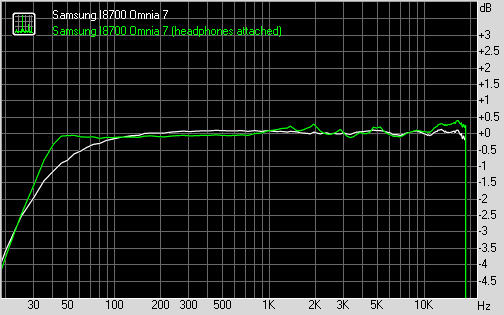 Samsung I8700 Omnia 7 frequency response
You can learn more about the whole testing process here.
Shit! My phone not work, I can't download app social media like what's up,line ,instagram,and BlackBerry massangger .the phone want me have ID in windows phone, I can't make it. Please help & tell me how download that apps . Replay me in : Rico...
I am using Omnis 7 for nearly about 5months and until now I haven't succeeded to install applications.please,if u have any help,u can contact me on :miloudh_80@yahoo.fr/ I Begg u
Without a doubt, its an amazing phone.. But still I have so many doubts about this phone 1. Is there ant other option to download the gallery to my computer other than Zune? 2. How can I use the zoom option while using video camera? If anyone k...