Samsung i8910 Omnia HD review: Going to the movies
Going to the movies
GSMArena team, 30 July 2009.
GPS navigation and digital compass are on board as well
The preinstalled navigation software on the Samsung Omnia HD can easily turn the handset in a fully functional SatNav system - especially thanks to the sensitive GPS receiver on board. It comes with the Samsung Mobile Navigator, which is based on the Route66 own mobile application. Though its maps graphics have somewhat outdated looks, feature-wise there's really nothing missing. It has voice-guided navigation and a huge number of additional features, but the goodies come at an extra cost.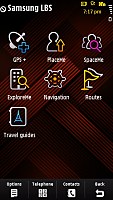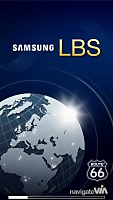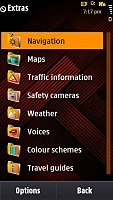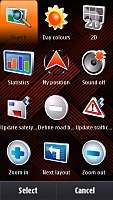 Samsung Navigator has pretty extensive functionality but it all comes for an extra fee
Unfortunately the voice guided navigation as well as the other services such as the weather service, traffic info and safety cameras info, travel guides didn't come with free license on our unit. We are guessing though that this will be strictly market dependent. Purchased separately, a one-year voice-guided navigation license for a given region costs about 70 euro.
Still if you are unhappy with Samsung Navigator for some reason you can go for some competing application. There are plenty third-party developers waiting to earn some cash by offering navigation software for Symbian S60 5th edition.
Another seemingly cool feature that the Samsung i8910 Omnia HD has is the digital compass. After a relatively quick initialization, it displays a virtual compass on screen. Our disappointment is that it's far from being really precise even after we calibrated it according to the instructions. On the positive side its integration with the SatNav application is really improving the navigation experience.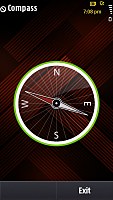 The digital compass isn't too accurate
Gaming on HD
The only game that comes preinstalled on the Samsung i8910 Omnia HD is the Asphalt 4 racing simulator. It offers accelerometer based-controls where you tilt the phone for the car to turn, which are responsive enough to provide nice gaming experience.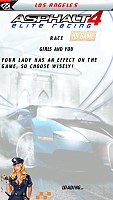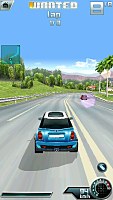 The Asphalt4 game is quite amusing
And having in mind that this is a Symbian handset, you are by no means limited to that title only. There are plenty of games to download and as more and more S60 5th edition devices make their way to the narket, there will be even more games.
Final words
When first revealed, the Samsung i8910 Omnia HD seemed almost too good to be true. Even the few bumps on its way to the mass market didn't spoil its appeal. The Omnia HD AMOLED display has neither the biggest screen estate, nor the highest resolution around but it still remains one of the top units in the touchscreen realm. And behind the welcoming gates, immense multimedia power awaits.
Certainly, imaging is the main focus and it can hardly be otherwise when video outdoes the market's second best by a whopping margin. We are pretty pleased with the camcorder output, especially now that the audio is on the level HD videos deserve. We still believe though the framerate has room for improvement.
But probably the biggest compliment to the video recording is that it leaves a capable 8 megapixel still camera in its shadow, not to mention the other cool extras that simply fade into the background.
Indeed, the Symbian-powered Omnia HD is one of the best equipped handsets we've ever had the chance to review. A brief look at the competition should help to see how far ahead it actually is.
If we had to pick one alternative to the Samsung i8910 Omnia HD, we would probably go for the Sony Ericsson Satio (previously known as Idou). It matches most of the features on the Omnia HD, but misses out on two of the most important ones - HD video recording (it's not that any other handset has that anyway) and the AMOLED screen. It does make up for those with a 12 megapixel shooter, but we still feel an extra-competitive price will be the only way for it to trade blows with the Samsung Omnia HD.
Then of course comes Samsung's very own Pixon12. However, with no smartphone platform to back it up and much smaller display it's targeting a different audience really. More fun-to-use than a workhorse device, the Samsung Pixon12 is a welcome substitute for your point-and-shoot on quite a lot of occasions. For cameraphone buffs, the choice between the Pixon12 and Omnia HD could be quite a tough one.
Another in-house competitor we thought of is the Windows Mobile-powered Omnia II. Samsung were smart enough to make the devices different enough, but this shapes up more like a friendly meeting than a deathmatch. But then, if a large AMOLED screen and all-in-one smartphone capability is your weapon of choice, then it will boil down to WinMo vs. Symbian.
We cannot help but mention the other handset that boasts the letters HD in its name. What seems an absurd claim in terms of video is quite a well-argued statement about screen resolution. The HTC Touch HD is no match for the Omnia HD when it comes to imaging, but elsewhere it's a pretty tough call between these heavyweights. And here ends another chapter in the WinMo versus Symbian clash, or as it has now become, TouchFLO against TouchWiz.
apple 'o' holic
19 Mar 2012
3pd
well i had this mobile. it was awesome. everything about it was good. except a couple of things. first the speed of cpu. was dire. just too slow for a smartphone of this type. and the support for apps. also i had it on orange. absolutely shocki...
Samsung I8910 HD o Sony Ericsson Xperia Neo V? I want to buy a new phone and need to know which one is better. please answer.
This phone is over 2 years old. When it came out it was great you should be getting an Android phone like the Galaxy S 2. Upgrade already.