Samsung i8910 Omnia HD review: Going to the movies
Going to the movies
GSMArena team, 30 July 2009.
Organizer good to go
The S60 organizer didn't obviously get too much effort beyond the actual touch optimization. Well, developers were right up to a point but, given the progress of most competitors, some new functionality would have been nice - like copy/paste of events in the calendar or a new calculator.
We have to admit though that the calculator is much more comfortable to operate with fingers than with a D-pad, almost as if it was designed for such use from the very beginning. However it is one of the most basic we have seen, offering a very limited set of functions. Even the Nokia S40 calculator has more features than this one. Luckily, you can find third-party alternatives.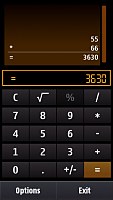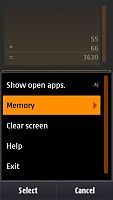 Omnia HD has the simplest of calculators
The calendar has four different view modes - monthly, weekly, daily and to-do, which allows you to check up all your To-Do entries regardless of their date. There are the same four types of events available for setting up as on S60 3rd edition - Meeting, Memo, Anniversary and To-do. Each event has unique fields of its own, and some of them allow an alarm to be activated at a preset time to act as a reminder.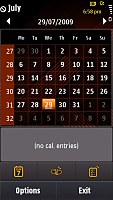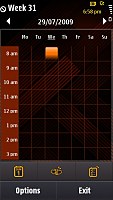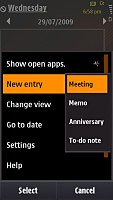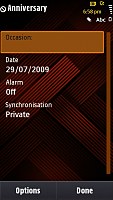 The calendar as we know it from S60 3rd edition
Mobile office is also very well geared, with preinstalled applications able to open Word, Excel and PowerPoint files seamlessly. A PDF viewer is preinstalled, as well.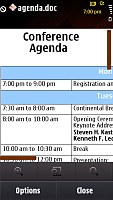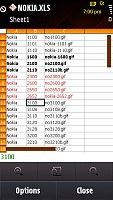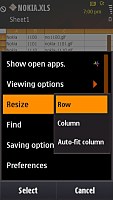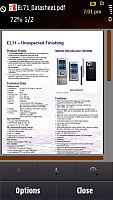 The document viewer has all formats covered but doesn't offer editing
Unluckily, editing documents is not supported by the included Quickoffice version. If you would like editing enabled you will have to download the paid upgrade to unlock that functionality.
The organizer package also includes a nice unit converter, voice recorder, as well as the Notes application.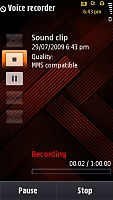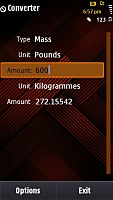 The converter and the voice recorder
The Alarm application allows you to set up as many alarms as you want, each with its own name, trigger day and repeat pattern. If this seems too complicated, there is a quick alarm setup where all you do is set the time and you're good to go. A World clock is also available.
In addition, the number of alarms is not limited. Thanks to the built-in accelerometer you can also snooze the alarm by simply flipping your phone, much like with the Nokia S60 5th edition handsets.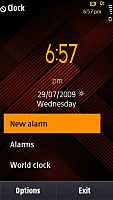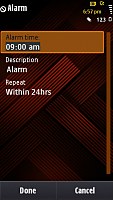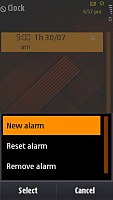 Setting up an alarm is easy but you don't get too many options
Finally we come to the useful smart search application, which can look for a specific bit of data through contacts, logs, images, videos, messages etc. You can choose a specific category that you want to search in or search all. This appication is an absolute must if you've got a lot of data stored on your phone.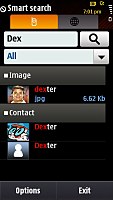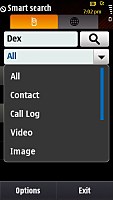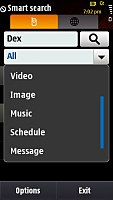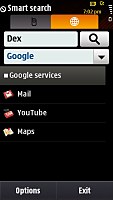 The smart search app can initiate a Google search if you don't find what you are looking for on the handset
apple 'o' holic
19 Mar 2012
3pd
well i had this mobile. it was awesome. everything about it was good. except a couple of things. first the speed of cpu. was dire. just too slow for a smartphone of this type. and the support for apps. also i had it on orange. absolutely shocki...
Samsung I8910 HD o Sony Ericsson Xperia Neo V? I want to buy a new phone and need to know which one is better. please answer.
This phone is over 2 years old. When it came out it was great you should be getting an Android phone like the Galaxy S 2. Upgrade already.