Samsung commits to 4 years of updates for its 2019 and later smartphones
Ivan, 22 February 2021
Samsung has taken a strong stance on security by offering an extended support of security updates for its smartphones.
All Galaxy phones from the Z, S, Note, A, M, XCover and Tab series, launched since 2019 will receive at least 4 years of security updates. At the time of writing that's more than 130 models.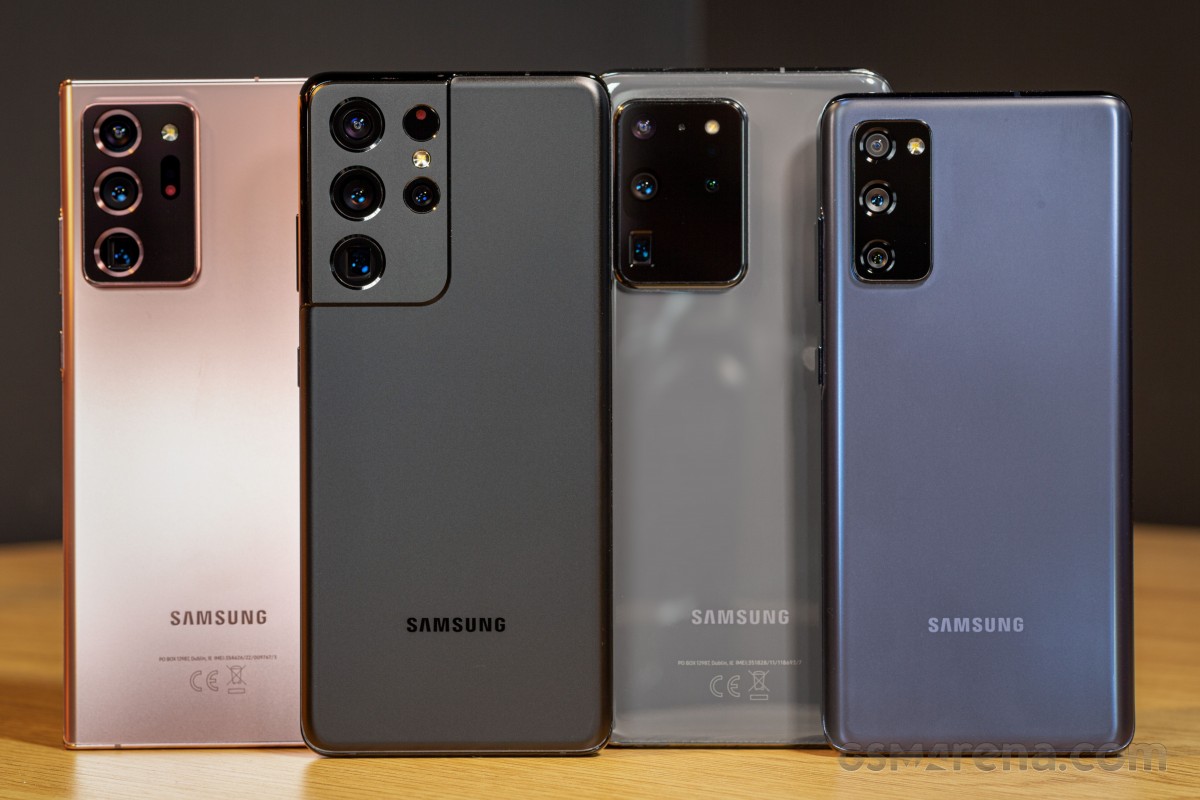 Now, these are security updates and not major OS updates, mind. Samsung recently promised 3 generations of Android OS updates for its flagships, but that is a separate thing altogether.
Security updates can be quarterly or monthly and they can take longer to get to a specific device, depending on its locale or carrier.
Here's the full list of devices that are eligible for at least 4 years of security updates. Interestingly, the Galaxy A02 isn't mentioned, (although the A02s is) and neither are the Galaxy M02 and M02s, so we can't verify if they are among the supported devices.
Galaxy Foldable devices: Fold, Fold 5G, Z Fold2, Z Fold2 5G, Z Flip, Z Flip 5G
Galaxy S series: S10, S10+, S10e, S10 5G, S10 Lite, S20, S20 5G, S20+, S20+ 5G, S20 Ultra, S20 Ultra 5G, S20 FE, S20 FE 5G, S21 5G, S21+ 5G, S21 Ultra 5G
Galaxy Note series: Note10, Note10 5G, Note10+, Note10+ 5G, Note10 Lite, Note20, Note20 5G, Note20 Ultra, Note20 Ultra 5G
Galaxy A series: Galaxy A series: A10, A10e, A10s, A20, A20s, A30, A30s, A40, A50, A50s, A60, A70, A70s, A80, A90 5G, A11, A21, A21s, A31, A41, A51, A51 5G, A71, A71 5G, A02s, A12, A32 5G, A42 5G
Galaxy M series: M10s, M20, M30, M30s, M40, M11, M12, M21, M31, M31s, M51
Galaxy XCover series: XCover4s, XCover FieldPro, XCover Pro
Galaxy Tab series: Tab Active Pro, Tab Active3, Tab A 8 (2019), Tab A with S Pen, Tab A 8.4 (2020), Tab A7, Tab S5e, Tab S6, Tab S6 5G, Tab S6 Lite, Tab S7, Tab S7+
Related
Anonymous
21 Sep 2022
rKm
Hats off to this Idiot who things this is from date of buying. Go back to womb.
Anonymous
08 Mar 2022
fI%
Major android update support for 4 years. If android upgrade every year, so you get android 11,12,13,14..ur phone considered 4 years support based on which year/month model the phone is, dont care when you bought it
Popular articles
Popular devices
Electric Vehicles