Samsung S5230 Star review: Hot starlet
Hot starlet
GSMArena team, 06 July 2009.
Messaging is flawless
As you might expect, the Samsung S5230 handles all common message types. The handset has a shared editor for SMS and MMS and a separate one for emails. A rich T9 dictionary is at the user's disposal too.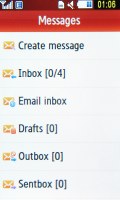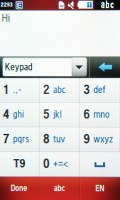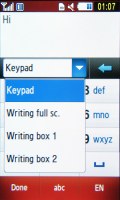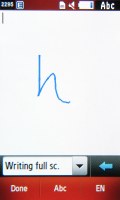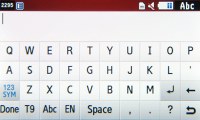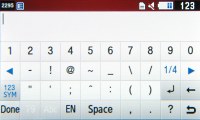 Messages menu • composing an SMS
Along with the regular numpad, which is usable enough, you get a comfy QWERTY keyboard. Even if your fingers are on the large side (like ours) you should experience a surprisingly high level of comfort and getting used to the keyboard takes no longer than a couple of days.
There's some limited Yahoo/Gmail (market dependent) integration but that boils down to a gmail.com shortcut loaded in the browser. Things are a little too small there and not so finger-friendly.
Of course, you can always use the native email client instead. It failed to retrieve Gmail settings automatically so we had to enter them manually, but once that's done, emailing is a breeze.
The attachment limit for sending is 5MB, which is enough for most file types. If you receive an office document as an attachment, you will be able to view it as well.
A good file browser
The Star's file browser can display the files and folders from the phone memory or the memory card, and even both at once.
There are folders for different types of files (images, video, sounds) to let the handset sort the memory contents. However, you are not forced to follow this structure - you can place your files wherever you want and the phone will have no problems handling them.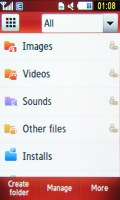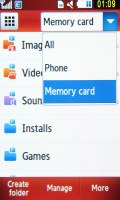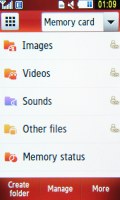 The file browser is quite efficient
You can copy or move files - both one by one or in bulk, and you can create and delete new folders (except the predefined folders, like Images, Sounds and so on).
Files can also be sent via Bluetooth, one by one again, or in bulk. Throughout the whole file manager you can pick files you would like to lock to prevent accidental deletion.
Reading from the memory card is quick and won't inconvenience users at all. Listing the thumbnails of pictures stored in the respective folder on the memory card is quite fast.
Having said all that we once again must express our annoyance at the slow initial recognition speed of the memory cards (regardless of the capacity). That aside, the phone handles problem-free a 16GB microSD card full of thousands of different files. Working with the files on the memory card once it's initialized is fast enough to satisfy most users; however, speed does drop when the card starts filling up.
Music player and FM radio with RDS
The music player of the Samsung S5230 is exactly the same as in the S5600 and hasn't been much altered from the M8800 Pixon.
It allows filtering tracks by author, album, and genre. Automatic playlists (recently added, most played etc.) are also generated and can subsequently be used as filters. If that doesn't seem enough, you can create your own custom playlists. The music player can naturally be minimized to play in the background.
The music player also has a dedicated widget, allowing quick access to the full version of the application with only a single tap. You can also start, stop and alternate tracks straight from the home screen if you prefer.
The equalizer offers the standard presets like pop, jazz, classic, etc. but it also packs three options thanks to the DNSe sound chip - widening, dynamic and surround effects.
Last, but certainly not least, the player is nicely touch-optimized to include fast forward and rewind, just like on the S5600. This adds up to an excellent music application that can fully replace your portable MP3 player.
The Samsung S5230 Star features an FM radio with RDS. The Star's radio app offers intuitive controls and has the Find Music recognition service implemented, which works much like Sony Ericsson's TrackID.
There's an option to record radio broadcasts as well, which can be a cheapo way to get individual tracks or whole song sets off the radio.
The radio app is in the Applications menu but the Radio widget on the home screen gives you more immediate access. Tapping on it brings up the radio or you could just use the widget's controls to start/stop the radio or change the station. It can only skip between saved stations though, and if you want to search you'll have to do it in the actual app.
Speaking of stations, you can save stations but they are labeled just by their frequency and you can't rename them. There's a separate list for your favorite stations though.
It's from 2009 for god sake!
Sweet kind kid
13 Sep 2013
NwF
It doen't suport whatsapp
your nikname(optione
18 Mar 2013
a3x
Your Comment