Samsung S7330 review: Soul junior
Soul junior
GSMArena team, 16 September 2008.
Display is good
Samsung S7330 packs a 2.2" 262K-color display of QVGA resolution. While this sounds pretty much standard for the company there is a significant upgrade here. Sunlight legibility is obviously improved, making the phone comfortable to operate even on the brightest of days.


The 2.2" display is an improvement over the previous generation of Samsung devices
Poor sunlight legibility has been plaguing Samsung handsets for ages and we are glad that steps are taken to deal with it.
Other than that, the display also has adjustable brightness levels and very good picture quality. Contrast is crisp as usual and the image can hardly be accused of lacking vibrancy.
Flat keypad has room for improvement
The keypad of Samsung S7330 left us with mixed feelings. The keys that are revealed, once you slide the phone open, might seem large enough, but the combination of wide columns and narrow rows isn't the best.
Compared to the U900 Soul, there are now etched borders between keys but that's more of a visual thing than an actual boost to tactility.
The metallic ridges that went from side to side on the Soul keypad are now demoted to useless design accents. The top row of keys enjoys sufficient headroom and the Phonebook key, C key and Organizer shortcut are easy to reach and use.
The bottom row however is kind of sunk beneath the ornamental frame of the keypad bed and thus hard to access.
Pressing a key is marked by a distinct click and that's a point in favor of the flatbed keypad. The backlighting is strong and even.


Backlighting is nicely strong and even
Great at making calls
Making calls with Samsung S7330 Soul is generally trouble-free. Voice quality is good enough on both ends of the line and we had no trouble with the handset at all.
Usual Samsung, the S7330 has a number of dialing animations to choose from - most of them rather childish but still amuzing. In this particular case the options are: Quill pen, Sticky note, two named "Normal", Living world and Theme. The last two vary a little according to the currently selected theme or your location.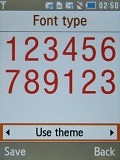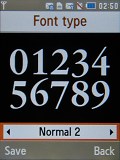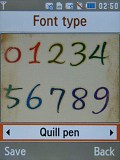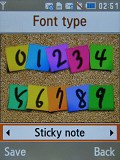 Some of the animations available when dialing a number
The Smart dialing feature (called Search as spelling by Samsung) can assist dialing by looking up automatically once you start dialing. When you dial in some digits, the handset fetches not only the contacts who have phone numbers containing those, but also contacts whose names match the keypad input (much like T9 but for dialing). Effectively, that means that you may never need to dig in your contacts list to find a contact to dial.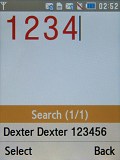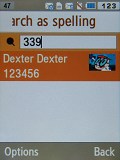 Samsung S7330 automatically looks up for contacts whose numbers contain the typed digits
We did our traditional speakerphone test with the Samsung S7330 to complete the telephony-related part of the review. Here is how it ranks along some of the other handsets we've measured recently. It pulls off a very good level, ranking well in the top half of the table. You can find more info on the test itself and the other tested handsets here.
| | | | | |
| --- | --- | --- | --- | --- |
| Speakerphone test | Voice, dB | Pink noise/ Music, dB | Ringing phone, dB | Overal score |
| Samsung D880 | 66.2 | 65.0 | 66.0 | Below average |
| Nokia 5310 | 64.8 | 62.0 | 75.9 | Average |
| Samsung U900 Soul | 69.7 | 66.3 | 71.1 | Good |
| Samsung S7330 | 75.1 | 68.7 | 75.7 | Very good |
| Sony Ericsson C702 | 75.8 | 75.7 | 82.7 | Excellent |
it is nice phone.how can i buy this phone in australia? i am finding this one but i can't.so plz tell me........ mg.ashoks2004@gmail.com
Does this phone have the block incoming text messages option?
you cant get games because they are incompatible with Samsung phones