Samsung S8000 Jet review: Airborne
Airborne
GSMArena team, 08 July 2009.
Motion gate
The Samsung Motion gate a.k.a. Motion UI featured on the Samsung S8000 Jet is Samsung's own motion recognition engine which gives you access to your multimedia favorites just by tapping, tilting or flipping the handset. It gets activated by a long press on the same middle key on the handset's right side, which launches the Media Gate.
A cube appears on screen again but this time only two of its sides are usable and you can pick which two applications should go there. The available options are camera, music player, FM radio, speed-dialing a favorite contact and motion game.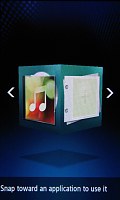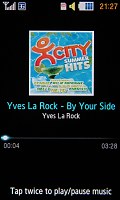 The Motion gate allows motion-based control of two multimedia features of your choice
To launch a Motion gate application you need to flick the phone left or right. The Samsung S8000 Jet apparently has a remarkably sensitive accelerometer as it precisely recognized almost every command.
Once you launch an app through the Motion gate (except speed-dialing which simply dials the predefined contact) you once again get an interface different from the one you can find in the menu. It allows you to control its features by double tapping on the phone's panel, snapping the phone left or right or flipping it.
For example you can double-tap to play/pause the music player and snap it left or right to skip to the previous or the next track.
In case it seems somewhat complicated to you, Samsung have also included a motion tutorial that explains how each gesture works.
Not much more to want from the phonebook
The Samsung S8000 Jet comes with a phonebook that can store up to 2000 contacts with multiple fields. You can assign a photo to each contact, or even a video if you so wish. On the downside, those pics can only be used as caller ID and are not visible in the contact list. You can view contacts in the phone memory, the SIM card, or both.
The Jet offers two search patterns for the phonebook. The first is the traditional search by typing a part of the contact's name. It doesn't work all that well with the virtual keyboards however. You have one extra click to open the text box to type and only after you tap 'Done' do you get to see the search results.
So, we ended up using the alphabetic scroll most of the time. Quite nicely, Samsung have provided the option to place the scroll bar on either side of the screen to facilitate single-hand usage for both left and right-handed users.
Frankly, the Jet screen size favors single-handed use anyways but we guess the variable scroll-bar position is still a nice touch. Of course, the kinetic scrolling is also available in the search but it's not quite so convenient in longer contact lists.
We like it that this time Samsung found enough space next to contact's names to place a Send Message and a Call button. The photo you may have attached is not displayed.
When editing a contact there are first and last name fields along with a field for the display name. So you can have a contact appear by his nickname while still keeping the contact's full name on record.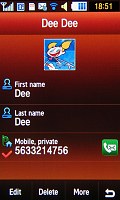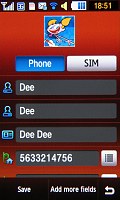 Editing Dee Dee's contact info
Another useful feature to avoid duplicate entries is that the phone will display a warning if the number for the new contact you just entered is already in the phonebook.
Photo contacts if you like
Just as most recent Samsung the S8000 Jet features an interestingly looking alternative to the phonebook. While it still relies on the regular contact database, the Photo contacts application might save you the effort of ever entering the phonebook again, once you've filled it up.
The app itself allows you to tag parts of photos, which can then be used as shortcuts to various contacts. That might be pretty handy if you are into grouping your contacts. You can take a photo of your colleagues and another one of your buddies and than tag each face to its respective phonebook entry. Then you are one photo away from calling everyone in for a poker night at yours.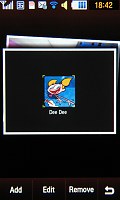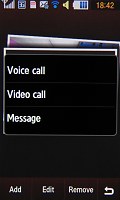 With Photo contacts you can use faces instead of names for browsing your contacts
Bear in mind that when adding a photo, faces are detected automatically but tagging is manual, even if you've already tagged that contact.
So in general photo contacts might not be the most practical application, but it is certainly one of the funniest ways to dial a number.
Call management is fine, Speaker Call we like
Quite expectedly the Samsung S8000 Jet is very good at its main job - making calls. Reception was problem-free with excellent voice quality during calls.
The dialer gets activated through its reserved shortcut on the homescreen or from the main menu. You can proceed to dial just like you would on any other phone. Unfortunately the smart dial feature works with numbers only, instead of names, which makes it pretty useless. When you punch in some digits, the contacts whose numbers contain them pop up but we doubt it anyone really remembers just a part of a contact's number.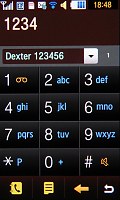 The smart dial feature is a no-go on the Jet
Normally that app should search contacts, whose names contain the letters corresponding to those digits but we guess it will take another device to get that right.
As most recent Samsungs, the Jet has a nice accelerometer-based telephony feature. It allows you to mute the ringtone of an incoming call by turning it face down.
The Jet also packs another cool accelerometer feature, which we do like. The so-called Speaker Call allows it to automatically activate the speakerphone when you take the handset off your ear during a call and place it on a level surface. Lift the phone back up to your ear and the regular mode kicks back in. Be warned however that switching modes takes a second or two so don't just stick it to your ear right away.
Samsung S8000 Jet also has a proximity sensor, which automatically turns off the display when you hold it next to your ear. Working like a charm, it makes sure you won't accidently press anything with your ear, while giving you instant access to all the on-screen controls when you take it off.
New events like missed calls or incoming messages show up on the homescreen as a widget. It has three tabs each signaling a different type of event. It also displays the sender's number and the time of the call or text.
Finally the Samsung Jet comes complete with a reject list option that allows you to selectively block numbers you don't want to receive calls or messages from.
As for the loudspeaker performance, here is how the Jet ranks alongside some of the other devices we've measured. You can find more details about the test itself, as well as the full list of tested devices here.
| | | | | |
| --- | --- | --- | --- | --- |
| Speakerphone test | Voice, dB | Pink noise/ Music, dB | Ringing phone, dB | Overall score |
| Apple iPhone 3G | 66.1 | 62.1 | 71.7 | Below Average |
| LG KM900 Arena | 70.9 | 68.2 | 78.3 | Good |
| Samsung S8300 UltraTOUCH | 70.1 | 66.7 | 75.8 | Good |
| Samsung S8000 Jet | 75.5 | 68.1 | 77.9 | Very Good |
| Samsung S5230 Star | 77.1 | 75.7 | 82.0 | Excellent |
Anonymous
31 May 2014
PAm
my samsung s8000 no skype
I want to oder a samsung jet s8000.. How to order?
My sumsung doesn't download applications or games