Samsung sees lowest profits since Q3 2011
30 October, 2014
Samsung is one of the phone manufacturers that make a significant profit (the other being Apple), but this last quarter the South Korean giant experienced a downturn. The consolidated revenue came out to $44.7 billion, down from $56 billion in Q3 last year. The company marked its lowest profits since Q3 2011.
The mobile division, which has been the most profitable part of Samsung in recent years, saw the biggest drop of 15% in sales. However, the bigger problem is that operating profit slid to $1,653 million, down from $4,179 million in Q2 this year and $6,350 million a year ago.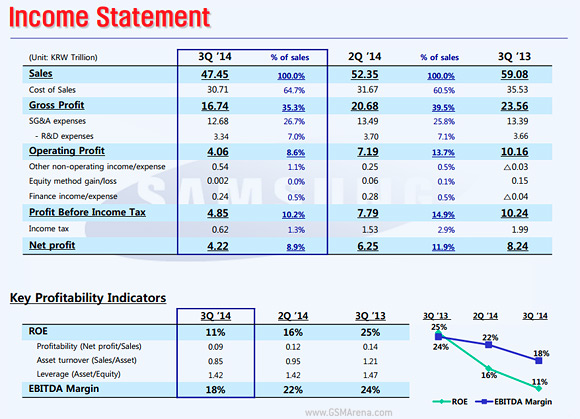 Samsung points to a shift in the product mix – it was mostly cheap and mid-range handsets that sold in this quarter, which lead to a big drop in the Average Selling Price (ASP). The Galaxy S5 sales dropped off and the Galaxy Note 4 only came out too late in the quarter.
Tablet sales improved with the launch of the Super AMOLED-packing Galaxy Tab S tablets, but sales in that segment was not nearly enough to compensate for the disappointing phone sales. Samsung expects sales of bot phones and tablets to pick up in the holiday quarter but increased competition will drive prices down.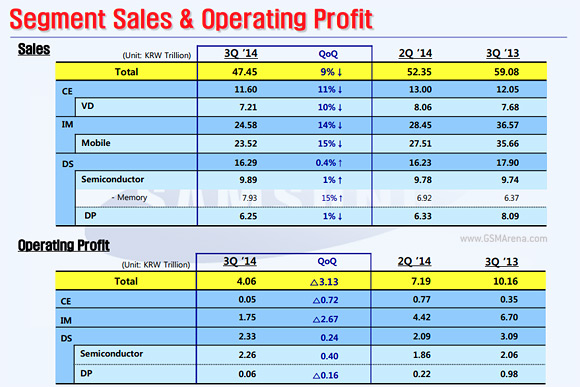 Samsung's TV business saw its profits hit almost zero due to lower ASP and higher prices of the display panels. UHD TVs and especially Curved TV shipments increased, but again not enough. Speaking of display panels, Samsung's OLED shipments were weak and strong LCD demand did not help, profits of this division also nearly zero.
It's only Samsung's semiconductor business that posted increased sales and profits (both on a yearly and a quarterly basis). There was strong demand for DRAM and NAND storage for both mobile devices and PCs with increasing shipments of 20nm DRAM chips and 10nm/3-bit NAND. All this made the semiconductor business the most profitable division of Samsung.
Related
It's not Apple that's hurting Samsung. It's other Android makers Xiaomi, Coolpad, Oppo, OnePlus, Micromax, Karbonn, etc. which have began offering flagship Android phones. It's easy to move from one Android to another, than from Android to iOS. App...
The risk of any brand in the Android arena is that the ecosystem is shared with countless others. For Samsung, it is the rise of the once lowly brands that is hurting sales. Xiaomi, Coolpad, Oppo, OnePlus, Micromax, Karbonn, etc. now offer flagship f...
Are you that dense??? you might wanna read the heading of this article again. Sony will come to the top, just wait and see. People will eventuall realise this company is nothin but hokum.
Popular articles
Popular devices