Samsung U600 review: Slim is sweet
Slim is sweet
GSMArena team, 03 October 2007.
Gloss all over
The Samsung U600 has a large 2.22" TFT display with a resolution of 240 x 320 pixels. The impressions it leaves can vary greatly depending on the conditions during use. When exposed to direct sunlight, the glossy surface makes it practically illegible and finding a proper angle for working with it could be a tricky job. The sunlight mode, which adds more to the brightness isn't much of a help either. Legibility in such conditions is almost the same as with Samsung D900, although the latter doesn't sport a dedicated sunlight mode. Still, leaving this problem aside, the display on Samsung U600 deserves a standing ovation. It has an incredible picture quality with enough brightness and contrast to satisfy even the most demanding tastes. It does better than D900 and that is an achievement definitely worth praising.


Samsung U600 display looks marvelous in the dark but beware that sunlight damages its legibility greatly
Telephony
Using Samsung U600 as a regular phone is almost as enjoyable as looking at its stylish casing. The sound levels are loud enough, while during calls the sound quality is as good as it might be expected in any phone of such respectable make.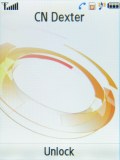 Telephony works like a charm on Samsung U600
Dialing a number has always been fun with Samsung, as you always have some sort of dialing animation, or a choice of several ones. With the U600 you only have four animations: Quill pen, Sticky note, Normal and Theme with the latter varying a little according to the theme. The full Smart search feature can assist your dialing by looking up your phonebook for contacts whose names or numbers contain the digits you've typed. Samsung D900 for example doesn't have that feature.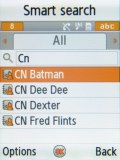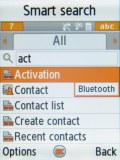 Smart search is the great searching feature on Samsung U600 • It searches the whole contents of your phone but is most useful when looking up a telephone number
Here is how Samsung U600 ranks along some of the other handsets we've measured in our new speakerphone loudness test. More info on our test here.
| | | | | |
| --- | --- | --- | --- | --- |
| Speakerphone test | Voice, dB | Pink noise/ Music, dB | Ringing phone, dB | Overall score |
| Sony Ericsson W960 | 72.3 | 73.5 | 76.7 | Very good |
| Samsung D900 | 76.8 | 75.9 | 78.0 | Excellent |
| Samsung U600 | 66.7 | 66.2 | 75.3 | Very good |
| Sony Ericsson K850 | 71.0 | 75.7 | 75.7 | Very good |
Samsung by heart
Samsung U600 is controlled in a very similar way to former models of this maker. The main menu is accessible from the stand-by display through a press on the left soft key. The right soft key is reserved for the phonebook. The central key on the navigation pad launches the WAP browser in standby, as we already mentioned. At the same time, each direction of this primary control can be assigned a shortcut to a list of 22 items. Except for the up key, because it is reserved for opening the My menu, where you can configure your preferred and most frequently used functions.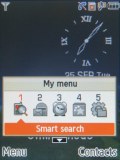 My menu is a great shortcut feature you can load with you favorite functions for faster access
| | |
| --- | --- |
| Using Samsung U600 as a regular phone is almost as enjoyable as looking at its stylish casing. The sound levels are loud enough, while during calls the sound quality is as good as it might be expected in any phone of such respectable make. | <#AdRectangle#> |
The stand-by display offers the typical Samsung looks. The top bar is reserved for standard details like signal strength, battery status, GPRS or EDGE connectivity, ringing mode etc. The bottom bar features description of the functions assigned to the soft keys. It also features the animated traveler background (uGo) with analogue clock we came to know since Samsung D900. It sets the background image according to the country where the phone is being used. Background wallpaper is animated: birds are flying in the sky, clouds are moving etc. From 7 pm till 6 am night mood takes over: the sunny sky gets dark, while houses get lit up. We saw that a feature we appreciated back in D900 lacks in U600 - that's the option to have a calendar display on the home screen in standby mode.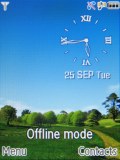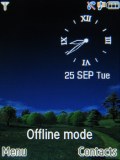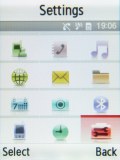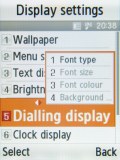 The cool animated standby changing its looks according to the time of day has became a Samsung trademark
The main menu can be displayed either as a 4 x 3 grid of icons or as a standard list. The menu has two color versions: a stylish black one, where only the selected icon is color-toned, and a more vivid and colorful white one. Sub-menus get visualized as pop-up windows accessible through the horizontal ways of the D-pad. Should you find that uncomfortable, you can access them directly. The much contested feature of all recent Samsung phones, where the last used items and sub-items are highlighted by default when you open a submenu is also present here. We like it this way and it proves useful when you use a given feature more than once. Still some may have other needs and will have every right to disagree. A nice innovation is the addition of three font sizes to be used throughout the user interface. A lot of people did miss that function in previous Samsung handsets.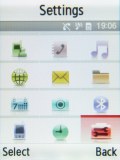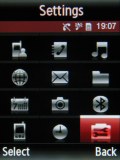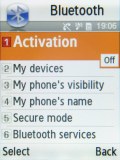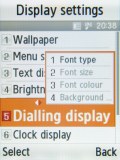 Samsung looks are all over but this time font can be adjusted in size too
Samsung U600 automatically locks its keypad once you close the slider. You can then unlock it either by pressing the power key or by sliding the phone open. Whether closing the slider should stop the running application or not is also user-configurable.
Phonebook
The phonebook of the Samsung U600 can store up to 1000 contacts with multiple fields. It displays the names from the phone memory only or all names from both the phone memory and the SIM card at once. Searching employs gradual typing of the contact's name. Samsung U600 does not search in both the contact's first and last name. That is strange enough considering that this option was available back in Samsung D900. Maybe Samsung insist on using the smart search application in such cases.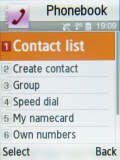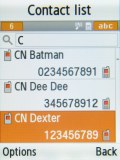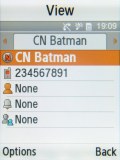 The phonebook hasn't undergone significant changes, except for the fact that searching by last name is not possible anymore
A total of 12 fields of information are available for each contact. You can store up to 5 numbers, plus an email address and a note. Each contact can also be assigned a specific ringtone and picture. You can even set a video as "caller's image" - a feature that was absent in Samsung D900. Contacts can be organized into groups, but calls cannot be filtered based on groups. Unfortunately there is no birthday field, which we found quite inconvenient. Contact details or your whole contacts list can be sent via Bluetooth. There is also an auto reject list to enable filtering of your incoming calls.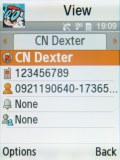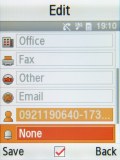 Editing a contact offers a good variety of fields
There aren't any changes or novelties in the call logging department. The Dial key on the touchpad opens a list of the recent contacts, while opening the Call log from the main menu will provide some additional details as well as call and message counters.
Samsung user
06 Feb 2017
M%j
My Samsung U600 do not want to accept year 2017 in time settings. It ends at 31.12.2016. it is pitty - device is still working perfectly and looks like a phone used for 2-3 months. Battery still lasts 3 days. The only drawback is that it uses another...
jhonjie roncesvalles
12 Jul 2010
PSk
u600 is shutdown system, how to repair
a correction: it can play mp3 in the background, but only if you set it to "music player overrides other sounds: ON". then, when you press back, it continues playing. the side buttons now control the music volume, thank god.