Samsung U900 Soul review: That's the spirit
That's the spirit
GSMArena team, 14 March 2008.
Display: great picture quality but poor sunlight legibility
Samsung U900 Soul is equipped with a 2.2" 16M color TFT LCD display that supports QVGA resolution. It is one of the first Samsung handsets with a more than 262K-color screen. Not that it's that important, as the difference between 262K-color and 16M-color displays is barely visible on most cases. You either need a really trained eye or a special picture to notice anything.




The display has great picture quality indoors
The display itself has remarkable image quality and brightness, but is quite disappointing in terms of legibility under direct sunlight. As a matter of fact, this is the case with almost all recent Samsung handsets. We can't help wishing Samsung did something about that. It's a real pity that almost perfect indoors, the screen becomes useless outside.
So, whether you will like the display or not will greatly depend on where you use it most.
Keypad is the heavy texter's best friend
The keypad of Samsung U900 Soul was one of the most pleasant surprises to us. If you have been keeping track of our recent reviews you will know that dead flat keypads are not really our cup of tea. Therefore we didn't really expect wonders of this one. That's until we started using it.
The keypad uses really large keys and small metallic borders between rows to ensure great touch orientation. Also, mixing up two neighboring keys is pretty much out of the question with the U900 Soul. The space between keys cannot be pressed and this way borders exist without damaging the design of the keypad.




The keypad of Samsung U900 Soul was a really pleasant surprise to us
We are also generally very pleased with the touch pad and the controls surrounding it. The sensitivity of the touch pad can be set to one of the three available levels. When the sensitivity is to its minimum the touch pad needs as heavy press, almost like a normal key. This can be useful for people who cannot get used to the combination of touch sensitive and regular keys. As for us - we always used the phone with the touch sensitivity to the maximum as it provides best touch experience.





Touch pad icons: home screen shortcuts • four-way navigation with confirming center • Touchpad goes landscape: camera shortcuts and four-way navigation in camera menu
Another feature of the touch pad that we particularly enjoyed is the fact that you can configure the haptic feedback. You can once again go for one of the three levels of intensity and you can even switch it off if you prefer to do so.





Some of the other touch pad icons
The backlighting is really nice. It is strong and even and makes using the phone in dark environments a piece of cake. All this said, we can safely conclude that the keypad of Samsung U900 is really great and texters will truly enjoy the phone.
Telephony
Making phone calls with Samsung U900 Soul is an enjoyable experience. Voice quality is great on both ends of the line.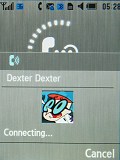 Calling Dexter on Samsung U900 Soul
Dialing a number has always been fun with Samsung, as you always have some sort of dialing animation, or a choice of several ones. In the case of Samsung U900 Soul you have as many as six of them: Quill pen, Sticky note, two named "Normal", Living world and Theme. The last two vary a little according to the theme or your location.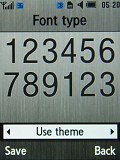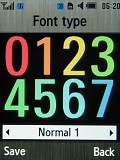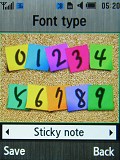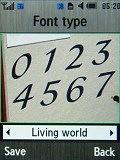 Some of the available dialing styles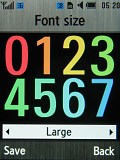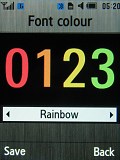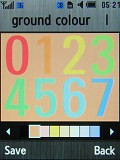 The font color and size as well as the background cover can also be changed
The Search as spelling feature can assist dialing by looking up your phonebook for contacts whose names contain characters corresponding to the digits you've typed. The Samsung U900 Soul also automatically looks up contacts, whose numbers contain the typed digits. The two types of searches really allow you the quickest access to any contact in your phonebook.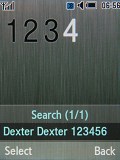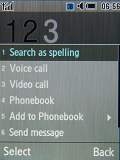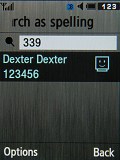 Samsung U900 Soul automatically looks up contacts whose numbers contain the typed digits • The search as spelling feature is also quite nice
We also did our traditional speakerphone test with the Samsung U900 Soul. Here is how it ranks along some of the other handsets we've measured recently. It performs on a good average level, ranking just about the middle of the table. You can find more info on the test itself and the other tested handsets here.
| | | | | |
| --- | --- | --- | --- | --- |
| Speakerphone test | Voice, dB | Pink noise/ Music, dB | Ringing phone, dB | Overal score |
| Samsung U900 Soul | 69.7 | 66.3 | 71.1 | Good |
| LG KU990 Viewty | 72.0 | 68.8 | 77.8 | Good |
| Nokia 6500 slide | 74.2 | 72.8 | 78.2 | Very Good |
| Nokia N95 | 77.3 | 66.6 | 78.0 | Very good |
| Samsung U600 | 66.7 | 66.2 | 75.3 | Good |
| Sony Ericsson K850 | 71.0 | 75.7 | 75.7 | Very good |
User interface has seen some improvements
The user interface of Samsung U900 Soul is a slightly improved version of what we saw in the Ultra II line of handsets. It allows greater customization and some new capabilities but nothing revolutionary. Apart from the touchpad, that is, but first things first.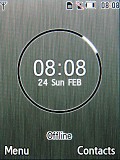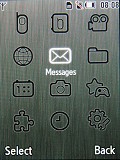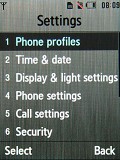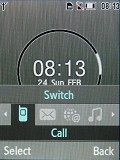 The user interface of Samsung U900 Soul
Soul's menu structure is typical Samsung . The screens here however change with nice graphical transitions and overall we really enjoyed its speed and responsiveness.The main menu is accessible from the stand-by display by pressing the confirmation center of the touchpad. You can also use the left soft key for that purpose if you prefer. The right soft key is reserved for the phonebook. The four directions of the touchpad have shortcuts of their own and these can be changed according to the user preference.
Other than that, Samsung U900 Soul's stand-by display offers the typical Samsung looks. The top bar is reserved for standard readings like signal strength, battery status, network connectivity, ringing profile etc. The bottom bar features description of the functions assigned to the soft keys.
| | |
| --- | --- |
| "...The user interface of Samsung U900 Soul is a slightly improved version of what we saw in the Ultra II line of handsets. It allows greater customization and some new capabilities but nothing revolutionary..." | <#AdRectangle#> |
Samsung U900 Soul also features the animated traveler background (uGo) with analogue clock we came to know since Samsung D900. It sets the background image according to the country where the phone is being used. The wallpaper is animated: birds are flying in the sky, clouds are moving etc. From 7 pm till 6 am night mood takes over: the sky turns dark, while houses get lit up.
There is also another option for the wallpaper - you can select a number of photos that can run in slide show on the desktop. The transition effect can also be changed. On the other hand, we saw a feature we appreciated back in D900 missing in the Soul - that's the option to have a calendar display on the home screen in standby mode.
The main menu displays as either a 4 x 3 grid of icons or a standard list. Sub-menus no longer get visualized as pop-up windows. Instead they are directly accessed and all of them appear as lists. The much contested feature of all recent Samsung phones, where the last used items and sub-items are highlighted by default when you open a submenu is also present here. We like it this way and it proves useful when you use a given feature more than once. Still some may have other needs and will have every right to disagree.
You can also take a look at the video of the user interface of Samsung U900 Soul in our Samsung overview from the MWC in Barcelona
does anyone know how to TURN ON the 3G settings on my samsung soul U900
I bought this phone a couple of weeks before. My only problem is that there's strong background hiss from the amplifier when using it with headphones. The hiss is even heard from the phone speaker. Otherwise audio quality is good - not pe...
Even now one year after its launch this device is one of the great all round feature mobiles. Its build quality equals or is better than many recent devices launched this year.