Samsung US offers Black Friday/Cyber Monday deals on foldables, flagships, tablets and more
Peter, 19 November 2021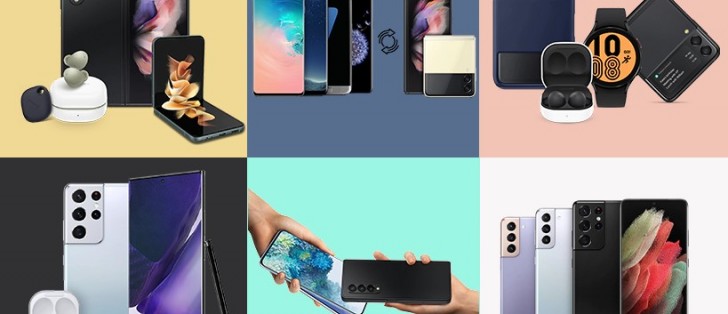 Samsung US is continuing its Black Friday offers with more discounts and freebies for its phones, tablets, laptops and accessories. This follows the deals that started earlier this month.
Note: these deals are available only through the links below.
Foldables
Both the Samsung Galaxy Z Fold3 and the Z Flip3 come with a straight discount, a free pair of Galaxy Buds2 and enhanced trade-in. The Z Fold3 is $250 off and you can get up to $900 trade-in credit. You can send in one Z Fold2 to get that much, but the enhanced trade-in means that you can send in two devices (phone, tablet or watch). This includes devices with a damaged screen, e.g. a Z Fold2 with a cracked screen is worth $590, a similarly-damaged Note20 Ultra is $540.
Note: only on November 29 Samsung will also give you a $100 eCertificate when purchasing a Z Fold3. This Cyber Monday deal comes with a $200 discount and up to $900 in enhanced trade-in, but no Buds2.

The Galaxy Z Flip3 is $100 off, while the colorful Bespoke edition is $150 off, both get up to $600 of enhanced trade-in and a free pair of Buds2.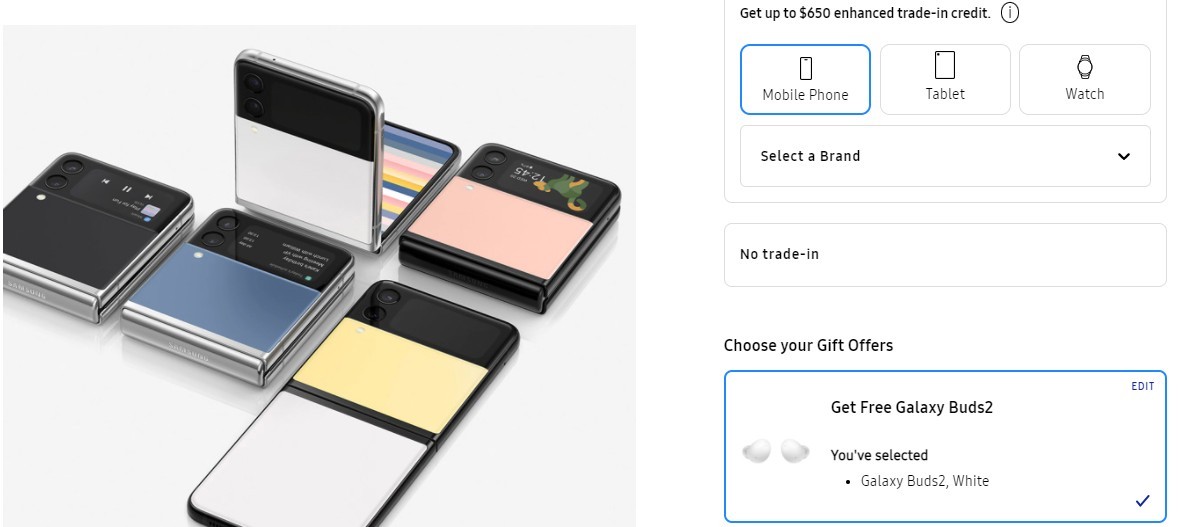 Flagships
The S21 series will be replaced by the next generation in a couple of months, but Samsung is selling the outgoing flagships at a discount. The Galaxy S21 is $100 off, the S21+ gets a $150 discount and the S21 Ultra is $200 off. All three prices can be reduced by up to $550 by trading-in a phone in good condition and by up to $350 if the phone has a cracked screen. Samsung will also give you $50 credit towards any add-ons you buy alongside the S21.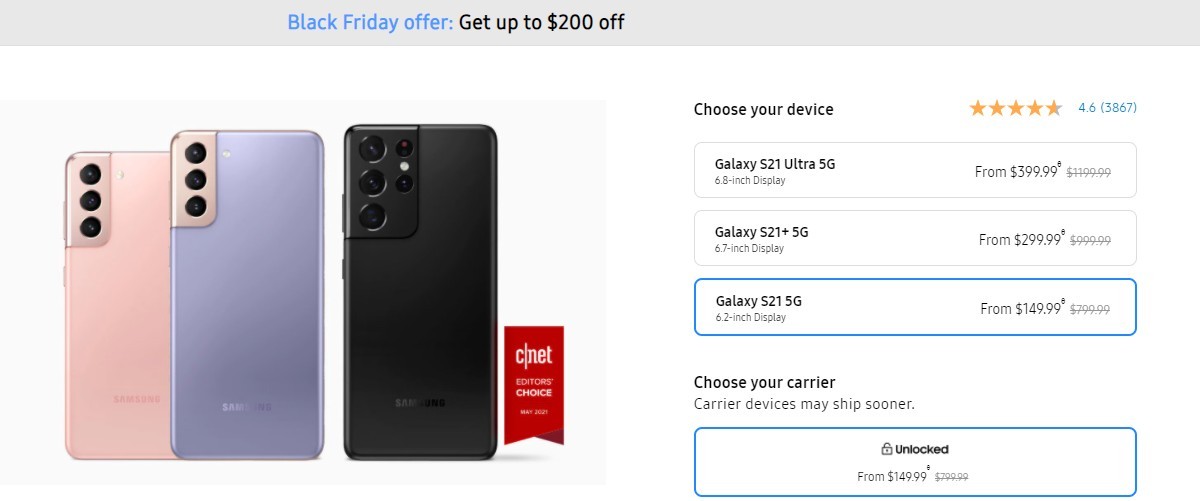 The Galaxy Note20 Ultra is $100 off (with additional discounts available with trade-in credit) and you get a free Chromebook 4 (worth $230).

The deals on the foldables and the flagships will be available on Samsung US until December 5.
Tablets
The Samsung Galaxy Tab S7+ gets a $150/$200 discount (depending on the storage), plus a free pair of Galaxy Buds2. The Galaxy Tab S7 FE is $150 off and also gets the free Buds2, plus Samsung will sell you a matching Slim Keyboard at half price. You can trade in an old phone or tablet to reduce the prices further.

The Galaxy Tab A7 Lite is $40 off, meaning the cheap tablet starts at just $120. It's even less if you send in an old phone or tablet. Note that the stock of tablets is running low.
Laptops
That free Chromebook is a nice perk, but it's not the most capable laptop. The Galaxy Book Pro 360 is discounted by $300 for both the 13.3" and 15.6" versions and you get $200 Samsung Credit.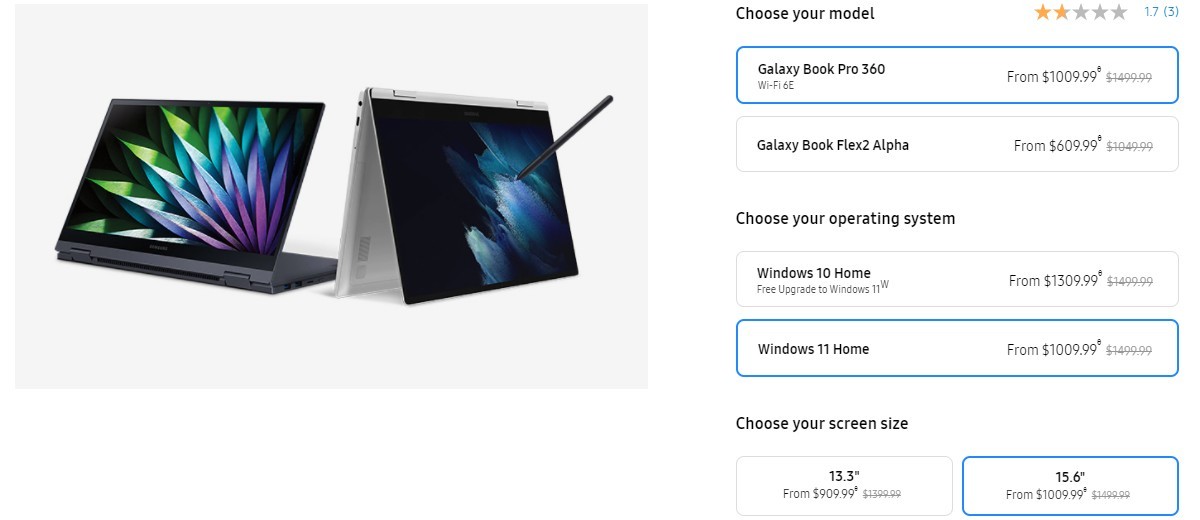 The Galaxy Book Odyssey is $300 off, the Galaxy Flex2 Alpha get a $250 discount. These are still $1,000+ laptops, so for something more affordable you can pick up an ARM-powered Galaxy Book Go at $100 off.
The tablet and laptop deals are valid until November 29.
Wearables
Samsung has knocked $50 off the price of the Galaxy Watch4 and Watch4 Classic. However, if you get a watch, plus Buds2 and a Wireless Charger Trio (which can charge your phone, watch and buds simultaneously), you get a $150 discount on the bundle.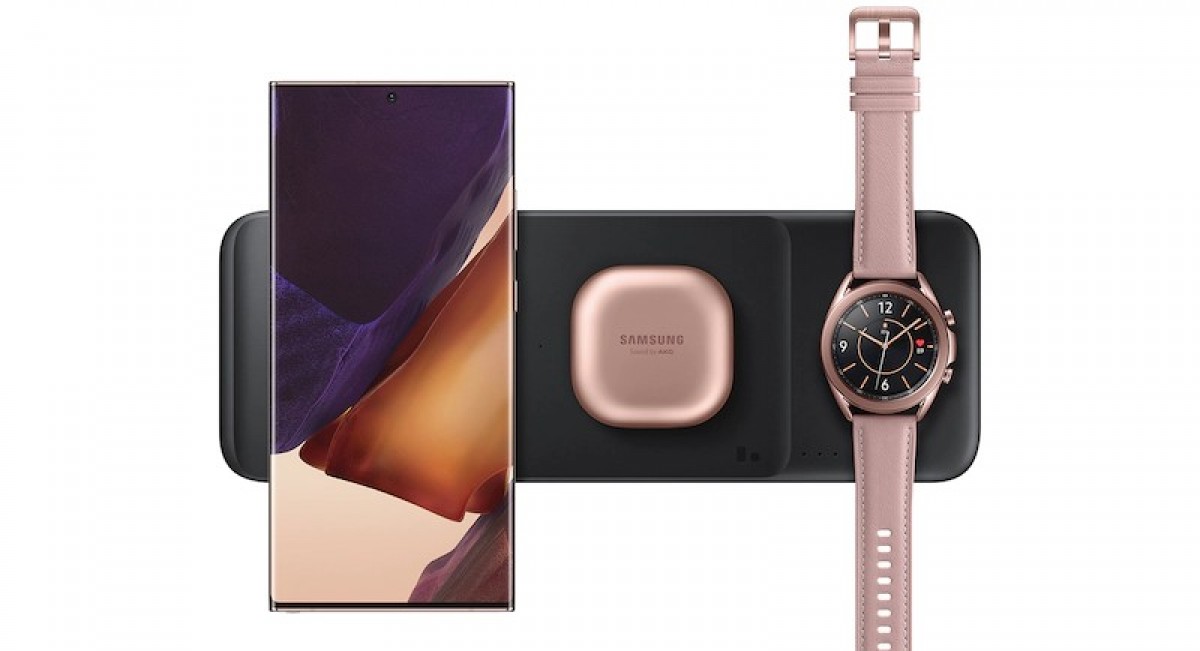 If you want just buds, the Galaxy Buds Live are $70 off, the Buds Pro are down $50 and the Buds2 are $30 off. Note that there is a trade-in option for the buds too.
Note that the wearables deals will last until November 28.
Related
There is still a chip shortage and even they can't manufacture phones fast enough even in low quantities. Zero reason for good deals otherwise it would all just sell out.
In Latvia buying flip 3 or fold 3 u get a52s for free + trade in up to 700 eur
What a joke of a deal. They give you a $150 discount on a phone, but at the same time your trade-in value is reduced by the same amount. There were better deals on this phone when it was first released almost a year ago, which makes zero sense. S22...
Popular articles
Popular devices
Electric Vehicles