Screen protector leak shows a teardrop notch on the Huawei P30 Pro
Victor, 15 December 2018
Huawei currently has more than a few things on its plate to worry about and quite some work to do, pushing out eagerly-anticipated models, like the nova 4, a new 20W SuperCharge protocol and aiding in the release of the View 20 from its subsidiary Honor.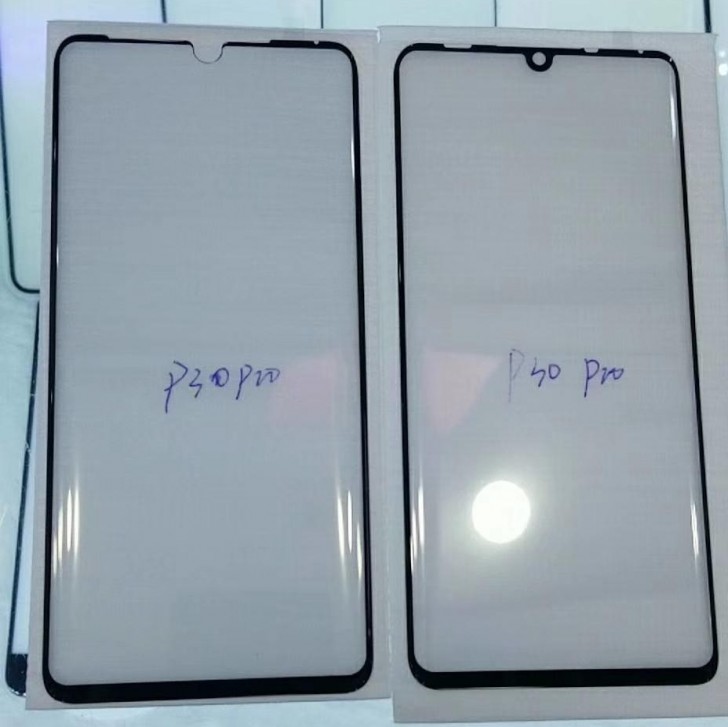 Both of these upcoming phones share an exciting new design trait with their in-display selfie cameras. But amid all the commotion, the next Huawei P30 Pro flagship seems to be mostly slipping under the radar. Granted, it's likely lined up for a later release, but certain aspects of its display are already starting to become apparent. Namely, that unlike the two aforementioned models, it will not feature a trendy in-display camera cut-out, instead opting for a more conventional notch.
A couple of shots recently surfaced on /leaks showing a pair of glass screen protector designs for the upcoming P30 Pro flagship. Both with small cut-outs for a camera, one of which circular, while the other in what has come to be know as a "teardrop" shape. The same source also seems to be making or have access to screen protectors for Samsung's upcoming Galaxy S10 and S10+, which are widely accepted to have in-display selfies cameras. One and two, respectively. This matches up well with the lack of any cut-outs on the pictures Galaxy protectors. The logic here being that since Samsung is going all-screen with no holes for the camera, it makes sense for the other sensors, like the proximity, to be moved away to a different part of the frame to keep the display hole as small as possible. With these out of the way, screen protectors can safely cover up the camera lens with a glass without risking sensor interference. And by the same logic, that's why certain cut-outs might be necessary for the P30 Pro design.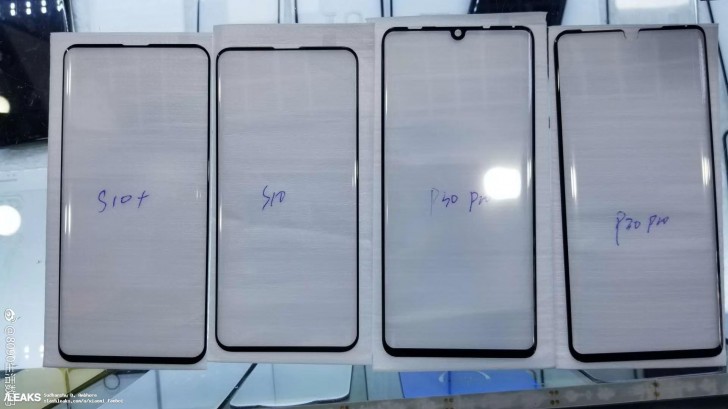 Now, it is worth noting that the idea of a notch on the Huawei P30 Pro is not a new one. It has been tossed around before, along with a perfectly reasonable explanation, which has to do with OLED tech and manufacturers. Apparently Samsung is currently the only one making in-display cameras on OLED and it could, very well, be keeping the first batch of these for itself and the Galaxy S10 family. That would leave Huawei with BOE and LG as potential OLED vendors for the P30 Pro, neither of which are apparently currently doing in-screen selfie designs.
Unfortunately, beyond these bits and pieces about the display setup, we still know very little about the Huawei P30 Pro. The only other viable info concerning Sony's upcoming IMX607 camera sensor, said to appear in the P30 Pro.
Related
Who i am?
23 Jan 2019
t@g
It would be more nice with Teardrop notch like R17
"The curved screen is deal breaker." I agree to that! Curved screen is hard to protect with any tempered glass that does not kill Huawei's Knuckle Gestures. Sadly, Corning, an American company needs to justify its survival by building a pr...
Popular articles
Popular devices
Electric Vehicles