GSMArena smartphone buyer's guide: 2017 July edition
2017 July edition
GSMArena Team, 28 July 2017.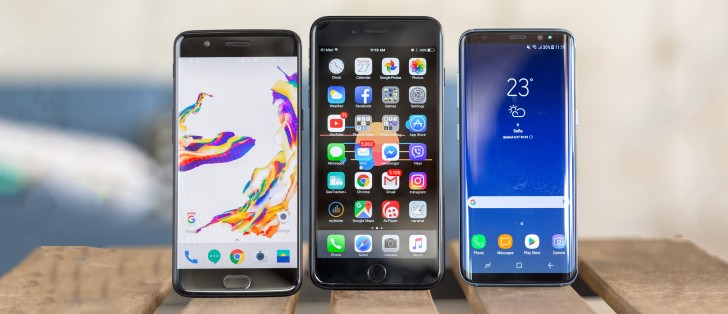 €200-€300
As we go higher, we move beyond the search for phones that cover as many of the basics as possible - here we are expecting a rounded experience as a minimum. You can even hope for an area or two where the phones here excel, while design becomes more than an aftertought.
We kick things off with the Samsung Galaxy A3 (2017) - a perfect choice if you are after a compact device. With its 4.7-inch display it's among the smallest smartphones in the market right now, and it's beautiful, too.
As the cheapest of this year's Galaxy A series, it is stuck with a 720p panel, but it's an AMOLED with great contrast and sunlight legibility. The efficient Exynos 7870 chip adds up to a very impressive 93 hour endurance rating despite the tiny 2,350 mAh battery. There's also the IP68 protection against dust and water, which is a real rarity in this price range.
The Nokia 6 has vanilla Android with timely updates as its key selling point, along with the Nokia brand, of course. It is currently the top member of HMD's revived Nokia lineup and its well-crafted metal exterior certainly looks better than the price tag would suggest.
Still, it's not all fun and games on the hype train, as the Nokia 6 is a short on processing power- the Snapdragon 430 is a little hard to swallow given the alternatives available.
Priced at about €250, the refreshed Galaxy J5 (2017) finds itself in a somewhat awkward position, but its more upmarket Galaxy J7 (2017) brings enough on top to represent better value. It barely fits within the category price-wise, but offers a metal body, fingerprint reader and a FullHD AMOLED panel.
The Huawei nova is another worthy option. Built around the Snapdragon 625, it delivers excellent battery life and offers 4K video capture - the first of the handsets so far to do so.
Next up is Motorola Moto Z Play, with a 5.5" 1080p Super AMOLED panel and Android 7.1.1 Nougat ROM. It's technically a part of a flagship line, so it has a decent chance to get future updates.
There is also the matter of Motorola's Moto Mod ecosystem. Most addons are quite pricey - some of them cost more than the Moto Z Play itself. Then again, if the Mods get you excited, the Z Play is your cheapest way to join in on the fun.
The Z Play's stablemate Lenovo P2 is a proper battery champion. Hardly as premium-looking as some of the alternatives, it still matches the Moto Z spec for spec. A few corners have been cut in the camera department, but for many that won't matter when they see the monstrous 5,100 mAh battery and the record-holding 149 hours of battery endurance it delivers.
Another standout feature comes from the Huawei Honor 8 and its dual camera setup, which is potent enough even without the Leica branding. Sure, there are some compromises to be made, 4K recording being a pretty painful one.
What you do get for your money is a gorgeous handset with solid performance and the best camera in the price range.
A tablet buyer's guide would be very helpful for us...
The problem with the v20 (and V10) is, that there screens has a standard error...and the worst is, that LG knows that, but they are doing nothing against it...
I just missed the ZUK Edge / Z2 Pro from the list at the 200-300$ groop. If the axon makes itt,this two should too ;)