Sony Ericsson Aspen review: Tree-hugging business
GSMArena team, 08 July 2010.
Disappointing 3MP snapper
The Sony Ericsson Aspen is no cameraphone – it has a 3MP fixed-focus camera with maximum image resolution of 2048x1536 pixels. The controls are very simplified, providing the essential functionality only.
There's no shutter key – instead you start the camera by holding down the OK key. The D-pad serves a triple purpose – the confirm key snaps the photo, left/right adjusts the exposure compensation and up/down switches between the still and video cameras. There's digital zoom controlled by the volume rocker, but face it – digital zoom is bad for your photos.
As far as the options go, aside from exposure compensation, you can also enable Twilight mode (smart contrast) for low-light situations and the most advanced function of the camera – geotagging.
The image quality is quite poor – the major problem of the Sony Ericsson Aspen camera is the severe rolling shutter. We tried hard to hold the phone steadily, but even then you can spot the jello effect in most camera samples.
There's also heavy fringing, poor contrast, the colors are a bit off and the high amount of noise (monochromatic noise, but still) coupled with aggressive noise-reduction means that the photos from the Aspen are not particularly good by any measure. You should have in mind though, that things might improve a bit before the device hits the market.





Sony Ericsson Aspen camera samples
Synthetic resolution
We also snapped our resolution chart with the Sony Ericsson Aspen. You can check out what that test is all about here.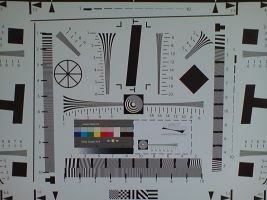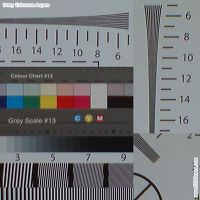 Sony Ericsson Aspen resolution chart photo • 100% crops
Video recording isn't any better
The Sony Ericsson Aspen can capture videos with VGA resolution at 15fps. That's far from impressive. The videos are riddled with compression artifacts and the rolling shutter problem makes itself abundantly clear here again.
Here is a sample video for you to see.
Good connectivity
Connectivity is one of the better aspects of the Sony Ericsson Aspen. It offers worldwide roaming quad-band GSM and two versions for the 3G – dual-band or triple-band depending on where you buy your Aspen. The 3G is HSPA enabled, so you can count on high download and upload speeds.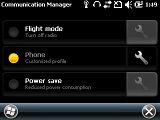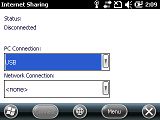 Some of the connectivity options
A 3.5mm audio jack and a microUSB port score points for standards and there's of course Bluetooth support. The high-end feature on the Aspen is the Wi-Fi support – heavier downloads are not a problem when you don't have to worry about reception and data charges.
USB 2.0 connections are supported as well, through a microUSB port. When connected to a computer, the Sony Ericsson Aspen prompts you to select among ActiveSync, Mass Storage or Modem mode.
Internet Explorer Mobile has full Flash support
As you may have expected, the web browser is Internet Explorer 6 Mobile, which is the latest, most touch optimized version of IE Mobile available. It has even adopted some of the treats of Opera Mobile, including kinetic scrolling and Flash support.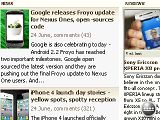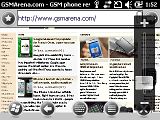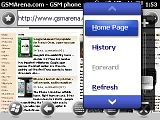 Browsing GSMArena.com with Internet Explorer Mobile, notice the zoom bar
Zooming in is best done with a double tap on the text. Your other option is to hit the menu and use the zoom slider. There are five available font sizes and you can choose how the browser renders pages – as a handheld or as a desktop browser.
Since the Sony Ericsson Aspen's screen is already oriented in landscape, there's no option to rotate the screen. That's not the browser's biggest problem though.
With 2.4 inches of QVGA screen, Internet Explorer Mobile 6 doesn't have much to work with but the zoom slider makes an especially bad impression. It overlaps the Go button and the Close button, making them very hard to press.
The low resolution also means that at low zoom levels text is not very smooth. Lack of on-screen text reflow doesn't help readability much either.
The IE has Flash and Flash video support, thank to Flash Lite 3.1 and runs almost everything which requires Flash – from YouTube videos to games. However, Flash is generally sluggish and memory hungry – Insufficient Memory errors is something you'll have to get used to, especially if you have a couple of apps running in the background.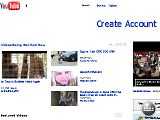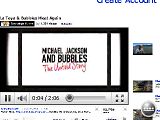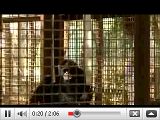 Internet Explorer Mobile 6 does Flash
Flash support aside, Opera Mobile is still the better browser for Windows Mobile. Maybe things will be different on Windows Phone 7, but with WinMo 6, there are no surprises.
One thing that got on our nerves is the spell check – when it's on, it kept correcting the URLs we were typing, which usually resulted in us entering a wrong URL and getting redirected to a Bing search. Spell checking has no place in an URL bar (or username and password fields, which we experienced on XPERIA X8 recently).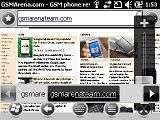 The spell check kept getting in our way
Organizer has gotten prettier
Windows Mobile offers several time-management features and their claim to fame is that they are a breeze to synchronize with MS Outlook. It offers daily, weekly and monthly view. You can have the week start on either Monday or Sunday. Weekends can be hidden from the Calendar if you use it for business strictly.
The Slide View menu does try to put a skin on top of the calendar – and as with the rest of the interface it succeeds, but only partially. Doing anything other than viewing a contact, drops you down to the age old UI.
The To-Do list allows you to add tasks and assign them priority. The Notes also come in handy, as you can either type or directly write the text down on the screen. The Voice recorder and Calculator go without saying.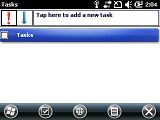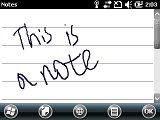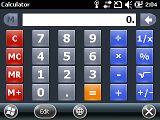 To-Do list • The Notes app allows handwriting too, as well as text input • the calculator
The Alarm clock has three alarm slots. Each Alarm can have its own repeat pattern. Due to the little customization options in the default Alarms application, we suggest you check out some free third-party alternatives.
An office in your pocket
Among the other WM core applications is the Office Mobile package featuring support for viewing and editing Word, Excel, and PowerPoint files. With the latest version of Office Mobile, you also get the OneNote application.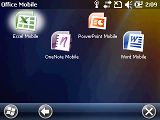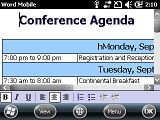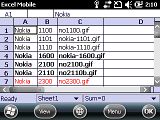 Office Mobile allows viewing and editing Word, Excel, PowerPoint and OneNote files
Thanks to the Adobe Reader LE, there is also support for viewing PDF documents. The Sony Ericsson Aspen does well at scrolling and panning. However, the small, low-res screen limits its capabilities to mostly reading documents, writing more than a sentence is not an easy task.