Sony Ericsson C905 review: Cyber shot, cyber hot
GSMArena team, 29 October 2008.
Browsing is a breeze
Sony Ericsson C905 has the latest Access NetFront HTML browser 3.4. Elaborate web pages are rendered well and there are lots of configurable settings too. Although there is no dedicated fullscreen mode, the web page automatically rotates in landscape/full screen mode, if the phone is turned horizontally. The other view modes include Text only, Pan and Zoom and Zoom page. The Panning/scrolling speed is also up to the standard.
The Sony Ericsson C905 web browser offers a virtual mouse pointer, which is a real pleasure to work with. Another interesting and practical feature is the "Find on page" option. It searches the loaded web page and the first match is immediately listed as soon as you type a letter.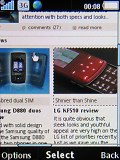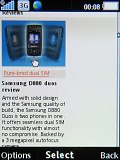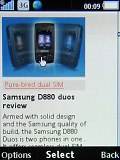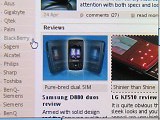 Sony Ericsson C905 web browser in action
If are still not satisfied with this browser, you can always count on the superb OperaMini browser.
All-inclusive connectivity
The connectivity options of C905 are full service. Quad-band GSM/HSCSD/GPRS/EDGE and 3G are all on board, so there is virtually no spot on earth where you will be unable to connect. In addition, you've got the fastest data transfer around, provided that a HSDPA-enabled network is available.
By the way if you are interested where you can find UMTS 2100Mhz or you are not sure whether it's supported in your country, you should definitely check out our Worldwide Network Bands distribution database.
Besides the network-based connectivity, Sony Ericsson C905 offers the usual Bluetooth v2.0 and USB options. There is also support for the A2DP profile allowing listening to music on a stereo Bluetooth headset. The other major connectivity feature is the built-in Wi-Fi with DLNA support. GPS with A-GPS function completes the tally. Last, but not least, there is also the M2 card slot which might just turn out to be one of the quickest means of transferring data on some occasions.
The C905 supports local and remote synchronization of contacts and calendar events. The local one is with Outlook and a PC, while the remote synchronization works with remote servers. USB connectivity has four modes - one for file transfers and one for USB Internet - to put it simply, the second one is for using the phone as a modem. The third one is media transfer, which directly connects to the Windows media player, and gives full access to tracks placed on your phone, synchronization, play or sorting in playlists. The last one is for direct printing of images.
Other than imaging prowess, the C905 is notable for completing the connectivity options with Wi-Fi. Unfortunately, as the official information goes, the maximum transfer rate via the Wi-Fi connection goes only up to 5 Mb/s (yes, that's megabits not megabytes).
It's integrated rather well in the user interface and quite user-friendly. Once you turn the Wi-Fi on, you get a list of the available wireless hot spots. Connecting is a matter of single click. It is also available via "My shortcuts", just in case you don't want to look for it in the menus.
The web browser and all other data traffic is re-routed through the Wi-Fi connection by default, when you are connected. If Wi-Fi connection should fail, the browser automatically starts to use GPRS or higher speed network connection, if available. Of course you won't have to guess whether Wi-Fi is engaged or not, as it has an icon on the top status bar.
Auto connect, Wi-Fi networks priority, and assigning a favorite network are among the nice and very practical features in the Wi-Fi interface. Additional settings allow you to search networks by their SSID, check your connection status or MAC address (you cannot change that).
Tasks & more
The Sony Ericsson C905 offers a wide range of time-management features. There is an Organizer icon in the main menu and it contains several applications: File manager, Applications, Video call, Calendar, Tasks, Notes, Synchronization, Timer, Stopwatch, Calculator, and Code memo. The Calendar offers monthly, weekly and daily views. When you add a birth date in the phonebook, the phone prompts adding it to the calendar. Tasks can be two types: simple Tasks and Phone calls. Notes are written similar to messages; the T9 dictionary can be used here as well.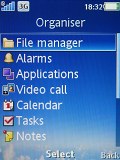 The traditional Organizer with its apps
The Alarms are part of the main menu. There are five alarm slots available. Each one offers a lot of options - you can choose to repeat the alarm on chosen days of the week or everyday. Text and a picture can be added to the alarm. Furthermore, the alarm behavior can be defined in case the time it is due to go off comes while the phone is in silent mode.
The Voice recorder has no limit to recording length, making the free memory available the only restriction. The Calculator is the regular Sony Ericsson one. The stopwatch and countdown timer are also the well known basic applications.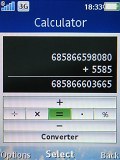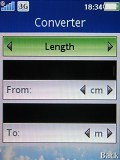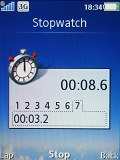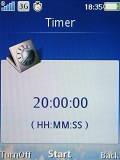 Calculator • Converter • Stopwatch • Timer
Some other applications include MusicDJ and VideoDJ. VideoDJ is for making your own video clips by mixing already existing ones with still pictures, text and a variety of effects or for making basic cuts using special transitions and adding background music. MusicDJ is a very simple application for creating custom polyphonic melodies.