Sony Ericsson Elm review: Green roots
Green roots
GSMArena team, 9 April 2010.
FM radio with RDS and TrackID
The integrated FM radio of Sony Ericsson Elm has memory for 20 stations and supports RDS. It has a nice interface and makes great use of the TrackID music recognition service. The radio can be minimized in the background much like the music player but offers none of the fancy fullscreen graphics the player does.
TrackID is accessible through its original location in the entertainment menu. It also offers the online search option. It allows fast search in the entire database for artist, album, title, and lyrics.
Perfect audio quality
The audio quality of the Sony Ericsson Elm is basically as good as it gets. The handset performed excellently in each and every part of our traditional tests, recording some of the best results we have seen.
The frequency response is perfect for the entire audible range, the greatest deviation being hard to detect even in lab conditions. The signal-to-noise ratio is also excellent and so are the dynamic range and the stereo crosstalk.
The distortions are also neatly kept under control and if it wasn't for it being slightly on the quiet side we would pronounce the Elm as the perfect portable audio player.
| | | | | | | |
| --- | --- | --- | --- | --- | --- | --- |
| Test | Frequency response | Noise level | Dynamic range | THD | IMD + Noise | Stereo crosstalk |
| Sony Ericsson Elm | +0.02, -0.09 | -87.2 | 87.0 | 0.0054 | 0.019 | -85.9 |
| Sony Ericsson XPERIA Pureness | +0.03, -0.09 | -86.7 | 86.6 | 0.0058 | 0.017 | -86.1 |
| Sony Ericsson Vivaz | +0.39, -1.94 | -86.2 | 85.7 | 0.011 | 0.143 | -85.7 |
| Sony Ericsson W910 | +0.25, -1.25 | -81.5 | 82.7 | 0.0071 | 0.028 | -81.9 |
| Apple iPhone 3GS | +0.01, -0.05 | -92.1 | 92.1 | 0.0035 | 0.011 | -95.0 |
| Sony Ericsson W902 | +7.31, -2.18 | -81.7 | 84.1 | 0.0039 | 0.020 | -85.4 |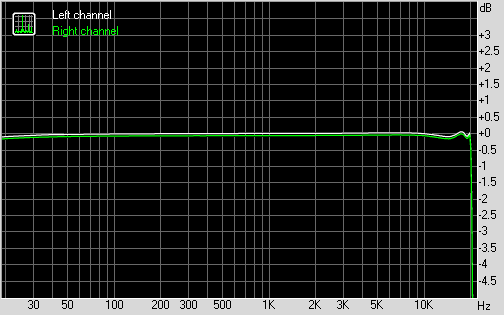 Sony Ericsson Elm frequency response graph
You can find more information about our audio quality test here.
Very good 5 megapixel shooter
The Sony Ericsson Elm has a 5 megapixel camera capable of producing images at a maximum resolution of 2592 x 1944 pixels. The handset is equipped a LED flash, which also serves as auto-focus assist light.
The 5 megapixel autofocus camera offers a lot of extra features such as smile shutter, face detection, auto-rotate, macro mode, spot metering, image geotagging, etc.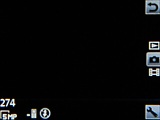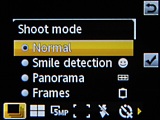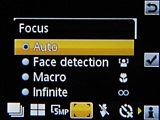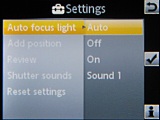 Cyber-shot v2.0 camera user interface • the Multi Menu settings
The camera toolbar at the bottom gives access to shoot mode, scenes, picture size, focus, flash, self-timer, metering mode, white balance, effects, and settings Multi Menu. The Elm doesn't have a manual ISO setting.
The focus mode has an extra feature - Face detection. The face recognition system allows you to simultaneously track as many as 3 faces but focus is locked on the one that's closest to the center of the frame when the image is captured.
Using Smile Shutter is easy – to activate it you press the camera key all the way down and release it. A small blinking on-screen yellow icon indicates that the mode is on and the phone will automatically snap the photo as soon as it "spots" a grinning face.
GPS geotagging is available too. Just remember it's assisted lock so it involves a small amount of data traffic.
The dedicated macro mode in the Elm allows you to take images from as close as 10 cm.
Image quality
The Sony Ericsson Elm camera is a really capable shooter. Image quality is very good, easily ranking among the top 5-megapixel cameraphones on the market. The photos have pleasing colors and good contrast with the noise levels well under control. The amount of resolved detail is excellent, comparable to the best in the class – Sony Ericsson C901 and the Nokia 6700 classic.
Synthetic resolution
We also snapped our resolution chart with the Sony Ericsson Elm. You can check out what that test is all about here.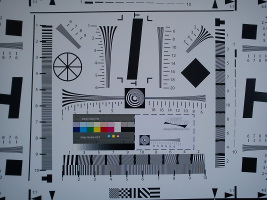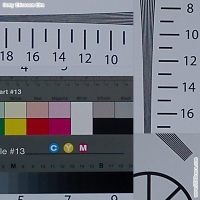 Sony Ericsson Elm resolution chart photo • 100% crops
Video recording
Of course, the Elm is also capable of shooting video, and it actually does quite well in that department. The Elm captures VGA videos at 30fps. The LED flash can be used in video mode too. The clips are stored in mp4 format and take about 7 MB for every minute of recording.
The video quality and the resolved detail look good, but the compression sometimes is too high. Still the captured videos are mostly satisfying and that's more than we expected from a Sony Ericsson feature phone.
Here is a sample video for you to check out.
All i can say is, one of the best 5mp camera out there. I'm in love using it's camera
This model sony ericsson j10i2 was not suported youtube and not suitable for internet download ,when downloading finaly operation failed occur.this problem existence after instalation of software or mobile flashing.what i will do..
Elm camera clearity is very nice Sound quality nice