Sony Ericsson Hazel review: Earth, wind, green heart
Earth, wind, green heart
GSMArena team, 20 May 2010.
Top-notch connectivity, almost
The Sony Ericsson Hazel is not an Internet-centric device but scores high on connectivity options. Quad-band GSM/GPRS/EDGE and 3G are all on board for worldwide roaming. 7.2 Mbps HSDPA, as well as 2.0 Mbps HSUPA are also supported.
Besides the network-based connectivity, the Sony Ericsson Hazel offers the usual Bluetooth v2.1 and USB options. There is also A2DP support for stereo audio streaming. Last but not least, there is also the microSD card slot, which is often one of the quickest ways of transferring data – never mind that on the Hazel it's under the battery cover.
The Hazel supports local and remote synchronization of contacts and calendar events. Unfortunately, the Hazel uses the old FastPort and there is no data cable bundled in the package, so you will need to buy one separately.
Despite the USB disappointment, you can sync your device via some of the popular exchange services such as Google. We successfully configured our Google for exchange account and the Elm retrieved our preset contacts, calendar events, Google mail along with the settings almost immediately. The two things that were left out during the sync process were the contact pictures and birthdays. We guess you'll need to add them manually.
Sony Ericsson Hazel boasts premium features such as Wi-Fi and GPS with A-GPS support. Unfortunately, Sony Ericsson Hazel allows you to watch streaming media (of any type) only over the EDGE or 3G connection (even though Wi-Fi is listed as an option, it just doesn't work). So in essence - you cannot watch the streaming video (such as YouTube) over Wi-Fi. You can browse youtube.com over WLAN but as soon as you select a video to watch, it loads in the YouTube client. And it just won't work over Wi-Fi.
Finally, the Media Home app uses the DLNA capabilities of the Hazel to share media with other DLNA-enabled devices such as phones, home players or TV via Wi-Fi.
Excellent browser
The web browser preinstalled on the Hazel is the same as Yari's - an updated version of the popular NetFront 3.5 mobile browser. It offers a much smoother experience than before and renders web pages faster. Almost every time it nails the zoom level for comfortable reading.
Plenty of shortcuts arranged in a tree structure are listed on the homescreen, right under a search and an address bar. They grant access to free content, such as clips, tracks and games on the Sony Ericsson site, including a step-by-step guide for setting up email accounts or internet connections. The appearance of the home screen changes to a different bright color each time you start the browser too.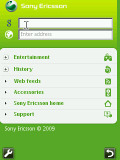 The extended home screen is a nice touch on recent Sony Ericsson phones
Equipped with a mouse pointer, the new NetFront 3.5 web browser always operates in fullscreen mode and the four most important features are easily accessible on a toolbar - mini-map, address field, favorites and downloads.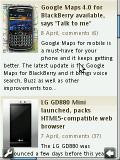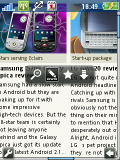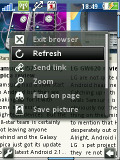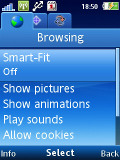 Sony Ericsson Hazel web browser
Additionally, you can find some extra features, such as mark-and-copy, save image or find on page.
There is also an automatic RSS finder. If you browse an RSS enabled site, a small RSS icon will appear. If you click there you can access all the available RSS feeds.
The browser has full Flash support, although all of the YouTube videos redirect to the mobile streaming app. Still if you open any other website with Flash videos you'll be able to play them directly within the browser.
All the Flash content runs trouble-free and all, but streaming videos (both actual Flash and those in the mobile YouTube app) can only use a 3G connection.
As we said before, watching streaming videos is possible only over EDGE or 3G connection.
Organizer
The Sony Ericsson Hazel offers a wide range of time-management features. There is an Organizer icon in the main menu and it contains several applications: File manager, Java Applications, Video call, Calendar, Tasks, Notes, Synchronization, Timer, Stopwatch, Calculator and Torch.
The Calendar offers monthly, weekly and daily views. When you enter a birth date in the phonebook, the phone prompts you to add it to the calendar too. There is just one general-purpose type of entry in the Calendar, but it features enough details. Notes are composed similar to messages and the T9 dictionary can be used here as well.
The Alarms application hardly needs any introduction. There are five alarm slots available. Each one offers a lot of options - you can choose to repeat the alarm on chosen days of the week or everyday.
The Calculator is the regular Sony Ericsson one. It offers the basic functions, no bells and whistles, but you can run the Converter from there. The stopwatch and countdown timer are also the familiar basic applications. The Voice recorder has no limit on recording length, making the available free memory the only restriction.
This phone not having a microUSB port, according to GSMArena, isn't "exactly eco-friendly". Oh wow...this is a feature phone. Why would you ever want a microUSB port on a feature phone which you only use for calling and messaging?
Even a lack of a headphone jack was considered a disadvantage in 2010!
after master reset how can i download setting the sony ericsson ? Can down other way?