Sony Ericsson Vivaz review: Viv A-to-Z
Viv A-to-Z
GSMArena team, 09 February 2010.
Phonebook is typical Symbian
Sony Ericsson Vivaz uses the standard Symbian S60 5th edition phonebook. It has virtually unlimited capacity and functionality is among the best we've seen. You can set whether the contacts on the SIM card, the phone memory and the service numbers will get displayed.
You can order contacts by first or last name and you can naturally search any contact by gradual typing. To speed things along, the search keyboard is special - letters are in alphabetical order and not the entire alphabet is available. For instance, if there are no contacts whose name starts with a C, the letter C won't appear on the custom keyboard.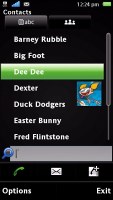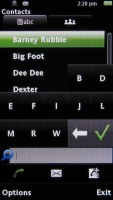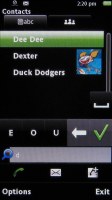 The phonebook hasn't seen much change • the search keyboard is quite clever
Editing a contact offers a great variety of preset fields and you can replicate each of them as many times as you like. You can also create new fields if you happen to be able to think of one that's missing.
You can also assign personal sound ringtones and videos to the individual contacts. If you prefer, you may group your contacts and give each group a specific ringtone.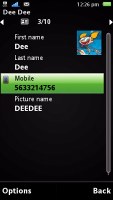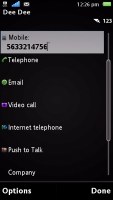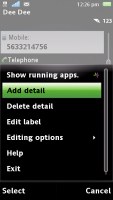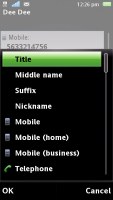 Viewing a contact • editing a contact offers a huge variety of fields
The Call log keeps track of your recent communications. The application itself comes in two flavors - accessed by pressing the Call key on the standby screen or from the main menu. The first one brings 20 call records in each of its tabs for outgoing, received and missed calls.
If you access the Call Log from the main menu, you'll see a detailed list of all your network communications for the past 30 days. These include messages, calls and data transfers (even WLAN connections are included).
Excellent messaging
The messaging menu is yet another part of the Symbian S60 UI that hasn't been modified at all since the Nokia 5800, apart from some minor reskinning.
Sony Ericsson Vivaz supports all common message types - SMS, MMS and email. They all share a common intuitive editor which by this point should be quite familiar. When composing an SMS, a counter is displayed of characters left up to a limit of 160. An indicator in brackets shows the number of separate parts the message will be divided into for sending.
Once you insert some multimedia content or an email address as recipient, the character counter is replaced by a data counter showing the size of your email.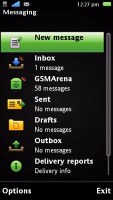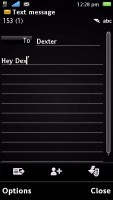 Vivaz uses a common intuitive editor for all your messages
The Vivaz also features a dedicated audio message recorder. Much like with Symbian S60 v3.2, you can either record the message on the spot or use a sound clip from the phone memory.
You can activate delivery reports - they come up on the screen as simple pop ups and are automatically saved in a dedicated messaging folder after that.
The email client is really nice, able to meet almost any emailing needs. It prompts you to choose whether you prefer POP or IMAP access to mail providers that support both. However, it failed to fetch the email settings automatically for our Gmail account so we had to do it by hand.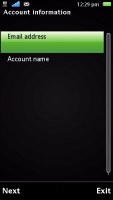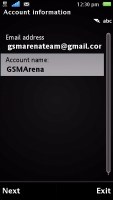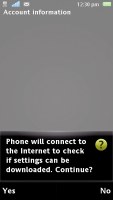 Setting up our Gmail automatically didn't quite work out
The client can download headers only or entire messages, and can check for new mail automatically at a preset interval.
You can also schedule sending email next time an internet connection is available when you compose emails offline. This can save you some data traffic charges since you can use the next available WLAN connection instead.
Multiple email accounts and various security protocols are supported, so you can bet almost any mail service will run trouble-free on your Vivaz. You can also subscribe to multiple folders, so you can check email in folders other than the Inbox, e.g. the Starred folder in Gmail.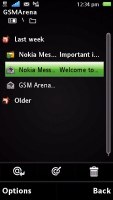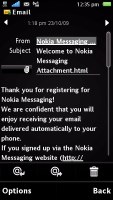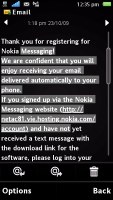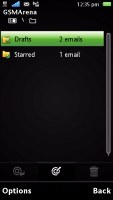 The email client leaves little to worry about
Browsing emails is a bit weird - sweeping your finger selects text and prompts you to copy it. This means you have to use the scrollbar. Easily copying text is great but we would have liked some way to toggle between scrolling and selecting.
There is also support for attachments and signatures - the Vivaz meets virtually all your email needs, and with a screen resolution like this, reading emails on the device is a real pleasure.
The text input options cover everything
The Sony Ericsson Vivaz offers a complete selection of input methods. The handset has a standard alphanumeric on-screen keypad in both portrait and landscape mode.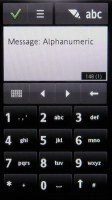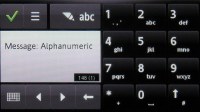 The alphanumeric keypad is available in both portrait and landscape
It definitely cannot be a match for any hardware keyboard but the Vivaz full QWERTY fares pretty well. Typing is enhanced by accurate haptic feedback and the keys are large enough for typos to be reduced to a healthy minimum. Unfortunately, there is no predictive typing like on the Apple iPhone or the Nokia E71, but we do not consider this much of a disadvantage.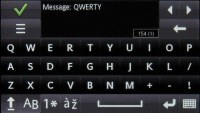 We are happy with the virtual QWERTY keyboard
There is also a mini version of the QWERTY keyboard which is only good for stylus use, typing with fingers is possible but it's a real test of your patience. Its main advantage is that it takes little space on the screen and can be moved around so it doesn't block your view of things.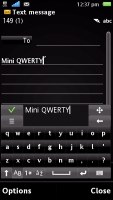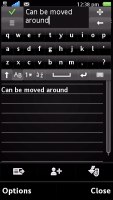 The mini QWERTY has limited use
Finally, the Sony Ericsson Vivaz offers handwriting recognition and actually does a rather decent job of it, recognizing almost all the letters we scribbled in the box. You can improve performance by taking the handwriting training - this is where you actually show the handset how you write each different letter.
I am really sorry to say I got a bitter exprience with this soney ericsson vivaz phone. Its make me me worried always. For example, it download automaticly files and applications when i use internet. Its touch screen is very bad not working properly....
Is it dual sim set or single
Nizam_katak hijau
31 Dec 2013
PA8
very good