Sony Ericsson W960 review: Walkman extreme
Walkman extreme
GSMArena team, 09 October 2007.
Sony Ericsson W960 is aptly the big gun in the Sony Ericsson portfolio of music-centered handsets. Gifted with the scorching 8GB of storage space and a large touchscreen TFT display, a 3-megapixel camera, Wi-Fi and 3G capabilities, the W960 easily stands out in the Walkman crowd. Powered by the Symbian OS and UIQ user interface, it delivers one-of-a-kind Walkman experience with rich fullscreen visualizations and advanced track filtering. All this is enough to have us drooling over the specs sheet, eager to get our hands on this smarty Walkman and see what it's made of.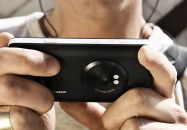 Sony Ericsson W960 official photos
Key features:
Walkman Touch music player
Symbian OS 9.1 with UIQ 3.0
3G support with video calls
Wi-Fi support
3 megapixel camera with autofocus
8GB of storage space
Dedicated touch-sensitive player keys
262K color TFT touchscreen display
FM radio
Main disadvantages:
Not as impressive in life as in the promotional photos
Slow interface response as storage gets nearly used up
Back key location changed
No memory card slot (yeah, we know it has 8GB of internal memory)
Music player cannot sort tracks by filename
No EDGE support
The Sony Ericsson W960 is the successor of Sony Ericsson W950, which came with 4GB of integrated memory, but failed to gain popularity for the lack of camera and Wi-Fi capabilities. In fact, featurewise the W960 resembles more the Sony Ericsson P1 - they are almost identical in terms of hardware (although the P1 has an Infrared port, which lacks in W960). The W960 features the same 208MHz processor and the same amount of RAM - 128MB. However, the W960 boasts a dedicated Walkman key, three touch-sensitive keys for controlling the music player and, finally, that all-important Walkman home screen application with fullscreen visualizations. You probably are as excited as we are about this review, so let's not waste any more time and get on to it, shall we?
anybody can help with my w960 wifi because i really dont know the right setting for the wifi... i enable the wlan connection but no network found, i have pc and i have a wireless router but when i using my laptop and enable the wifi it can access int...
hey everone im feel as a same thing u knw what i guess iphone is better but how about se w960i? i guess 50 50 in my head,so if i have a money which one im gonna buy?i dont knw what's going on i just smile,
Hey I use this cell phone. after the old nokia, SE G502i, Nokia E63, Nokia E66, SE W980, Aino U10i, LG BL40, Fujitsu F905i, Nokia X3 and before the mobile phone prototype with 3d holographic display. at some time, until that moment arrives, W960i wil...