Sony Ericsson W995 review: Ready, set, play
Ready, set, play
GSMArena team, 06 March 2009.
A "flash" of user interface
The Sony Ericsson W995 has the highest model number of any Sony Ericsson phone (beating the P990 by a whisker). Well, that says it all - we're dealing with a high-end handset here. The interface is customizable by Flash Lite themes and is sprinkled with smooth animations all over. The interface offers many options and settings accessible at great speed - adding to an uncompromising user experience.
The standby screen is arranged as usual with signal strength, currently used data carrier and battery status indicated at the top. At the bottom of the display just above the context keys are their labels. This leaves plenty of space for the elaborate background animations.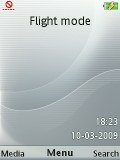 The well-known Sony Ericsson home screen
The wallpaper is always on the move and really comes alive when the music player is on, making smooth transitions when playback starts or stops.
Sony Ericsson handsets also come with a handy option for their wallpaper - you can use an application as a background instead of an actual image. Of course you cannot use any application out there - the choice is currently limited to only three apps. These are WalkMate, Sound Sensor and Rock Bobblehead. The step counting WalkMate is probably the only practical app among them.
The options for the menu layout are the well-known foursome - one theme-dependent, a 3 x 4 grid of icons, rotating view and single icon view. Rotating view features three animated front icons on the display, the center one showing the active selection. The other two icons are half-hidden, there to simply indicate what comes next. Five other menu icons can be seen in the dim background.
The icon view displays a single icon at a time and a vertical bar, which features tiny icons for the other main menu entries. Neither of those view modes work with shortcut keys, it's only the Grid view that allows quick numeric keypad access.
But there's another reason to favor the good old grid view over the new gimmicks. The W995 features a couple of new themes we see for the first time. They affect the main menu causing the currently selected icon to break up and then pull back together in one of the best animations we've seen.
The well-known Activity menu offers quick access to a user-defined list of favorite features, web, recent events and, of course, the Running Apps tab that takes care of multitasking.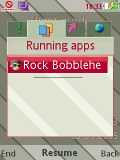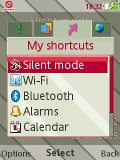 Activity menu: multitasking and shortcuts tabs
As with other Sony Ericsson phones, you can minimize the progress indicator when receiving a file over Bluetooth but you can't do that when sending a file.
Flight mode can only work with a SIM card in the device and requires a restart.
The interface is snappy and very polished. Auto rotation is enabled in the Media Center and is generally quite responsive. There's a slightly noticeable lag involved but we guess that's to be preferred over an extra-sensitive accelerometer that can often play up.
Phonebook keeps tabs
The phonebook has space for 1000 entries with 20 fields each. You can choose to view contacts in the phone memory or on SIM, but not both. Either way you can set up the phone to auto save to SIM all contacts that are being saved to the phone memory. You can also back up your contacts list on the memory card and restore it from there.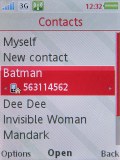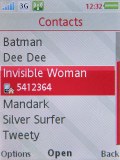 The Sony Ericsson W995 phonebook
Editing a contact uses the tabbed interface found throughout the phone. There are five tabs that group related contact details. The first tab is for names and numbers, next up is web addresses such as e-mails and URLs. The third tab is for storing a picture, a custom ringtone, group, message tone and voice command, the fourth is for postal details and finally the fifth has fields for a note and a birthday (which you are prompted to add to the Calendar too).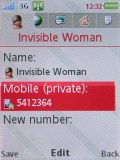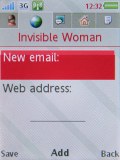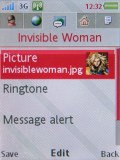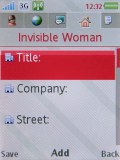 Contact details are neatly presented in tabs
The name of a contact is filled in a single field, but you still have the option to order contacts by first or last name. The phone guesses which is which and does quite well at that, so even a "John von Smith" won't fool it. Naturally, you can search by gradual typing.
Telephony
There weren't any call handling or reception issues with the Sony Ericsson W995. Voice quality is great in both the earpiece and speakerphone.
Smart Dial is a great boost to usability. It looks up contacts whose numbers contain the digits you have typed or whose names begin with the corresponding letters.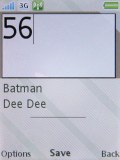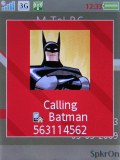 Smart dial makes things easier
The tabbed Call Log application should be familiar if you've used a fairly recent Sony Ericsson handset. It displays calls in four tabs, including All, Answered (Received), Dialed and Missed. When there are several calls made to or from a single contact, only the last one gets displayed.
The Sony Ericsson W995 scored an Average mark in our loudspeaker performance test. More info on our test can be found here.
| | | | | |
| --- | --- | --- | --- | --- |
| Speakerphone test | Voice, dB | Pink noise/ Music, dB | Ringing phone, dB | Overall score |
| Sony Ericsson C905 | 65.7 | 66.1 | 73.8 | Average |
| Sony Ericsson W902 | 68.8 | 69.3 | 75.7 | Good |
| Sony Ericsson C902 | 68.8 | 72.2 | 78.2 | Very Good |
| Samsung i8510 INNOV8 | 78.9 | 75.7 | 77.5 | Excellent |
Ok so I just upgraded to this phone. From Samsung a53s. Obviously the downside is that there is no 5G connectivity. But there seems to be barely any connectivity at all as it's failing any https connections. Can this be resolved with ...
Ch.samson
07 Feb 2020
3xY
I want sonyErecsan w995 8mp cemera phone