Sony Ericsson XPERIA Play review: Bring your 'A' game
Bring your 'A' game
GSMArena team, 20 April 2011.
Phonebook hasn't changed
The XPERIA Play has a good phonebook with practically unlimited storage for your contacts. Plus, it's good-looking and user friendly.
At the very top you have a search box to quickly find a specific contact. There's an alphabet scroll too for fast browsing by first letter and at the bottom you get shortcuts to the dialer, call log and favorites.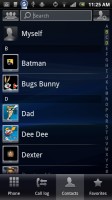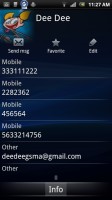 The phonebook interface on the XPERIA Play
You can sync with multiple accounts, including Exchange, and you can selectively show or hide contacts from some accounts, or set the phonebook to display only contacts with phone numbers.
If a contact is added in more than one account, you can merge their contact info. This can be really handy as you can have Facebook, Twitter or other service details all in the same place with the regular contact's details.
Quick contacts are enabled too – by tapping a contact's photo you get shortcuts for calling, texting or email options.
Each contact can have a variety of fields (and repeat fields of the same type), the plus and X buttons let you add and remove fields as needed. The fields cover anything from names (including a field to write down the name phonetically) to addresses, nicknames and notes.
There is an option to redirect calls directly to voicemail. Personalized ringtones are enabled too.
You can also "star" a contact, which automatically adds it to your Favorites. Those "starred" contacts appear in the Gmail app too, under "Starred in Android", so you can quickly email them, without the need to add them as a separate contact.
Telephony short of smart dialing
The XPERIA Play is a phone as well (shocker!) and it does well in that department. It had no troubles holding onto signal and in-call sound was consistently good. There's a secondary microphone on the back for active noise-cancellation. Ambient noise gets filtered and the person on the other end can hear you much better.
The letdown in Sony Ericsson XPERIA Play is the lack of smart dialing – hardly acceptable for a high-end droid. Voice dialing – with a dedicated homescreen widget – is little consolation.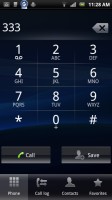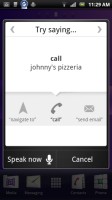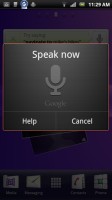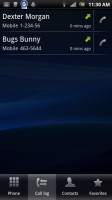 Smart dial no - voice dial yes • Call log
The XPERIA Play has a proximity sensor above the display to turn the screen off during calls.
We ran our traditional loudspeaker test on the XPERIA Play. It got a good mark and the stereo speakers help out here.
| | | | | |
| --- | --- | --- | --- | --- |
| Speakerphone test | Voice, dB | Pink noise/ Music, dB | Ringing phone, dB | Overall score |
| Samsung I9000 Galaxy S | 66.6 | 65.9 | 66.6 | Below Average |
| LG Optimus 2X | 65.7 | 60.0 | 67.7 | Below Average |
| Motorola MILESTONE 2 | 66.5 | 63.6 | 74.9 | Average |
| HTC Incredible S | 66.5 | 66.1 | 76.7 | Good |
| Sony Ericsson XPERIA Play | 66.5 | 62.7 | 79.0 | Good |
| HTC Desire HD | 69.7 | 66.6 | 78.3 | Good |
| Nokia N8 | 75.8 | 66.2 | 82.7 | Very Good |
| HTC Gratia | 73.2 | 73.6 | 83.5 | Excellent |