Sony Ericsson XPERIA Pureness review: I see through you
I see through you
GSMArena team, 09 March 2010.
Simple messaging
Sony Ericsson XPERIA Pureness has a very simple messaging menu and doesn't even offer a threaded view. Anyway it does the job and we have nothing to complain of. Except that reading texts on the display is less than stellar experience.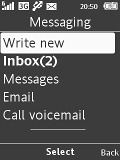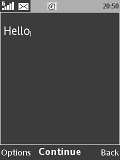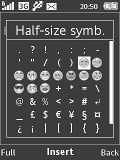 The messaging is basic and monochrome
There is a rich T9 dictionary. The SMS and MMS messages share an editor; when typing SMS you can easily convert it into an MMS via the options menu.
The phone automatically downloaded the settings for our Gmail email account. Of course, the resolution and screen size are not the best for reading emails – even with the available zoom options.
No media center, but still media capable
The Sony Ericsson XPERIA Pureness does not feature the flash-based Media Center, it only has the music player from it.
There is no dedicated gallery and that's understandable given the size and type of the screen, but you are still able to view images in the file manager.
The XPERIA Pureness music player is version 3.0 - a slightly abridged edition of the Walkman player 3.0. The player supports numerous file formats, including the regularly used MP3, WAV, WMA, M4A and E-AAC plus the MegaBass equalizer preset and Stereo widening.
The's even a video player on the XPERIA Pureness and sorry but that's like pencil drawings in a Braille book. Videos are played straight in the file manager, with basic play / pause / fast-forward and rewind. The player has quite a simple interface and supports 3GP and MP4 formats and video resolution of up to 640x360 pixels. Landscape (full screen) mode is available too.
FM radio with RDS and TrackID
The integrated FM radio of Sony Ericsson XPERIA Pureness has memory for 20 stations and supports RDS. It has a nice interface and makes great use of the TrackID music recognition service. The radio can be minimized in the background much like the music player.
TrackID is accessible through its original location in the entertainment menu and offers features like "Find similar music", "Send music info via SMS", "TrackID charts" and a very extensive "Artist info" section.
TrackID also offers the online search option. It allows fast search in the entire database for artist, album, title, and lyrics.
Great audio quality
Apart from being on the quiet side as far as volume in the headphones is concerned, the Sony Ericsson XPERIA Pureness seems fit to replace your dedicated music player. Its audio output is very good all over with no weak points.
The frequency response remains within 0.09 dB of the perfect straight line, which is as good as perfect for all purposes practical.
The rest of the readings are also up among the best in class. Here go the results so you can compare it to some of the other handsets we have tested.
| | | | | | | |
| --- | --- | --- | --- | --- | --- | --- |
| Test | Frequency response | Noise level | Dynamic range | THD | IMD + Noise | Stereo crosstalk |
| Sony Ericsson XPERIA Pureness | +0.03, -0.09 | -86.7 | 86.6 | 0.0058 | 0.017 | -86.1 |
| Sony Ericsson Vivaz | +0.39, -1.94 | -86.2 | 85.7 | 0.011 | 0.143 | -85.7 |
| Sony Ericsson Satio | +0.37, -2.02 | -87.0 | 86.3 | 0.011 | 0.125 | -84.3 |
| Sony Ericsson W902 | +7.31, -2.18 | -81.7 | 84.1 | 0.0039 | 0.020 | -85.4 |
| Sony Ericsson W910 | +0.25, -1.25 | -81.5 | 82.7 | 0.0071 | 0.028 | -81.9 |
| Apple iPhone 3GS | +0.01, -0.05 | -92.1 | 92.1 | 0.0035 | 0.011 | -95.0 |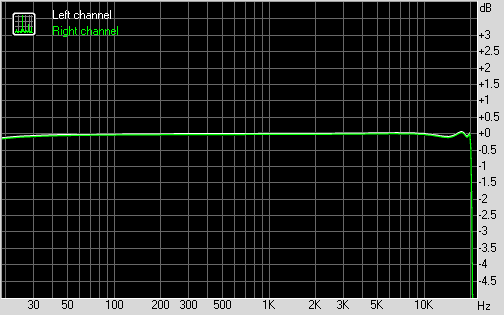 Sony Ericsson XPERIA Pureness frequency response graph
You can find more information about our audio quality test here.
Sonny e phone glassic screen find in india in which stats.....
AnonD-333978
24 Mar 2015
t}A
"It's a phone like no other: the point of its screen is to be transparent, not legible."