Sony Ericsson XPERIA X10 review: Larger than life
Larger than life
GSMArena team, 26 March 2010.
Mediascape: all media in one place
The Mediascape keeps all the media content in three different categories – Music, Video and Photo. Sure enough, the Music and Photo tabs are very similar - they show your recently added, recently viewed/played files and your favorites in small rows of thumbnail images at the top of the screen.
The magic however is in the lower part of the screen, which is dedicated to relevant online content – if you link your X10 to a Facebook/Picasa/Flickr account you will be able to access your web photos or search the Sony Ericsson media store.
We also mentioned there's a Video tab, remember? Well, there is no online access here but you get all your videos in a plain and easy to use thumbnail view. Like most of its Android siblings, the XPERIA X10 lacks support for DivX and XviD videos and those files (if there are any stored in your memory card) don't even get listed.
All the three tabs feature a More button, which will lead you to the full-featured galleries. Choosing more in the Music tab will lead you to the typical music player sorting – recently added, recently played, favorites, albums, tracks, genres, etc.
The music and video player have pretty much identical interfaces with neat styling and straightforward controls. A short while ago the Symbian-powered Satio and Vivaz got equalizers but at this stage there is still none for the music player of the Android-run X10.
The Timescape gallery is originally meant to work in portrait mode only. The gallery contents can be filtered by Recently Viewed, Favorites, Albums and Friends. Images in each category are then displayed on a separate screen. Even if you choose to view all the pictures stored on the handset unfiltered, you will still be looking at a single vertically scrollable screen of thumbnails.
Only when you select a single image, the accelerometer comes into play allowing you to auto-rotate it.
Unfortunatley, image browsing involves a notable lag. However, zooming is reasonably fast. As we mentioned before, there is no multi-touch, so you will count on the dedicated virtual buttons or on double tapping.
Items in the galleries (albums and tracks in the music library, images in the gallery) all have an added Infinite button, which has been often praised in Sony Ericsson marketing materials.
Touching the button, will list all the related content – both local and online.
For instance, you can view all the other tracks in the same music album, all the images taken on the same day, related content in the PlayNow media store or even related videos on YouTube. You can even start a relevant Google search.
Great audio quality
Update 08 Apr: After we updated our Sony Ericsson XPERIA X10 to the latest version of its firmware its audio output improved greatly and the handset achieved excellent results in our test.
The Sony Ericsson XPERIA X10 is still pretty quiet in terms of pure volume, but noise levels reading (indicating the signal-to-noise ratio) and the dynamic range are now excellent and comparable to the best in class.
The frequency response is still spot-on for the entire audible range.
The distortion levels are also top-notch and generally the XPERIA X10 has no weak points as far as its audio output is concerned.And here go the results so you can see for yourselves.
| | | | | | | |
| --- | --- | --- | --- | --- | --- | --- |
| Test | Frequency response | Noise level | Dynamic range | THD | IMD + Noise | Stereo crosstalk |
| Sony Ericsson XPERIA X10 | +0.07 -0.37 | -85.4 | 85.3 | 0.018 | 0.068 | -83.6 |
| Google Nexus One | +0.19, -0.55 | -86.1 | 85.8 | 0.023 | 0.088 | -85.2 |
| HTC HD2 | +0.39, -2.99 | -89.0 | 89.1 | 0.057 | 0.960 | -87.5 |
| HTC Legend | +0.13 -0.56 | -83.4 | 86.5 | 0.024 | 0.191 | -83.5 |
| Sony Ericsson XPERIA Pureness | +0.03, -0.09 | -86.7 | 86.6 | 0.0058 | 0.017 | -86.1 |
| Samsung i8910 Omnia HD | +1.29 -2.74 | -87.6 | 86.6 | 0.0023 | 0.255 | -85.2 |
| Apple iPhone 3GS | +0.01, -0.05 | -92.1 | 92.1 | 0.0035 | 0.011 | -95.0 |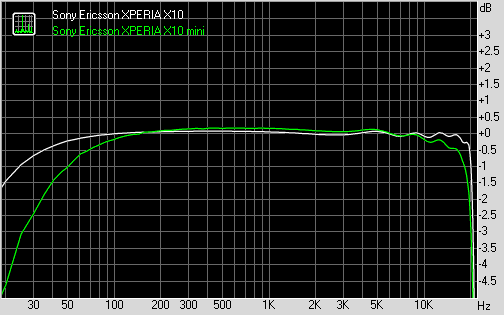 Sony Ericsson XPERIA X10 vs Sony Ericsson XPERIA X10 mini frequency response graphs
You can learn more about the testing process here.
Anonymous
04 Jul 2021
U@J
Good
I had to ability to send a photo with a text last week, now I can't. Not sure if it's the phone or the Bell network, anyone know?
i have been using dis phone for some days now and i have observe it cant install apps