Sony Xperia X, X Performance and XA: Sony at MWC 2016
Sony at MWC 2016
GSMArena team, 20 February, 2016.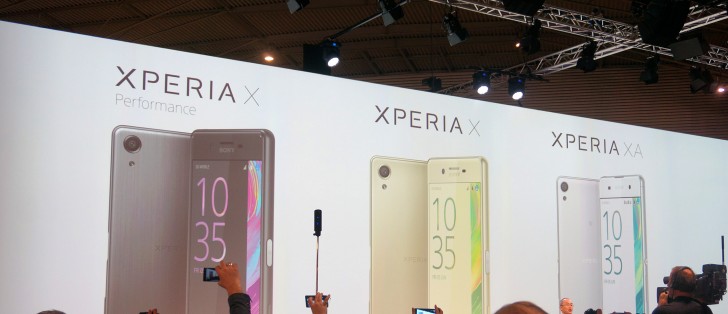 Sony Xperia X hands-on
The Sony Xperia X also has a beveled glass-and-metal bodywork. No brushed finish, but from a distance, it's quite hard to tell the X and the X Performance apart.
Here goes a quick video hands-on from the Mobile World Congress floor.
We did get to handle this one and can say the screen looks great, with wide viewing angles and great colors. Like the Performance, the Xperia X has front-facing stereo speakers.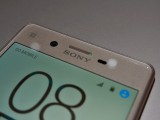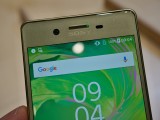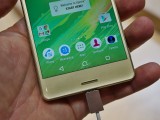 Stereo speakers on the Xperia X
Sony brought its 23MP camera with Predictive Hybrid autofocus to the Xperia X and X Performance. There was a setup to test it out - tracking a randomly moving ball. Getting the initial lock was much slower than on the Galaxy S7 we tested yesterday, but Sony's strength is that once focus is locked, the camera does better at tracking the object as it moves around.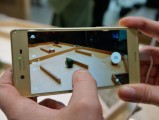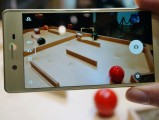 The 23MP camera has Predictive Hybrid AF
The Xperia X is powered by a Snapdragon 650 chipset (with 3GB of RAM) and will launch with Android 6.0 Marshmallow.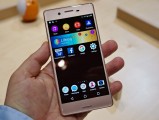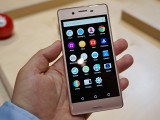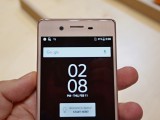 Android Marshmallow with Sony's custom UI
The X (153g) weighs more than the XA (137.4g), the Xperia X Performance (165g) is the heaviest of them three.
Sony Xperia X camera samples
We managed some camera samples with the Xperia X, but the conditions were quite poor. Still, here are a couple of Superior Auto shots and several full-resolution photos.
Re the issue of phone screen going dark during call, is your phones light sensor at the top of screen blocked? I had the same issue when I used a camera cover on the selfie camera (I don't take selfies), which accidentally covered the light sens...
please help me, my Sony Xperia X Performance goes dark on every call and i don`t know how to rectify this and it is frustrating because sometimes the person on the call asks me a to press a digit but then the phone is dark, please assist!
My Sony Xperia X F5122 released in 2016. It's version, 6.1which I updated from the Sony website and its version 7.0 naught. It is very latest and best. I am very pleased with this product.