Sony Xperia 1 review
GSMArena team, 08 June 2019.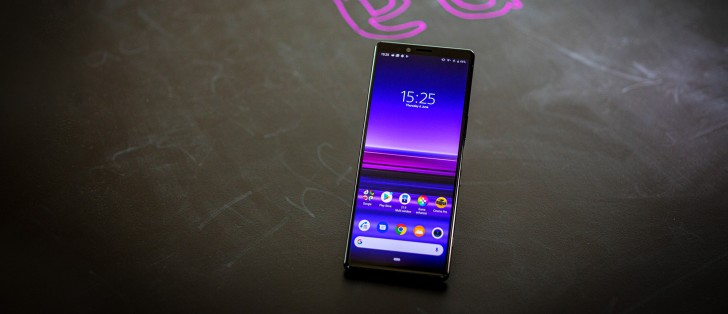 Software
The Xperia 1 boots Android Pie, and it's a slightly more Google-ish variation than the one we saw on the Xperia XZ3 last year. What we mean is that now you can have the pill navigation (which Sony calls 'Swipe up on Home button') in addition to the classic nav bar. You can find the setting in the display menu, and enabling it makes the Xperia 1 navigation resemble that of a Pixel phone.
Fingerprint unlock, as well as Google's Smart Lock options, including Trusted Face (Face Unlock), are available. The most secure one is the fingerprint, of course, but in case you want it easier, you can use some of the Smart Lock suggestions.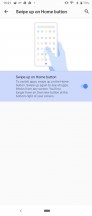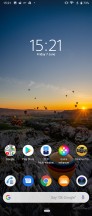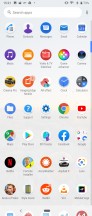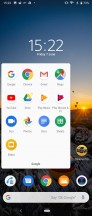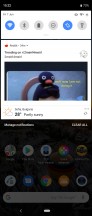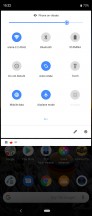 Swipe up setting • Homescreen • App drawer • Folder view • Notification shade
There are unique Xperia bits on top, however - ones that are meant to help out with the tall aspect of the display and the extreme overall height, particularly on this larger 6.5-inch model. Chief among those is one-handed mode.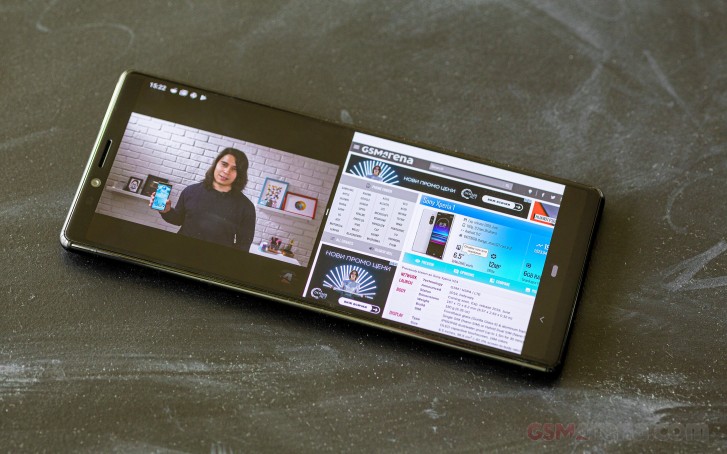 It's not a new thing, it's just that being able to shrink the UI and bring it closer gets a new meaning on a phone of the 10 Plus's proportions. A quick double tap on the Home button does just that and even makes the notification shade almost conveniently reachable with one hand - good luck with that on the full-screen UI.
Side sense is not really a new feature, but it is still unique enough to merit a few words. Plus, Sony's implementation in the Xperia 1 is fairly flexible and in-depth. It boils down to a pair of touch-sensitive areas on either side of the phone. You can tap or slide these to trigger various actions most of which user-configurable, including the sensitivity of the areas. The menu itself is sort of a take on the Android Pie recent apps interface, which is notably missing from its intended location as a row in the app drawer. Unfortunately, in our experience, its sensitivity is a mixed bag, and all of us had a hard time triggering the Side Sense menu reliably time after time. So, that's another feature that's going to the Gimmicks bin if you are keeping count.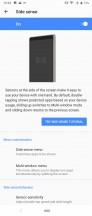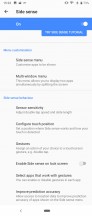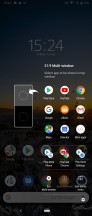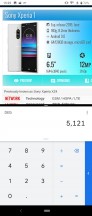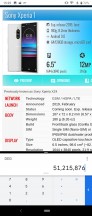 Side sense • Side sense options • Side sense menu • Split window • Split window
One particularly powerful and customizable option is the 21:9 pair shortcut feature. Through it, you simply select two apps and the relative location you want to launch them in and then you can trigger a split-screen with the pair instantly.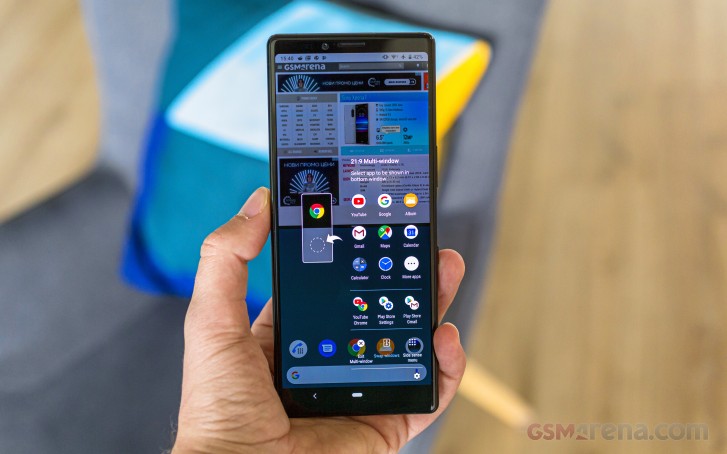 An inherent benefit of an extra-long display is the ability to show more items in long lists - that includes boring stuff like the settings menu, and marginally more fun stuff like, say, posts in Instagram.
Another good use for a 21:9 screen is showing two apps in two larger-than-average halves of the said screen - if only Google hadn't completely ruined the mechanics of going into multi-window with Pie.
There's a downside to the unusual aspect too, in that some apps may not be able to display properly in it. We ran into this with one of the benchmarks we do, but not the more common apps you're likely to use. Even so, the possibility for incompatibility is there.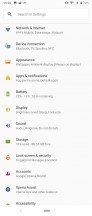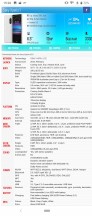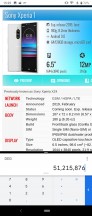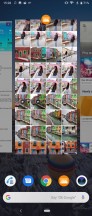 Settings (almost all of them) • Chrome • Multi-window • Task switcher
Sony also notably handles its own multimedia display and playback, with its proprietary Video and Album apps. Album features both photo and video support, can connect to the cloud and local network services and is pretty good at organizing galleries and doing the occasional light edit on a shot. There is a dedicated Video app with Dolby Atmos support, too, which depending on the region, may or may not offer extended information about the content inside.
The Music app is simple and well organized, without lacking any important features. All the while, it looks very appealing with large format album art (and automatic art download) and a flat design. It also features Google cloud integration. There are also various options to tweak the sound, including the DSEE HX up-scaler and Dolby Atmos. Others, like aptX HD, benefit listening to music wirelessly via Bluetooth.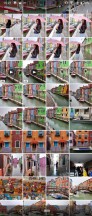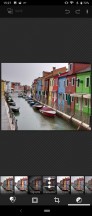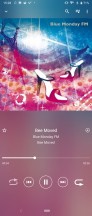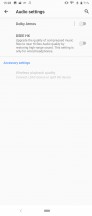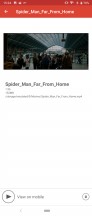 Album app • Photo Editor • Music app • Audio settings • Video app
Game Enhancer is pretty self-explanatory but still contains a few interesting little features. It has two main interfaces - one acting as a game launcher, while the other being an overlay that can be pulled out while in game. It gives two performance profiles to choose from. One being "max-throttle", while the other is a more battery-minded mode that caps fps to 40 and adjusts some other settings. Then there is Focus mode, which disables pesky notifications and other distractions.
There are also screenshot and video capture features, the latter of which can also capture footage from your selfie camera along with the game "let's play" style. There is no direct streaming to any video platforms, though. Last, but not least, a quick search function can bring up YouTube videos in a floating video for you, related to the game you are currently playing.
Performance and benchmarks
The Sony Xperia 1 is properly powered flagship having the latest Snapdragon 855 at the helm. This Snapdragon is based on the 7nm node from TSMC and incorporates an octa-core CPU that Qualcomm calls Kryo 485. It's comprised of a single Gold core (a Cortex-A76 derivative) clocked at the whopping 2.84 GHz; then there are three more Gold cores clocked at 2.42 GHz and a cluster of four Silver cores (Cortex-A55 derivative) ticking at 1.79 GHz.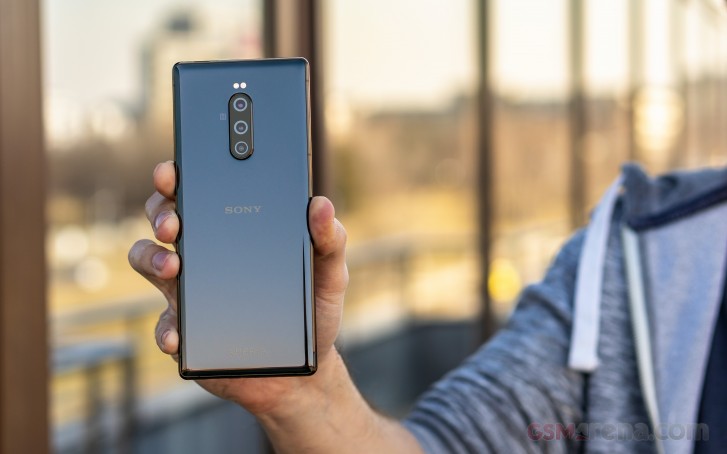 The GPU is Adreno 640 and it's Qualcomm's top-of-the-line graphics processor that can handle pretty much everything you throw at it. There aren't many games running on the native Xperia 1 screen resolution, if any at all, but no matter the resolution, GPUs don't get any better than that in the Android industry.
The Xperia 1 has 6GB of RAM and 128GB of storage, though some markets could get a slightly cheaper 64GB variant in a limited stock.
All that being said, we couldn't help but notice that despite the current choice of flagship chipset, the Xperia 1 appears to be lacking Wi-Fi 6 compatibility. Pretty odd, given that it is within the SD855's capabilities. Sony isn't really taking full advantage of the X24LTE modem either. Although the jump from the provided Cat.19 speed to the theoretical maximum Cat.20 ones are hardly something you'll miss.
We ran our traditional benchmark routine and it really brings no surprises. The latest Qualcomm processor is indeed the best one available on any Android today.
GeekBench 4.1 (multi-core)
Higher is better
Apple iPhone XS Max
11432
Xiaomi Mi 9
11181
Samsung Galaxy Fold
11028
Sony Xperia 1
10985
LG G8 ThinQ
10735
Oppo Reno 10x zoom
10395
Samsung Galaxy S10+
10387
Huawei P30 Pro (perf. mode)
10014
Sony Xperia XZ3
8607
Sony Xperia XZ2 Premium
8509
And only Samsung's latest Exynos core can beat it in certain single-core tasks.
GeekBench 4.1 (single-core)
Higher is better
Apple iPhone XS Max
4777
Samsung Galaxy S10+
4522
Samsung Galaxy Fold
3512
Xiaomi Mi 9
3503
Sony Xperia 1
3447
Oppo Reno 10x zoom
3424
LG G8 ThinQ
3419
Huawei P30 Pro (perf. mode)
3323
Sony Xperia XZ3
2486
Sony Xperia XZ2 Premium
2419
The Adreno 640 is a beast as evident by the offscreen tests.
GFX 3.1 Manhattan (1080p offscreen)
Higher is better
Apple iPhone XS Max
99
Sony Xperia 1
71
Samsung Galaxy Fold
71
Xiaomi Mi 9
70
Samsung Galaxy S10+
69
Oppo Reno 10x zoom
67
LG G8 ThinQ
65
Sony Xperia XZ2 Premium
58
Sony Xperia XZ3
56
Huawei P30 Pro (perf. mode)
56
GFX 3.1 Car scene (1080p offscreen)
Higher is better
Apple iPhone XS Max
60
Sony Xperia 1
42
Samsung Galaxy S10+
42
Samsung Galaxy Fold
42
Xiaomi Mi 9
42
Oppo Reno 10x zoom
40
LG G8 ThinQ
40
Sony Xperia XZ2 Premium
35
Sony Xperia XZ3
35
Huawei P30 Pro (perf. mode)
33
The Xperia 1 runs the onscreen benchmark on an extended 1080p vertical resolution and that's the reason it aces those as well. But note that if a game or a benchmark supports native 4K resolution - it will run in 4K resolution.
GFX 3.1 Manhattan (onscreen)
Higher is better
Apple iPhone XS Max
60
Sony Xperia XZ2 Premium
57
Oppo Reno 10x zoom
57
Xiaomi Mi 9
56
Sony Xperia 1
55
Samsung Galaxy Fold
52
Huawei P30 Pro (perf. mode)
50
Samsung Galaxy S10+
37
LG G8 ThinQ
33
Sony Xperia XZ3
31
GFX 3.1 Car scene (onscreen)
Higher is better
Apple iPhone XS Max
47
Sony Xperia XZ2 Premium
37
Oppo Reno 10x zoom
35
Xiaomi Mi 9
35
Sony Xperia 1
33
Samsung Galaxy Fold
32
Huawei P30 Pro (perf. mode)
29
Samsung Galaxy S10+
23
LG G8 ThinQ
20
Sony Xperia XZ3
19
And finally, here is the 3D Mark score, yet another excellent result.
3DMark SSE 3.1 Unlimited
Higher is better
Samsung Galaxy Fold
6135
Oppo Reno 10x zoom
6052
LG G8 ThinQ
6017
Xiaomi Mi 9
5816
Sony Xperia 1
5792
Sony Xperia XZ2 Premium
4978
Samsung Galaxy S10+
4632
Huawei P30 Pro (perf. mode)
4315
Finally, the compound AnTuTu test just confirms the Xperia 1 features the right hardware and for its price tag you are getting indeed one of the Android's finest.
AnTuTu 7
Higher is better
Xiaomi Mi 9
372006
Oppo Reno 10x zoom
364220
Samsung Galaxy Fold
363016
Sony Xperia 1
356734
Apple iPhone XS Max
353210
Samsung Galaxy S10+
333736
LG G8 ThinQ
331537
Huawei P30 Pro (perf. mode)
316156
Sony Xperia XZ3
284555
Sony Xperia XZ2 Premium
264734
So, as far as performance is concerned, the Xperia 1 won't leave you wanting, not for the couple of years to come at least. It manages heat reasonably - it may get a bit warm but it's the top of the display that's get hot instead of the back - which is a bit odd but not worrisome.
Great phone, I have it, still worth it in 2021! Mostly because of its great chipset snapdragon 855. Boought my phone used recently. It was a bit too expensive after my opinion, when it first came in 2019. This phone can handle ALL games and a...
Am impressed after reading the the reviews i love it and i may live it
Are hong kong versions are different form other versions?