Sony Xperia 10 IV review
GSMArena Team, 14 May 2022.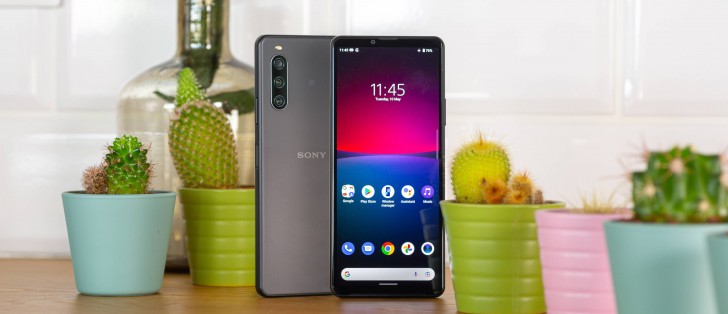 Same tall 6.0" OLED, still no sign of a high refresh rate
The Xperia 10 IV comes with what appears to be the same display as the previous model, which has its pros and cons. On the positive side, it's a sharp 1080p OLED with a multimedia-friendly 21:9 aspect and no cutouts. But Sony keeps refusing to bring a high refresh rate to its mid-range - 60Hz was barely acceptable last year, and it's not looking any better in 2022.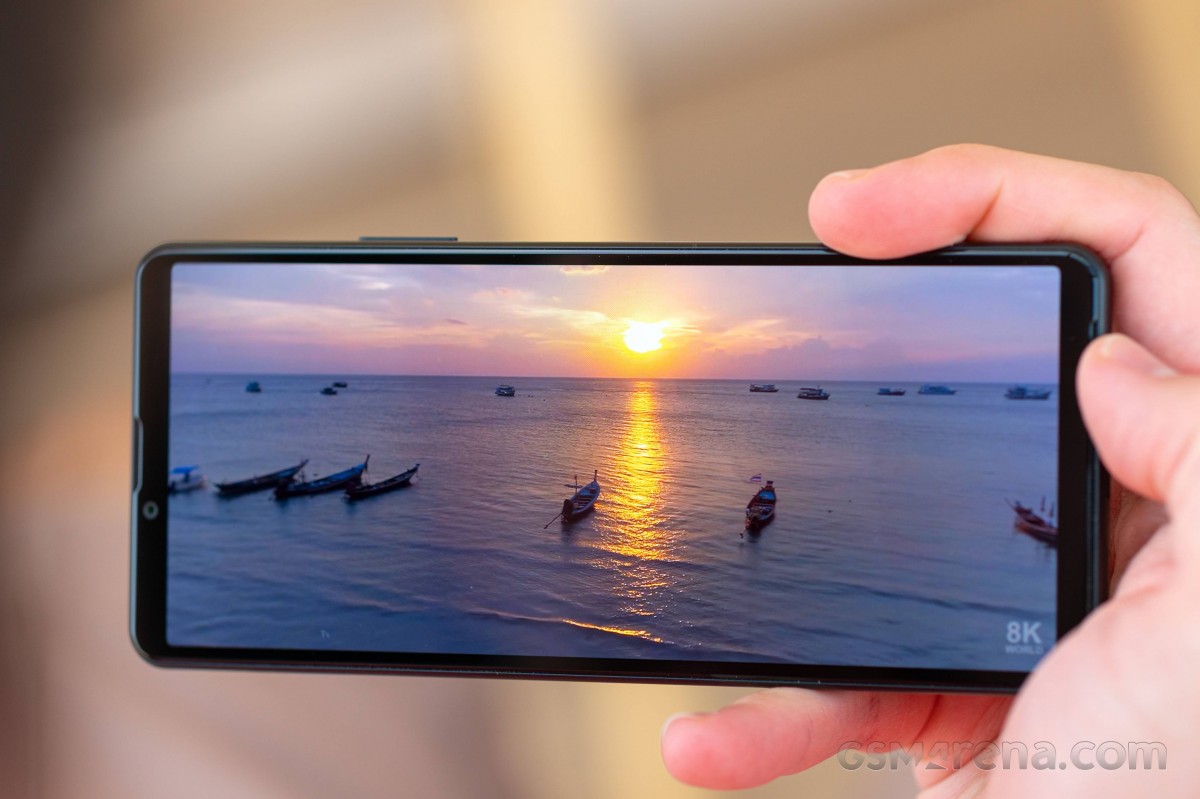 In some earlier press materials, the Xperia 10 IV was said to feature a 1.5 times brighter display than the outgoing model, which may be open to interpretation depending on which numbers you compare. We measured 683nits directly at your disposal with the slider (with a small caveat, read below), which is twice as much as what we got on the 10 III, so in a way, it's actually over-delivering.
On the other hand, we didn't observe any boost in brightness when the phone was under direct light, while the 10 III could reach around 560nits, and that's a lot closer to the new model's result. In any case, the 10 IV is brighter than the 10 III, that much we verified.
Having said that, numbers around and even above 800nits are attainable in this price segment. On 120Hz panels, no less.
Display test
100% brightness
Black,cd/m2
White,cd/m2
Contrast ratio
Sony Xperia 10 IV
0
683
∞
Samsung Galaxy A53 5G
0
427
∞
Samsung Galaxy A53 5G (Max Auto)
0
830
∞
Samsung Galaxy A52s 5G
0
383
∞
Samsung Galaxy A52s 5G (Max Auto)
0
800
∞
Sony Xperia 10 III
0
343
∞
Sony Xperia 10 III (Max Auto)
0
559
∞
Xiaomi Mi 11 Lite 5G
0
514
∞
Xiaomi Mi 11 Lite 5G (Max Auto)
0
846
∞
Poco X4 Pro (Max Auto)
0
754
∞
Poco X4 Pro
0
477
∞
Realme 9 Pro+
0
433
∞
Realme 9 Pro+ (Max Auito)
0
613
∞
OnePlus Nord N20 5G
0
461
∞
OnePlus Nord N20 5G (Max Auto)
0
647
∞
The 10 IV has a two-fold color reproduction approach with two 'Color gamut and contrast' modes - Original and Standard, and a White balance submenu where you get Warm, Medium, and Cool presets, plus RGB sliders for further custom tweaking.
The out-of-the-box mode is Standard, and it's the one that offers a wide color gamut (up to 97% DCI-P3) and vivid color reproduction. It defaults the white balance to 'Cool,' but it's more like 'Cold' in our opinion, with a strong blue shift to the grayscale. Switching to Warm improves color accuracy considerably, though it can't quite be called 'calibrated'.
Interestingly, it's in Standard mode with the White balance set to Medium that we measured the highest brightness quoted above - in the default Standard/Cool state we got a slightly lower 632nits.
Original mode defaults to Warm white balance, and it proved fairly accurate for our sRGB test swatches.
Sony Xperia 10 IV battery life
After last year's massive battery capacity upgrade (4,500mAh on the 10 III vs. 3,600mAh on the 10 II) and the 10 III's excellent longevity, we wouldn't have thought another increase was mandated. Sony had other plans, though, and the Xperia 10 IV now has a 5,000mAh power pack, a number you'd find on competing phones with 25% larger displays.
The battery life has gone from excellent to amazing this year, and the Xperia 10 IV is a true battery champ.
We clocked 32 hours of looping videos offline and 21 hours of Wi-Fi web browsing, properly impressive results. The 35 hours of voice call capability isn't half-bad either, and standby consumption was very low as well. With all that into our formula, the Xperia 10 IV posted an overall Endurance rating of 163 hours.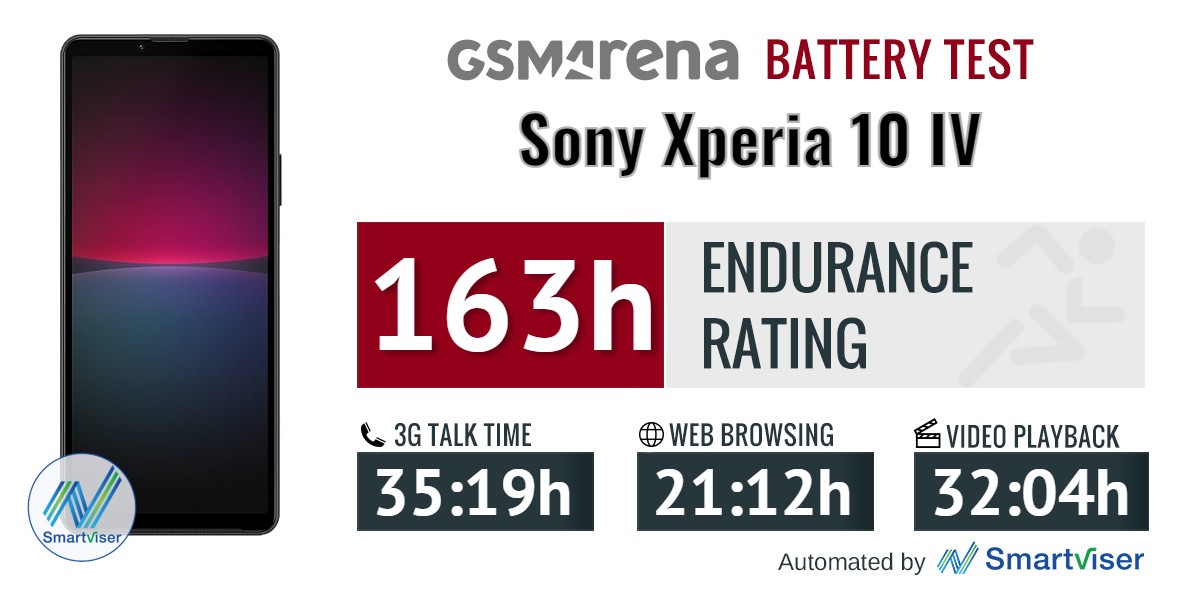 Our battery tests were automated thanks to SmartViser, using its viSerDevice app. The endurance rating denotes how long the battery charge will last you if you use the device for an hour of telephony, web browsing, and video playback daily. More details can be found here.
Video test carried out in 60Hz refresh rate mode. Web browsing test done at the display's highest refresh rate whenever possible. Refer to the respective reviews for specifics. To adjust the endurance rating formula to match your own usage - check out our all-time battery test results chart.
Charging speed
For all of its endurance, the Xperia 10 IV isn't all too fast to charge. Since it doesn't come bundled with an adapter, we tried it with a handful of different USB PowerDelivery units we had lying around. With 3 out of 4 tested, it peaked at 18W at the very early stages of charging and then quickly dropped to 10W, where it settled for the remainder of the process. The fourth one reached 21W briefly, and the reading stood at 11W for most of the time, but it wasn't the quickest to a full charge. We got between 2:30h and 2:37h from zero to 100 and 26% to 28% at the half-hour mark.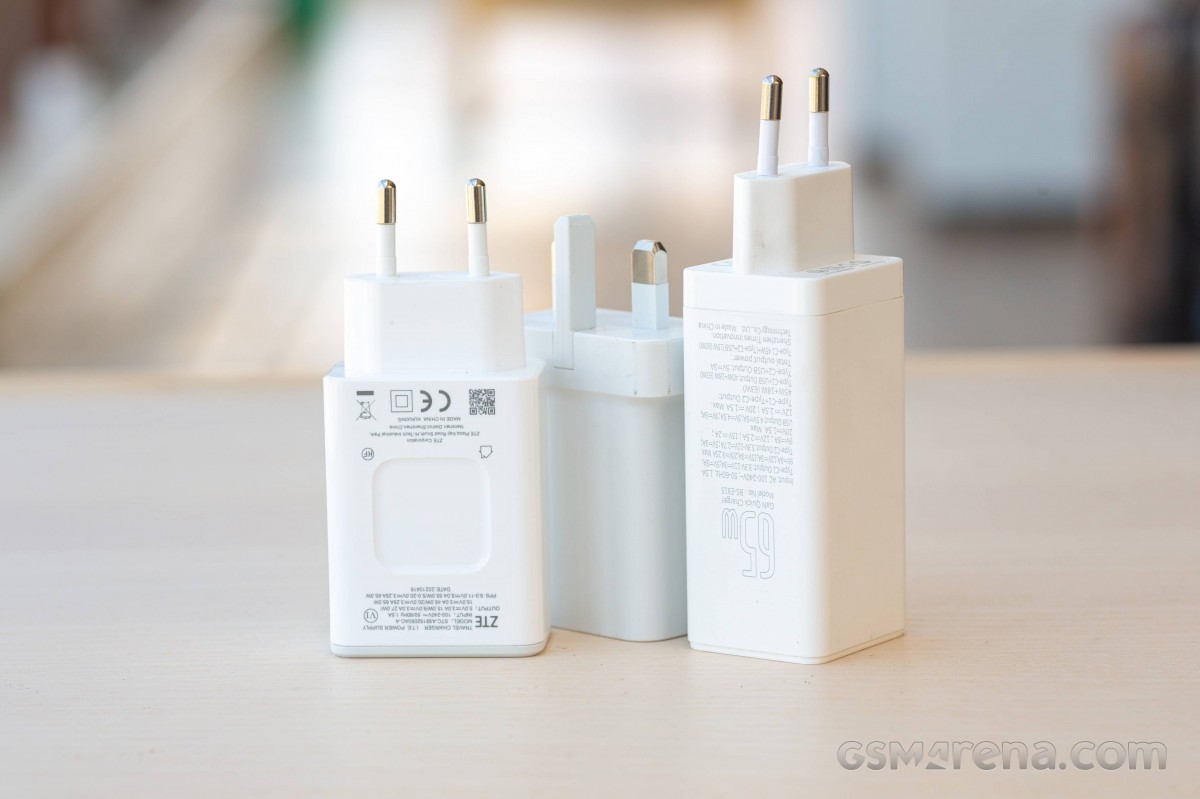 Random selection of chargers (not necessarily used for this test)
Sony does sell a 30W PD adapter - the XQZ-UC1 unit supports both the PDO and PPS extensions of the PD standard, which is great. The only trouble is that it has an MSRP of €50/£50, and even if you could find it for a little under that, it's still a lot of money. Judging by the relatively consistent numbers we got with our random selection of USB-PD chargers, we doubt it would get us anything radically different in terms of speed.
30min charging test (from 0%)
Higher is better
Poco X4 Pro 5G
75%
Xiaomi Mi 11 Lite 5G
58%
Poco M4 Pro 5G
54%
Samsung Galaxy A52s 5G
53%
Samsung Galaxy A53 5G
45%
Sony Xperia 10 III 65W PD)
37%
Sony Xperia 10 IV (65W PD)
28%
Sony Xperia 10 III (Sony 30W PD)
28%
Sony Xperia 10 III (Sony 7.5W PD)
20%
Time to full charge (from 0%)
Lower is better
Poco X4 Pro 5G
0:49h
Xiaomi Mi 11 Lite 5G
1:04h
Poco M4 Pro 5G
1:07h
Samsung Galaxy A53 5G
1:24h
Samsung Galaxy A52s 5G
1:28h
Sony Xperia 10 III (65W PD)
2:10h
Sony Xperia 10 IV (65W PD)
2:30h
Sony Xperia 10 III (Sony 30W PD)
2:30h
Sony Xperia 10 III (Sony 7.5W PD)
2:58h
Speaker test
Stereo speakers continue to elude the Xperia 10 in its 4th incarnation - you need to upgrade to the 5 or 1 series to get those. Still, the 10's speaker is a front-firing one, so at least the sound is directed at you and not away.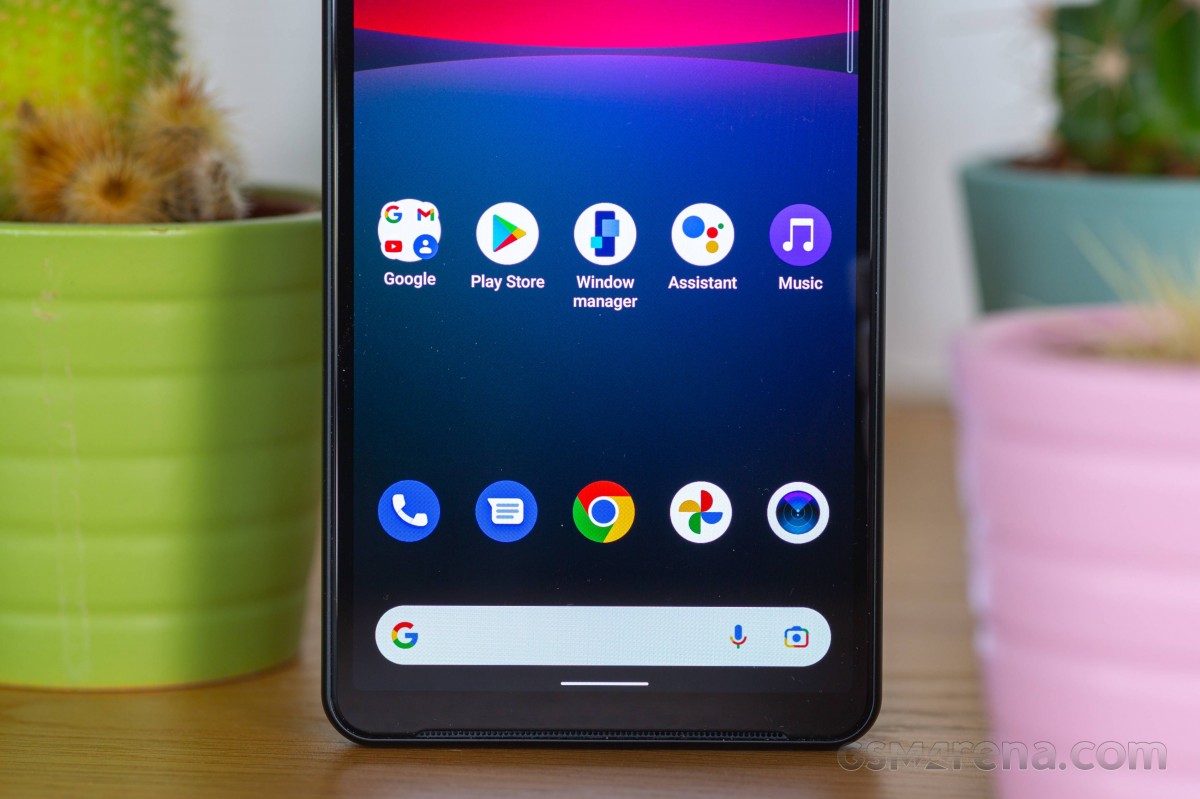 It's not a particularly loud speaker by any stretch - our test put it in the 'Below average' category for loudness, a notch down from last year's model. We observed a slight downgrade in the 1 IV's test numbers, too (even though the 1 IV did stay in the same loudness tier and does sound better than the 1 III), so we reckon it's due to a change in the EQ tuning of some sort.
Listening to the samples does point in that direction, too - the output of the new phone is distinctly different, if not strictly impressive in its own right. We're hearing more of a low-end rumble in some tracks, though female vocals, for example, do sound better on the 10 III. Both Galaxy A52s and A53 have notably more powerful speakers (stereo too), and both sound better. The Xiaomi 11 Lite NE 5G is also a lot louder.
Use the Playback controls to listen to the phone sample recordings (best use headphones). We measure the average loudness of the speakers in LUFS. A lower absolute value means a louder sound. A look at the frequency response chart will tell you how far off the ideal "0db" flat line is the reproduction of the bass, treble, and mid frequencies. You can add more phones to compare how they differ. The scores and ratings are not comparable with our older loudspeaker test. Learn more about how we test here.
I like this phone a lot. I'm happy with it but disappointed with the 60fps video capture. Juddery and without image stabilisation. As stated in the review, the Camera UI suggests you can have optical image stabilisation on with 1080P60 but th...
Anonymous
22 Apr 2023
gqb
I highly doubt Sony will put 778G unless Sony brings back the Xperia 10 Plus model. After all, the Xperia 10 Plus ii was meant to have a more powerful Snapdragon 720G chipset compared to the Xperia 10 ii's Snapdragon 665 chipset before Sony scra...
If only they equip this display with at least 90hz this will be incredible! But maybe for next gen I suppose with at least Snapdragon 778G, good stereo speakers and same price it will be a Perfect midrange!