Sony Xperia 1, 10 Plus, 10, L3 hands-on review
GSMArena team, 25 February 2019.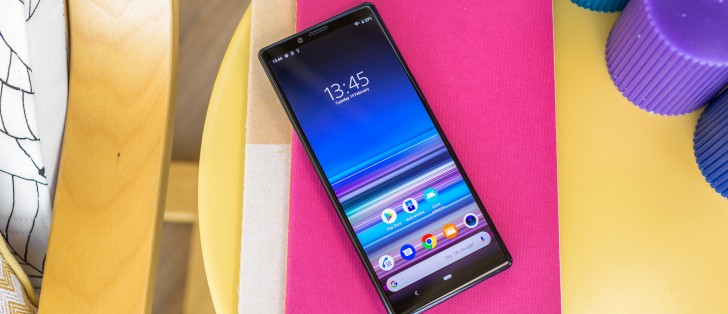 Hardware and internals
The Xperia 1 is pretty well-stacked in terms of hardware.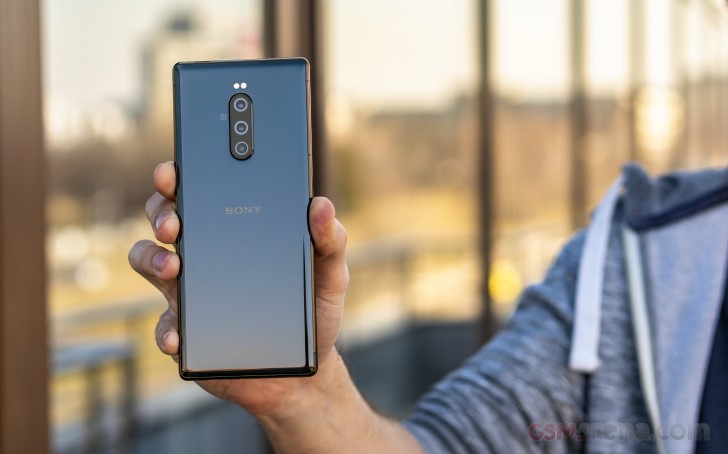 Qualcomm's new Snapdragon 855 is at the helm of it all, which, by Sony's estimates can deliver up to 25% better CPU and 40% better GPU performance. We can only assume that's compared to the Snapdragon 845. Still, meaningless numbers aside, it is the latest and greatest Qualcomm has to offer so we expect nothing short of blazing performance out of the Xperia 1.
That being said, we couldn't help but notice that despite the current choice of flagship chipset, the Xperia 1 appears to be lacking Wi-Fi 6 compatibility. Pretty odd, given that it is within the SD855's capabilities. Sony isn't really taking full advantage of the X24LTE modem either. Although the jump from the provided Cat.19 speed to the theoretical maximum Cat.20 ones are hardly something to loose sleep over. Another notable omission is a 3.5mm audio jack. Realistically, however, you can't really go and expect that from most flagships nowadays. At least Sony gives you a Type-C to 3.5mm dongle in the box.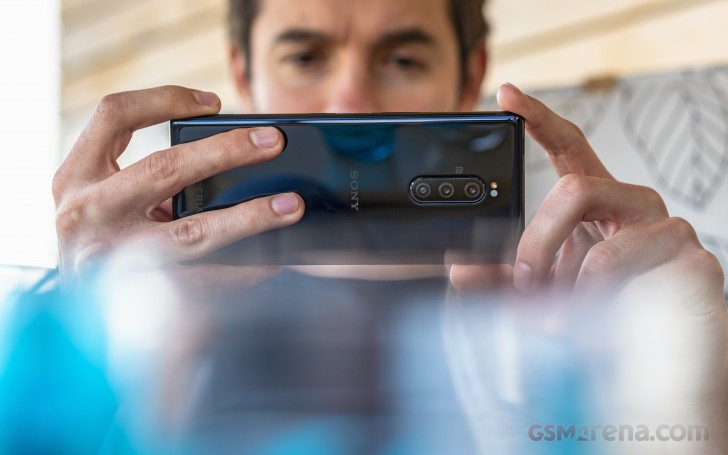 On the other hand, something not part of the standard retail package, or at least not in every market, is a proper Power Delivery charger to saturate the Xperia's potential charging rate. Still, on the plus side, it is good to see that Sony is sticking with its move to USB PD - a decision we are pretty sure Google appreciates as well. Plus, you can still pick up an official Sony PD charger separately.
And while it is definitely way too early to judge battery endurance, the 3,330 mAh battery capacity does leave us somewhat wanting. Especially on such a large flagship with such a massive display, clearly geared towards heavy multimedia usage. That being said, Sony has a slew of extra battery features, like Smart STAMINA and Battery Care to extend battery life both charge to charge and over a longer period of time. Hopefully all that adds up to a good endurance rating.
The Snapdragon 855 is accompanied by 6GB of RAM and either 64GB or 128GB of storage. The latter is expandable via microSD up to 512GB. Other little bits and pieces of hardware are pretty standard overall, like USB 3.1 Type-C, Bluetooth 5.0 and NFC.
Camera
In a Sony first, the Xperia 1 is equipped with a trio of cameras on the back. A fairly versatile arrangement, in fact, consisting of a regular snapper, a telephoto one, as well as an ultra-wide. All with a resolution of 12MP. Going into more particulars, here is the camera setup it has to work with:
12MP (1/2.6"), regular wide, f/1.6, 26mm lens, Dual Photo Diode
12MP (1/3.4") telephoto, f/2.4, 52mm lens
12MP (1/3.4") ultra-wide, f/2.4, 16mm lens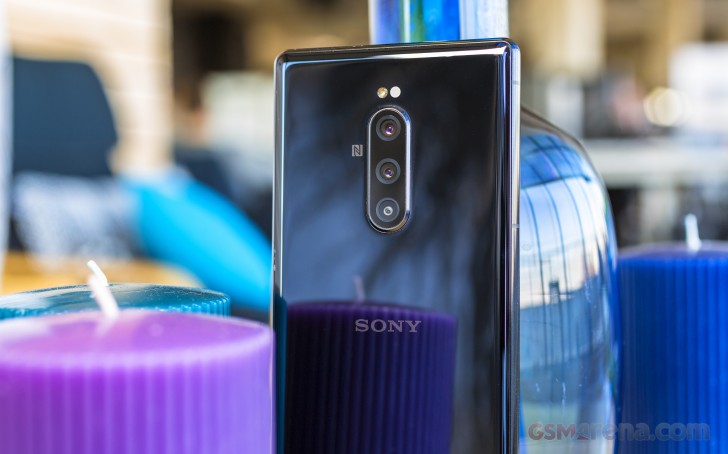 Sony has been building up a pretty compelling and multi-faceted camera setup throughout the years. Most tech that has proven worthwhile has definitely stuck, like the stacked RAM image sensor that enables things like the 960 fps FullHD slow motion video capture. Having said that, there are plenty of camera novelties in the Xperia 1 as well.
One such addition is optical image stabilization. It is incorporated in Sony's long-standing and pretty efficient SteadyShot stabilization tech. So, not only does it have the benefit of its traditional 5-axis EIS system, but there is also OIS now to give it an extra hand.
This year Sony also decided to borrow quite a bit from its professional cinematography "Alpha" company division. Bionz X for mobile is comprised of a few interesting new technologies that are now achievable with current mobile hardware. One is Eye AF - an intelligent focusing system that can fix itself on a subject's eye and provide impressively accurate tracking. Not only it is smart enough to easily tell the distance the person in question is at, but it can also remember a particular eye. So that even if more people come into the frame or said person moves out of the frame and then back in, the eye-tracking and focus, that goes along with it remain unfazed. Really neat!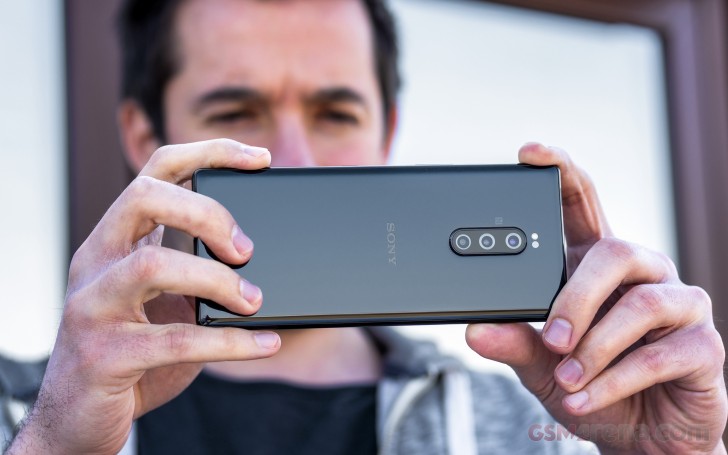 Continuous burst shooting is another nifty trick. It allows the Xperia 1 to capture stills at a rate of up to 10fpsm with Auto Focus and Auto Exposure for each shot so that each and everyone comes out looking perfect.
RAW noise reduction, like the name suggests, is a noise-reduction algorithm that works on the RAW version of a photo, instead of the already compressed one. While definitely a resource-intensive task, the modern hardware in the Xperia 1 is up to the challenge and Sony claims the quality of the final result is better for it. We can't wait to put that to the test in our full review.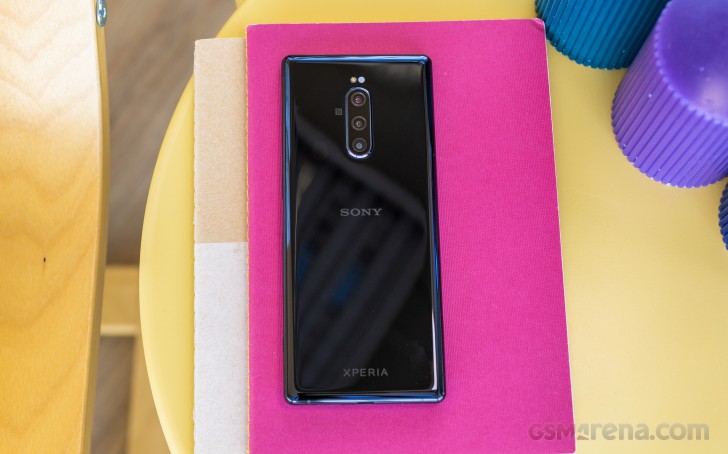 The Xperia 1 comes with a few video capture goodies as well. For one, there is the new SteadyShot implementation we mentioned earlier, now complete with OIS. Also, seeing how big Sony is banking on its new 21:9 concept, it is only natural to see a 21:9 video recording mode in the camera app. It records at the native 1644 x 3840px resolution of the Xperia 1's display.
Then there is "Cinema Pro" - an additional video capture app designed in collaboration with Sony's CineAlta division and squarely aimed at cinematography enthusiasts. It is hard to describe what it offers in a few words, but some of the most important highlights include shooting at a cinematic 23.98 fps at a cinematic resolution of 3840 x 1640 or 2520 x 1080. That, however, is just the tip of the iceberg. The app also allows you to the camera you'd like to shoot with - the 16mm f/2.4, or the 26mm f/1.6 or the 52mm f/2.4. There is also adjustable ISO, ranging from 50 to 1600 adjustable shutter (1/23.98 to 1/1541.32) and manual focus.
Most interesting, however, is the Look selector, which gives you a pick from professional color spaces for your video. These include VENICE CS, Strong/BU60 YE60, Bright/BU20 YE60, Soft/YE80, String/BU100, Cool/BU60 and Deep/YE40. Sony goes as far as to claim that along with the "Creator mode" display color mode in the settings, you can get a setup similar to a professional video camera monitor out of the Xperia X1. That would be pretty impressive, but you'll have to wait for the full review for our best attempt to put it to the test.
Features and Software
The Xperia 1 boots Android 9 Pie out of the box with a fairly light layer of extra customization and apps on top. Sticking close to Vanilla Android is actually pretty typical of Sony as of late and we definitely appreciate it. Even so, there are a few features worth mentioning. Keep in mind, though, that the software build we got to test is not final and some details might be subject to change.
Side sense is not really a new feature, but it is still a unique enough offering to merit a few words. Plus, Sony's implementation in the Xperia 1 (not necessarily the Xperia 10 and 10 Plus, but more on that later) is fairly flexible and in-depth. It boils down to a pair of touch-sensitive areas on either side of the phone. You can tap or slide these to trigger various actions most of which user-configurable, including the sensitivity of the areas.
One particularly powerful and customizable option is the Pair shortcut feature. Through it, you simply select two apps and the relative location you want to launch them in and then you can trigger a split-screen with the pair instantly.
Game Enhancer is pretty self-explanatory but still contains a few interesting little features. It has two main interfaces - one acting as a game launcher with its own icon within the launcher, while the other being an overlay that can be pulled out while in game. Using it you can choose from one of two performance profiles. One being "max-throttle", while the other a more battery-minded mode that caps fps to 40 and adjusts some other settings. Then there is Focus mode, which disables pesky notifications and other distractions.
There are also screenshot and video capture features, the latter of which can also capture footage from your selfie camera along with the game "let's play" style. There is no direct streaming to any video platforms, though. Last, but not least, a quick search function can bring up YouTube videos in a floating video for you, related to the game you are currently playing.
Pricing and availability for the Xperia 1 are still not known, but you can expect the phone to start hitting shelves sometime in late Spring this year.
Wow what a phone hands down
you can't delete my comment cause i mentioned your mistake guys, for a device to be labeled as 4k/QHD/FHD/HD we should look at "vertical" pixels not horizontal pixels , this is an elementary term in resolution topics. so if a device doesn't ha...