Sony Xperia 5 review
GSMArena team, 18 Sept 2019.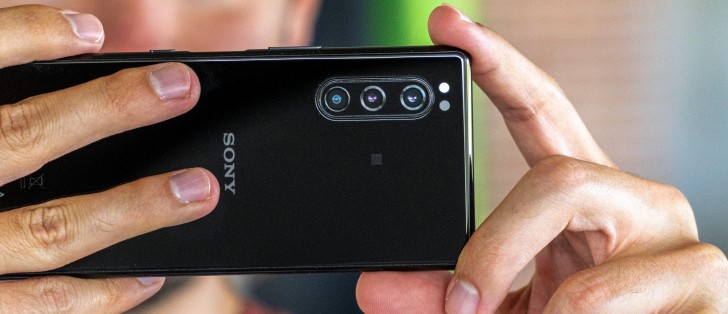 Software
The Xperia 5 boots Android Pie, in the same very Pixel-like variation as the one we observed on the Xperia 1. Characteristic of that is the pill navigation (Sony calls it 'Swipe up on Home button') which is the default way of going back and home, though there is also the option for a classic three-button nav bar.
Fingerprint unlock, as well as Google's Smart Lock options, including Trusted Face (Face Unlock), are available. The most secure one is the fingerprint, of course, but in case you want it easier, you can use some of the Smart Lock suggestions.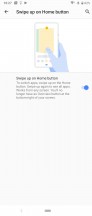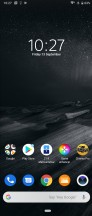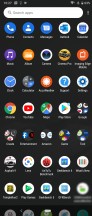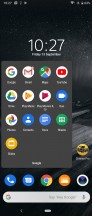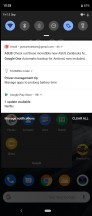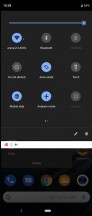 Swipe up setting • Homescreen • App drawer • Folder view • Notification shade • Quick toggles
There are unique Xperia bits on top, however. Even though the 5 is noticeably smaller than the 1, One-handed mode is still available. A quick double tap on the Home button shrinks the UI to one corner bringing everything within reach. The 5's extreme height, even though it's a reasonably compact device overall, still means you can't reach the notification shade all too easily, but this way you can.
We've had mixed experience with Side sense, but here's what it is. A pair of touch-sensitive areas on either side of the phone enable various actions most of which user-configurable. The base menu is sort of a take on the Android Pie recent apps interface, which is notably missing from its intended location as a row in the app drawer.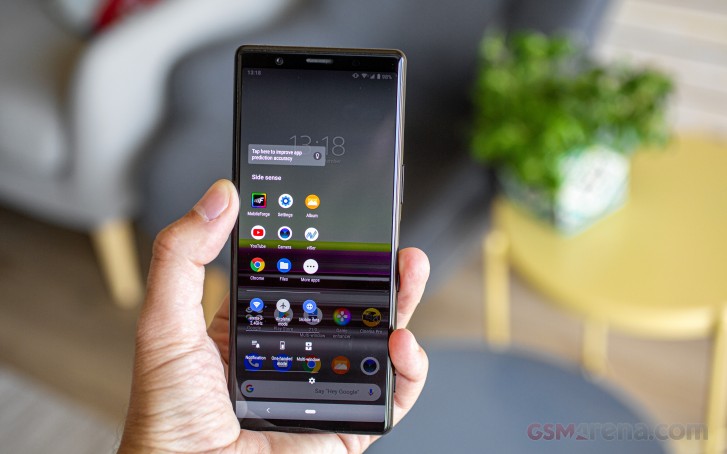 One particularly powerful and customizable option is the 21:9 pair shortcut feature. Through it, you simply select two apps and the relative location you want to launch them in and then you can trigger a split-screen with the pair instantly.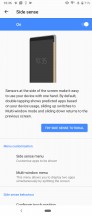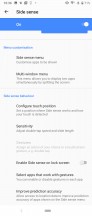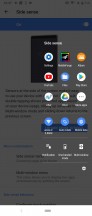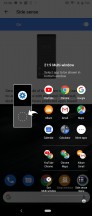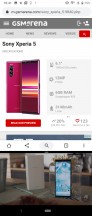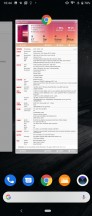 Side sense • Side sense options • Side sense menu • 21:9 multi-window • Task switcher
Unfortunately, in our experience engaging the trigger areas is a bit unreliable and we generally had a hard time triggering the Side Sense menu time after time.
An inherent benefit of an extra-long display is the ability to show more items in long lists - that includes boring stuff like the settings menu, and marginally more fun stuff like, say, posts in Instagram.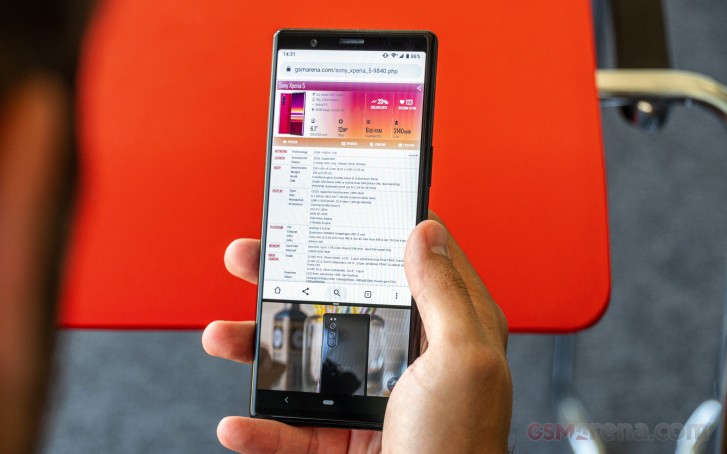 Another good use for a 21:9 screen is showing two apps in two larger-than-average halves of the said screen. Google did completely ruin the mechanics of going into multi-window with Pie, so it's a good thing Sony's worked around that with the 21:9 multi-window option in Side Sense, as well as a dedicated homescreen shortcut to it.
There's a downside to the unusual aspect too, in that some apps may not be able to display properly in it. We ran into this with one of the benchmarks we do, but not the more common apps you're likely to use. Even so, the possibility for incompatibility is still there, even after several years of odd screen ratios.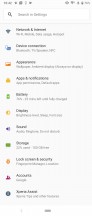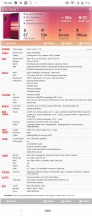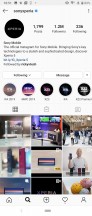 Settings (quite a few of them) • Chrome • Instagram
Sony still handles its own multimedia display and playback with its proprietary Album and Music apps. Album features both photo and video support, can connect to the cloud and local network services and is pretty good at organizing galleries and doing the occasional light edit on a shot.
The Music app is simple and well organized, without lacking any important features. All the while, it looks very appealing with large format album art (and automatic art download) and a flat design. It also features Google cloud integration. There are also various options to tweak the sound, including the DSEE HX up-scaler and Dolby Atmos. Others, like aptX HD, benefit listening to music wirelessly via Bluetooth.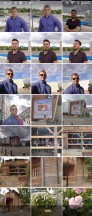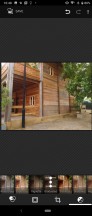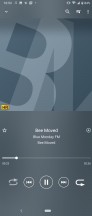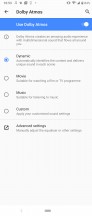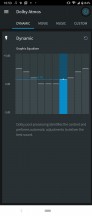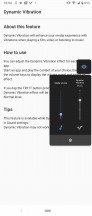 Album app • Photo Editor • Music app • Audio settings
Game Enhancer is pretty self-explanatory but still contains a few interesting little features. It has two main interfaces - one acting as a game launcher, while the other being an overlay that can be pulled out while in game.
It gives two performance profiles to choose from, which you select on a per-game basis. One is "Performance preferred", while the other is a more battery-minded mode that caps fps to 40 and adjusts some other settings. Then there are the Focus settings, which let you disable pesky notifications and other distractions.
There are also screenshot and video capture features, the latter of which can also capture footage from your selfie camera along with the game. There is no direct streaming to any video platforms, though. Last, but not least, a quick search function can bring up YouTube videos in a floating video for you, related to the game you are currently playing.
Synthetic benchmarks
The Xperia 5 packs a Snapdragon 855, Qualcomm's current finest - that is, if you don't count its Plus version that's only got minor clock speed tweaks. There's only one RAM and storage version for the Xperia 5 and that's 6GB/128GB. The storage is of the UFS 2.1 variety as opposed to the faster UFS 3.0 that you'd find on a Galaxy Note10 or a OnePlus 7 Pro.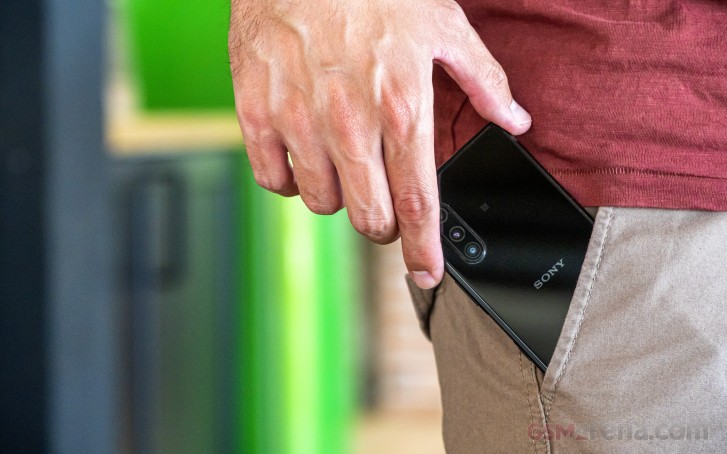 We ran the usual benchmarks and got the usual results. The Xperia 5 matches its big bro in CPU performance and the two are towards the top of the pack in multi-core GeekBench. The Xperia 5 edges ahead of the compact Galaxies under such loads, but does trail them significantly in terms of single-core potency - that is, if you compare against Exynos Galaxies.
GeekBench 4.1 (multi-core)
Higher is better
Apple iPhone XS
11472
Xiaomi Mi 9
11181
OnePlus 7
11075
Sony Xperia 1
10985
Sony Xperia 5
10941
LG G8 ThinQ
10735
Asus Zenfone 6
10721
Samsung Galaxy Note10
10353
Samsung Galaxy S10
10174
Samsung Galaxy S10e
10081
Huawei P30
9789
Google Pixel 3
8146
GeekBench 4.1 (single-core)
Higher is better
Apple iPhone XS
4823
Samsung Galaxy Note10
4544
Samsung Galaxy S10
4543
Samsung Galaxy S10e
4518
Asus Zenfone 6
3505
Xiaomi Mi 9
3503
Sony Xperia 5
3493
OnePlus 7
3461
Sony Xperia 1
3447
LG G8 ThinQ
3419
Huawei P30
3295
Google Pixel 3
2377
In Antutu, the Xperia 5 didn't quite put out the same numbers as the 1, and also placed behind our Exynos Note10. The Galaxy S10 and S10 are still those all-important few-thousand points behind, for what it's worth.
AnTuTu 7
Higher is better
Xiaomi Mi 9
372006
OnePlus 7
367812
Asus Zenfone 6
361679
Sony Xperia 1
356734
Apple iPhone XS
346379
Samsung Galaxy Note10
344442
Sony Xperia 5
334809
LG G8 ThinQ
331537
Samsung Galaxy S10
328366
Samsung Galaxy S10e
325192
Huawei P30
287960
Google Pixel 3
233699
In the graphics department, the Xperia 5 is generally slightly behind the 1, posting the occasional frame per second lower result. It could be a matter of thermals or who knows what.
GFX 3.1 Manhattan (1080p offscreen)
Higher is better
Apple iPhone XS
98
Asus Zenfone 6
71
Sony Xperia 1
71
OnePlus 7
71
Xiaomi Mi 9
70
Sony Xperia 5
69
Samsung Galaxy S10
68
Samsung Galaxy S10e
67
LG G8 ThinQ
65
Samsung Galaxy Note10
59
Google Pixel 3
57
Huawei P30
54
GFX 3.1 Manhattan (onscreen)
Higher is better
Apple iPhone XS
60
Asus Zenfone 6
57
OnePlus 7
57
Samsung Galaxy S10e
57
Xiaomi Mi 9
56
Sony Xperia 1
55
Samsung Galaxy Note10
55
Google Pixel 3
55
Sony Xperia 5
52
Huawei P30
48
Samsung Galaxy S10
37
LG G8 ThinQ
33
GFX 3.1 Car scene (1080p offscreen)
Higher is better
Apple iPhone XS
60
Samsung Galaxy S10
43
Xiaomi Mi 9
42
Asus Zenfone 6
42
Sony Xperia 1
42
OnePlus 7
42
Samsung Galaxy S10e
42
LG G8 ThinQ
40
Sony Xperia 5
40
Google Pixel 3
35
Huawei P30
29
Samsung Galaxy Note10
28
GFX 3.1 Car scene (onscreen)
Higher is better
Apple iPhone XS
47
Samsung Galaxy S10e
40
Asus Zenfone 6
36
OnePlus 7
36
Xiaomi Mi 9
35
Sony Xperia 1
33
Sony Xperia 5
33
Google Pixel 3
33
Samsung Galaxy Note10
28
Huawei P30
26
Samsung Galaxy S10
23
LG G8 ThinQ
20
Speaking of thermals, the Xperia 5 does heat up noticeably and its performance under sustained load suffers. During benchmarking it was common for the results to drop after repeated runs, though it was by up to 7-8%, so it's not an issue in real life. In any case, the Xperia 5 is certainly one powerful pocketable flagship.
Today I found out what I really really miss on my X5 . A slot/loop hole to fasten a safety lanyard/lasso.
Too tall, no jack, too expensive My LG V30 is almost 4 years old and has thinner bezels
I use SONY electricals only, about Xperias, if you upgrade, try to mainten the 5'2 screen size. They're comfortable in hand and pockets too. The front and back glass, that was a really creative art work.