Sony Xperia 5 hands-on review
IFA 2019
GSMArena team, 05 Sept 2019.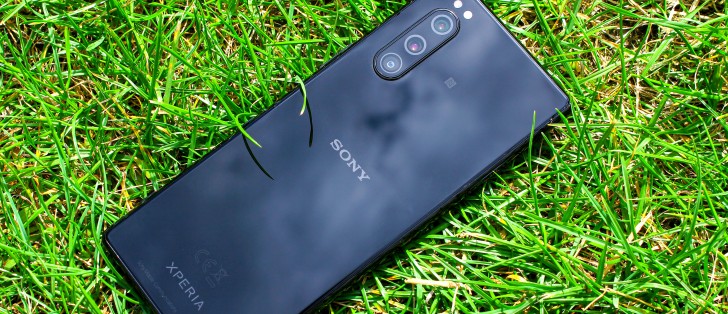 Design
The design is familiar - it's the Xperia 1 in a smaller chassis, after all. We've got the same glass sandwich design with aluminum side frame. The front and back glass panels are Gorilla Glass 6 and the available colors are Blue, Red, Black and Green. Nothing too fancy with gradients and such - typical Xperia minimalist design.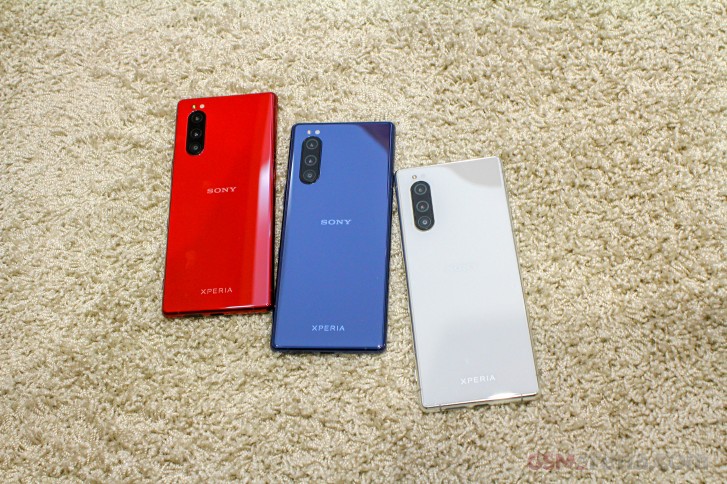 A difference of just 0.4" in the screen diagonal might not sound much on paper but in reality, the Xperia 5 is a very compact handset that fits well in the hand and you can barely feel it in the pocket. It almost feels like you are using a small TV remote control.
The extra tall 21:9 aspect ratio keeps the phone slim while still accommodating enough screen real estate for comfortable content consumption. As we've noted before, this unorthodox aspect ratio comes in handy when watching videos, web browsing and multi-tasking using the split view natively supported by Android.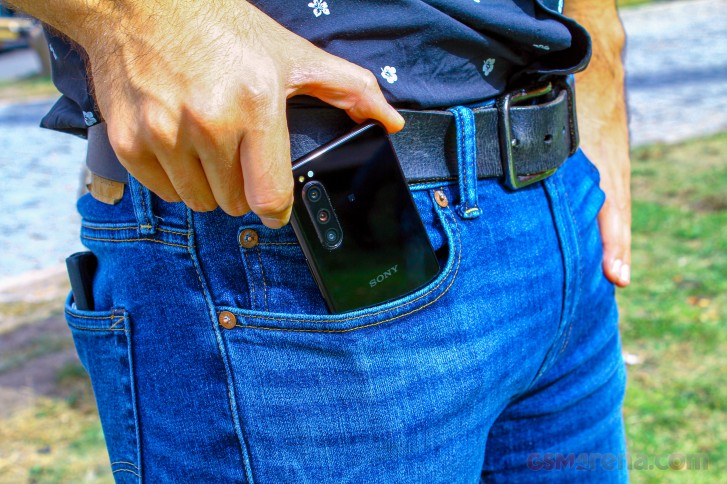 Since it's not too wide, it's easy to use with one hand while the fingerprint reader placement is ideal, to say the least. Your thumb falls exactly into place, so no complaints here.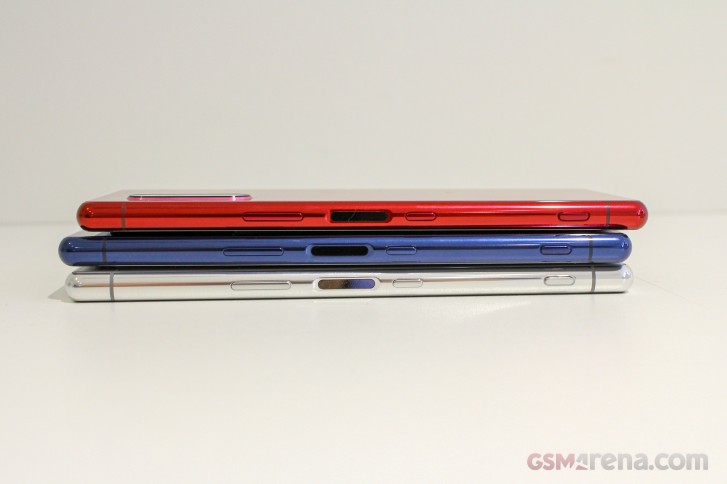 Interestingly, the Xperia 5 is just as thick as the Xperia 1 - 8.2mm. That's definitely not the slimmest devices around but given that the Xperia 5 is narrower than its bigger brother, it feels thicker in the hand. That's not necessarily bad, though, as it ensures more secure grip.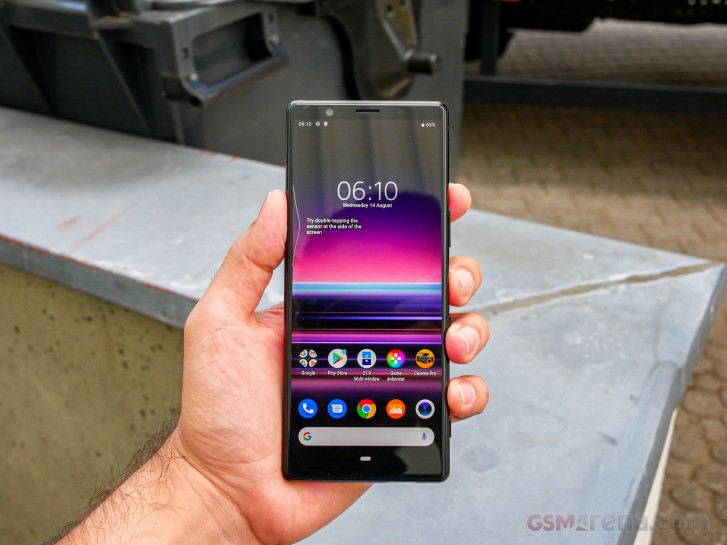 The weight is just right for a device with 6.1-inch screen - it feels solid without being hefty at the same time. It's not feather-light, though. The weight distribution isn't ideal as we find it bottom-heavy but on the other hand, it's better than being top-heavy given the tall nature of the phone. We assume this would mean less accidental drops.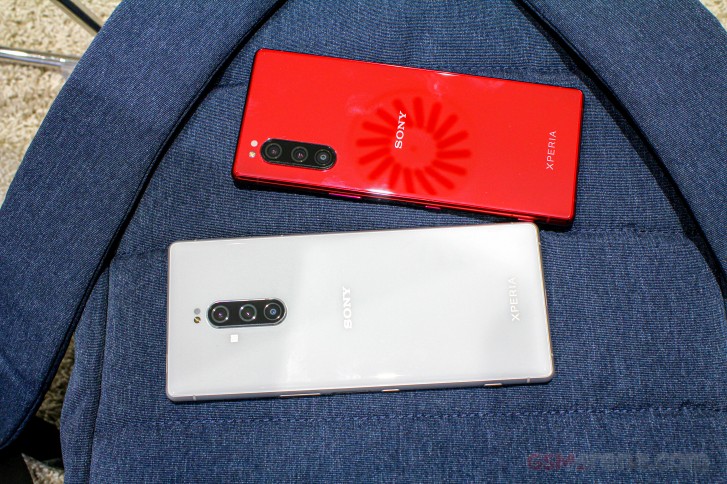 Xperia 5 (red) next to Xperia 1 (white)
Other notable difference is the camera array. This time around, it seems to be placed in the upper-left corner of the phone - another way to tell the two phones apart.
Hardware overview
As we already mentioned, there aren't many hardware differences coming from the Xperia 1. We've reviewed a number of Snapdragon 855-powered smartphones, including the Xperia 1 so there shouldn't be any surprises in terms of performance. It's good to see the 128GB storage being a standard here but the amount of RAM stays the same - 6GB.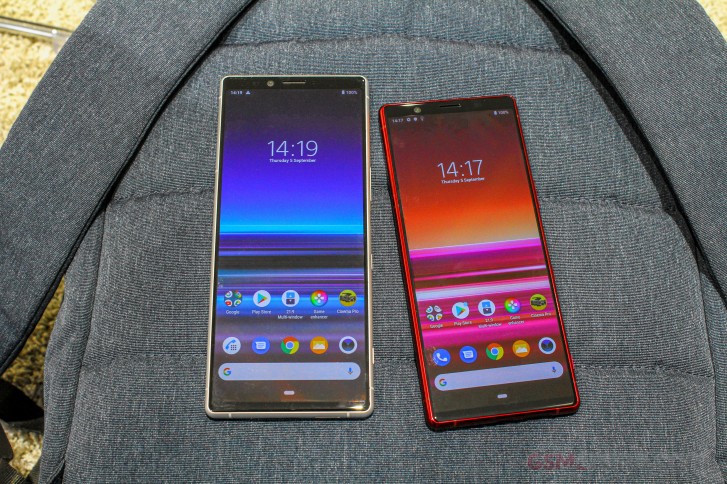 Xperia 1 (white) next to Xperia 5 (red)
The 6.1-inch cinematic 21:9 display is now with considerably lower resolution - FHD+ (1080 x 1520px) coming down from 1644 x 3840px on the Xperia 5. Still an OLED, mind you.
But this might not be such a bad decision. The Xperia 1's battery life was far from stellar - that's what you get from an average battery capacity and high pixel count on a big display. The Xperia 5 could potentially right the wrongs in this regard. After all, the battery gap between the Xperia 1 and 5 isn't as big as you might have thought - 3,330 mAh vs 3,140 mAh, respectively. Still, it wouldn't have hurt if Sony opted for a bigger unit as most competitors are closer to the 4,000 mAh mark nowadays.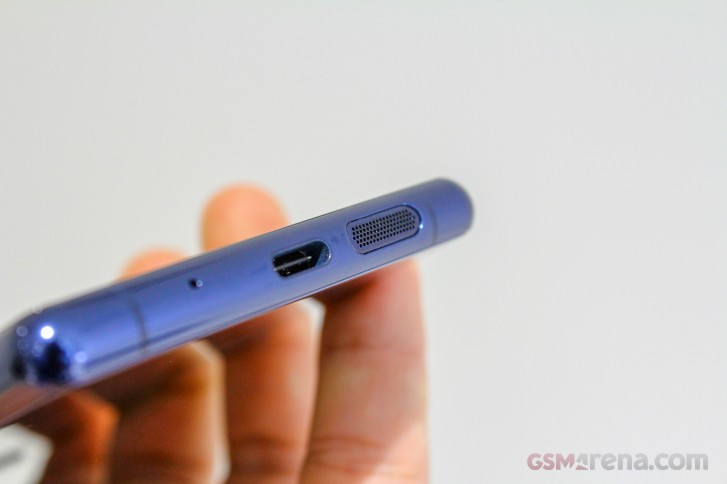 Lastly, the little fellow has borrowed the Dolby Atmos-laden stereo speakers from the Xperia 1 too, despite retaining the high IP68 certification.
I owned 2 sony xperia phones, now I am owner of samsung galaxy s10e because of size. Sony- I no need showel !
Fixed focus on a flagship like this? In 2019? Are you kidding me? 😂. My xz2 6gb version is just like this one (I see not a realy upgrade)... Battery downgrade... Why buying this?. And I'm a big sony (ericsson) fan! I have tons of mint ph...