Sony Xperia go review: Get out, get wet
Get Out, Get Wet
GSMArena team, 31 July 2012.
Standard retail package
The box that the Sony Xperia go comes in is shaped like the retail packages of its NXT siblings. It holds all the basics, including an AC adapter, a USB cable that you can use with both your computer and the charger, and a single-piece headset.



The Sony Xperia go retail package contents
There's also a microSIM to regular SIM adapter supplied, which is a handy tool to have, and perhaps a recognition on Sony's part that they see the Xperia go as a backup handset for outdoor activities. We were disappointed to not find the arm case and wrist strap, which were so thoughtfully provided with the Sony Ericsson Xperia active. If you're lucky enough to find it, there's an Xperia go "Sports Edition", which comes in yellow and the arm case and wrist strap intact.
Sony Xperia go 360-degree spin
At 111 x 60.3 x 9.8 mm the Sony Xperia go is one of the more compact smartphones out there. It's not too heavy either at 110g, which is a nice change over the bulky and heavy rugged handsets from a few years ago.
Build quality and design
Comparisons with the Sony Ericsson Xperia active are inevitable and - as much as we liked the old Sony Ericsson rugged smartphone - we think the Xperia go does well to take a different stylistic approach. In terms of actual size, the Xperia go is taller as it accommodates a bigger screen. It doesn't look as compact and sporty as its predecessor but is way slimmer and will never risk the embarrassment of being underdressed on more formal occasions.
The design of the Sony Xperia go is pretty neat, the subtle chin on the front being its most characteristic feature. We quite like the styling and the slim waistline undoubtedly contributes to that. Playing closely by the NXT series style guide, the Sony Xperia go proves that ruggedness doesn't necessarily result in a face that only a mother can love.
What we are not quite fond of is the choice of finish for the Sony Xperia go's back panel. The plastic used feels almost abrasive to the touch and takes some getting used to. It's unlike anything we've seen before and, sadly, not in a particularly good way. Well, it must be the price that needs to be paid for the extra ruggedness, we guess.
Above the screen is the earpiece, along with the proximity sensor. Unfortunately, there's no front-facing camera here.


The proximity sensor is next to the earpiece
Below the screen, there are three capacitive keys (Back, Home and Menu). You can enable haptics for them. The screen is slightly projecting over the phone's body, providing a tactile reference point. The resulting chin is a lot subtler though than in the Xperia Sola. Just beneath the capacitive keys is the Xperia go microphone pinhole.


The trio of capacitive keys below the screen
The left side only holds the 3.5mm audio jack near its top. It's covered with a protective plastic seal, which you need to keep on to maintain the level of water resistance.
On the right is the covered USB port for charging and transferring files and the volume rocker. There's no camera shutter key here.




The microUSB is joined by the volume rocker on the right
The top has nothing but the power key, while on the bottom you'll find just the lanyard eyelet. Normally you'd also find a microphone pinhole in here, but as we mentioned it has been moved to the front panel of the Xperia go.




The power key on top • Lanyard eyelet and primary microphone on the bottom
On the back of the Sony Xperia go we find the 5MP camera lens and the LED flash. The secondary microphone for stereo recording and the loudspeaker grille are also nearby.



The camera lens, LED flash, secondary mic and speaker grille
Removing the back cover reveals the microSD and SIM card slots. You can't access or replace your battery. The microSD card is hot-swappable, but the SIM card is not - attempting to add or remove a SIM while the phone is on will result in an automatic restart.
The battery is a 1305 mAh unit, which is said to provide about 520 hours of 2G stand-by (460 hours in 3G) or up to 6 h 30 min of talk time (5 h 30 min in 3G).
Display
The Sony Xperia go comes with an HVGA LCD, measuring 3.5 inches in diagonal. The screen is nothing to write home about in this day and age. Even mid-range smartphones often offer WVGA resolution nowadays, so the Xperia go is losing some points here.


The screen quality could have been better
The good news is the BRAVIA-powered screen offers decent image quality. It may not be the sharpest around, but its contrast and colors are good enough for the price range. Sadly, Sony is still unable to fix their displays viewing angles and the Xperia go screen quickly starts to lose contrast when you tilt it to the side. It's what you usually see with phones in this budget range though, so we're hardly surprised.
Here go the Xperia go results from our traditional display tests . You can find more about the testing routines here.
Display test
50% brightness
100% brightness
Black, cd/m2
White, cd/m2
Contrast ratio
Black, cd/m2
White, cd/m2
Contrast ratio
HTC Desire C
0.23
186
814
0.5
360
723
Sony Xperia go
0.30
282
928
0.63
541
859
HTC One X
0.15
200
1375
0.39
550
1410
Sony Xperia U
0.35
287
831
0.55
515
930
Samsung S7500 Galaxy Ace Plus
0.27
239
873
0.6
528
888
Samsung Galaxy Pocket
0.31
238
774
0.62
468
753
Samsung Galaxy Y
0.40
247
624
0.72
471
625
Contrast ratio
Nokia 808 PureView
4.698
Samsung I9300 Galaxy S III
3.419
Samsung Omnia W
3.301
Samsung Galaxy S
3.155
Nokia N9
3.069
Samsung Galaxy Note
2.970
HTC One S
2.901
Samsung Galaxy S II
2.832
Huawei Ascend P1
2.655
Nokia Lumia 900
2.562
Apple iPhone 4S
2.269
HTC One X
2.158
Nokia N8
2.144
Apple iPhone 4
2.016
Sony Ericsson Xperia ray
1.955
Sony Xperia U
1.758
LG Optimus 4X HD
1.691
HTC One V
1.685
LG Optimus Vu
1.680
LG Optimus 3D
1.542
Nokia Asha 302
1.537
Nokia Lumia 610
1.432
Gigabyte GSmart G1355
1.361
Sony Xperia go
1.577
HTC Desire C
1.300
LG Optimus L7
1.269
Meizu MX
1.221
Samsung Galaxy Pocket
1.180
Samsung Galaxy mini 2
1.114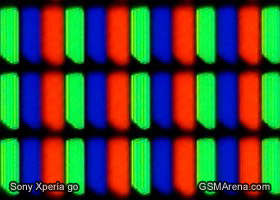 The Xperia go's RGB matrix under a microscope
Handling
The overall design of the Xperia go is in quite similar to the Sony Xperia sola - squarish construction with tightly etched corners, and a characteristic extension of the body below the display. It's certainly one of the good-looking rugged smartphones out there and it provides a nice alternative to the curved lines of the NXT line of Sony smartphones.
Overall we'd say we like the design and the solid, industrial feel of the handset, which still remains lightweight and compact. It's also quite easy to handle due to its compact dimensions. Even one-handed usage was, usually, quite comfortable, although the feel of the back panel is something that takes more than a week to get used to.
Coming up is our Sony Xperia go software tour.
It is do vulnerable ,easy to hate! Low battery life easy to smash screen Ooooooooh sloooooooooow Make me sick this phone
I brought a Sony XPERIA must say its a nice phone its says water proof/resistance wil I be able to go swim with my phone before I do just wana make sure coz its say 1m for 30min???? Plz if someone can tell me??
Hoping for Xperia Go1 soon :) great phone, needs second edition for sure