Sony Xperia M2 review: Dial M for midrange
Dial M for midrange
GSMArena team, 30 May 2014.
Sony Xperia M2 retail package
The roomy retail box of the Sony Xperia M2 covers just the basics in the shape of an A/C adapter, a microUSB cable and a headset.
Sony Xperia M2 360-degree view
With a bigger screen to show for it, the Sony Xperia M2 is obviously taller than the original Xperia M. It stands at 139.7 x 71.1 x 8.6mm and weighs a solid 148g. This is very close in fact to the dual-SIM five-incher, the Xperia C.
Design, build quality and handling
It's not just the size actually, the two handsets have quite a lot in common. Sony has keept the OmniBalance design for a second generation in a row now and it still does the job quite well. What the Xperia M2 lacks compared to the Xperia C is a removable battery cover, and therefore a user-accessible battery.
What looks like glass on both sides, is actually a pretty close resemblance but the Sony was obviously mindful of the budget. A closer inspection reveals the rear is actually made of extra glossy black polycarbonate. It's so reflective it can almost replace a mirror. The downside of this finish is it would get covered in smudges if you even so much as look at it.
The Sony Xperia M2 comes with a 4.8" display, which HTC might try to sell to you as a mini next year. It isn't the most compact smartphone around, but not impossible to operate single-handedly. The Xperia M2's matte sides provide at least some sort of proper grip, which is more than welcome considering the super slippery rear finish.
Display
The Sony Xperia M2 has a 4.8" LCD display of qHD resolution (540 x 960px) for a decent, even if hardly spectacular, 229ppi sharpness. It is protected by a layer of Gorilla Glass 3, though the absence of oleophobic coating makes fingerprints a problem. The surface is not as easy to clean as we would like.
Color rendering looks okay, but the white balance is on the cold side meaning there is a subtle bluish tint. On this smartphone the side viewing angles are OK, with little loss of contrast and color shift when you are not looking at the screen head on.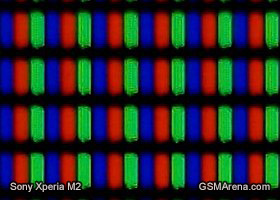 Sony Xperia M2 RGB display matrix
The overall image quality is quite decent, the display is very bright and the contrast is great.
Display test
50% brightness
100% brightness
Black, cd/m2
White, cd/m2
Contrast ratio
Black, cd/m2
White, cd/m2
Contrast ratio
Sony Xperia M2
0.33
325
989
0.64
643
1000
Sony Xperia M
0.17
150
865
0.57
569
983
Nokia Lumia 625
0.18
200
1111
0.33
395
1205
HTC One mini 2
0.19
220
1141
0.42
501
1196
LG G2 mini
0.12
91
752
0.52
398
748
HTC One mini
0.15
177
1197
0.50
685
1361
Samsung Galaxy S4 mini
0
166
∞
0
396
∞
Motorola Moto G
0.35
315
906
0.57
550
967
Oppo R819
0.56
607
1078
0.62
754
1210
The front display glass is quite reflective too, making the screen hard to read in direct sunlight.
Sunlight contrast ratio
Nokia 808 PureView
4.698
Apple iPhone 5
3.997
Samsung Galaxy Note 3
3.997
Samsung Galaxy S5
3.549
Samsung I9300 Galaxy S III
3.419
Nokia Lumia 925
3.402
Samsung I9505 Galaxy S4
3.352
Samsung Omnia W
3.301
Samsung Galaxy S
3.155
Samsung Galaxy S4 mini
3.127
Samsung Galaxy S4 zoom
3.118
Nokia N9
3.069
Samsung Galaxy Note
2.970
Sony Xperia Z1
2.950
HTC One S
2.901
BlackBerry Q10
2.856
Samsung Galaxy S II
2.832
Samsung Galaxy S II Plus
2.801
BlackBerry Z30
2.790
Huawei Ascend P1
2.655
Sony Xperia ZR
2.672
Nokia Lumia 900
2.562
HTC One Max
2.537
Nokia Lumia 720
2.512
HTC One
2.504
Sony Xperia Z
2.462
Samsung Galaxy S III mini
2.422
HTC One (M8)
2.371
Motorola RAZR i
2.366
Samsung Galaxy Note II
2.307
Oppo Find 7a
2.279
Apple iPhone 4S
2.269
HTC Desire 600 dual sim
2.262
LG Nexus 5
2.228
HTC One X
2.158
Nokia N8
2.144
Oppo Find 5
2.088
Nokia Lumia 630
2.056
BlackBerry Z10
2.051
Apple iPhone 4
2.016
HTC One mini
2.003
LG G2
1.976
Sony Ericsson Xperia ray
1.955
Sony Xperia Z2
1.944
HTC One mini 2
1.940
Samsung Galaxy Camera
1.938
LG G Pro 2
1.922
HTC Butterfly
1.873
Huawei Ascend P6
1.865
Sony Xperia V
1.792
Sony Xperia U
1.758
Meizu MX3
1.754
Sony Xperia T2 Ultra
1.740
LG Optimus 4X HD
1.691
HTC One V
1.685
BlackBerry Q5
1.682
LG Optimus Vu
1.680
LG Optimus GJ
1.666
HTC Desire V
1.646
Samsung Galaxy Ace 3
1.622
Sony Xperia Z Ultra
1.578
Samsung Galaxy Core
1.563
LG Optimus G Pro
1.552
LG Optimus 3D
1.542
Samsung Galaxy Core LTE
1.542
Nokia Asha 302
1.537
Sony Xperia M
1.473
Nokia Lumia 610
1.432
Samsung Galaxy Grand Neo
1.393
Sony Xperia M2
1.393
Gigabyte GSmart G1355
1.361
Samsung Galaxy Grand
1.321
HTC Desire C
1.300
Nokia Asha 501
1.270
LG Optimus L7
1.269
LG Optimus L9
1.227
Meizu MX
1.221
Sony Xperia E dual
1.203
Samsung Galaxy Pocket
1.180
Sony Xperia tipo
1.166
Samsung Galaxy mini 2
1.114
Bought at only £29 as a stand by Pleasantly surprised Battery is not too bad, Camera I's fine 4g capable For the price excellent phone,
I got my Sony M2 nearly 3years ago. It is a good item. 2 issues with this phone I am not happy with. #1- 8Gb internal storage is not enough. There are a lot of rubbish apps you can't delete and are taking a lot of space already! The system to run ...
Very good long life phone