Sony Xperia neo L review: Blast from the past
Blast from the past
GSMArena team, 11 August 2012.
Xperia gets Ice Cream Sandwich
The Sony Xperia neo L runs Android 4.0 Ice Cream Sandwich out of the box but it's still covered head to toe by the custom skin that Sony usually use and the interface doesn't feel too different. If you have one of those Xperias that started life with Gingerbread but got promoted to ICS, you'll feel right at home with the neo L.
As usual, we've shot the user interface on video for your viewing pleasure.
The Xperia neo L has the usual five-pane homescreen configuration, but there is no option to add or remove panes. There are four docked shortcuts (two on either side of the launcher shortcut). These are visible on all five homescreen panes and are user configurable: they can be either single icons or folders with multiple items in them.
Speaking of folders, one of the differences is that they're now displayed a bit differently - they show thumbnails of the first four items in them. Not a major change, but gives you quick peek of what's inside the folder.
The homescreen does a neat trick called Overview mode. Pinch to zoom out on any of the 5 homescreen panes and a new screen opens up with a cool transition. All active widgets gather there for easy viewing and selection.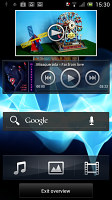 The Overview mode helps you find the widget you are looking for
The Xperia neo L has some custom-made Sony widgets in addition to the standard set. Those include the Timescape widget (there's a dedicated app too) and a Mediascape-like widget for photos and videos (the actual app isn't there anymore, the standard gallery is back).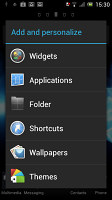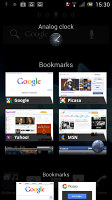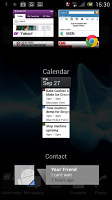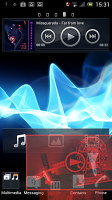 Widgets menu • Removing widget
A cool new addition to the lockscreen, missing from the Xperia phones of old, is the music player widget, which lets you control music playback without unlocking the phone. You can also enable Face, Pattern, PIN or Password unlock, in ascending order of security.
The standard notification area and task switcher are of course present and accounted for - no custom touches to them. For some reason the notification area isn't accessible from the lockscreen as it usually is on ICS (and on other ICS-running Xperia phones).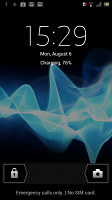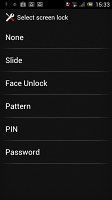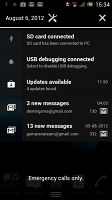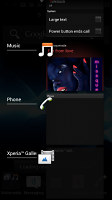 The lockscreen • Lockscreen options • The standard notification area and task switcher
Synthetic benchmarks
The Sony Xperia neo L is powered by a Qualcomm MSM8255 Snapdragon chipset, which packs a 1GHz Scorpion core, 512MB of RAM and Adreno 205 GPU. That's no longer the pinnacle of mobile phone hardware, so we didn't expect miracles here.
The CPU performance is mostly unchanged compared to the neo V. It's better than lower-clocked Cortex-A5 designs used by some of the neo L's competition, but an Xperia U blows it out of the water.
Benchmark Pi
Lower is better
Samsung Galaxy S Advance
530
Sony Xperia U
533
Sony Xperia go
543
Samsung Galaxy Ace 2
643
Sony Xperia neo L
865
Linpack
Higher is better
Sony Xperia go
69.9
Sony Xperia U
64.9
Samsung Galaxy Ace 2
54.9
Sony Xperia neo L
34.9
HTC One V
34.4
HTC Desire C
16.2
The Adreno 205 GPU is an old design and WVGA resolution pushes it to its limit. Still, with a NenaMark 2 result of about 26fps, the Xperia neo L should do okay in casual 3D games, but don't expect the new 3D shooters to work.
NenaMark 2
Higher is better
Sony Xperia go
42.8
Samsung Galaxy Ace 2
31.6
Sony Xperia U
28.3
Sony Xperia neo L
25.8
HTC Desire C
16.0
Web browsing performance turned out pretty good and it can improve further if you use Chrome instead of the stock Android browser (which isn't an option on phones that are still running Gingerbread).
The Sony Xperia neo L held its own against NovaThor-powered dual-cores like the Xperia U and the Samsung Galaxy Ace 2 in terms of JavaScript performance. The Xperia U pulled ahead in overall browser performance, but the lower clock speed of the Ace 2 put it on par with the neo L.
SunSpider
Lower is better
Sony Xperia U
2814
Sony Xperia neo L (Chrome)
2878
Samsung Galaxy Ace 2
2997
Sony Xperia neo L
3009
Sony Xperia go
3228
HTC One V
3299
HTC Desire C
6971
BrowserMark
Higher is better
Sony Xperia go
76820
Sony Xperia U
75906
Sony Xperia neo L (Chrome)
74565
Samsung Galaxy Ace 2
62252
Sony Xperia neo L
59997
HTC One V
42342
HTC Desire C
24635
Anonymous
06 Apr 2016
a3A
bsm,I've got one of these,it does not work fluently,battery life is so short that you have to charge phone every time you do 2hours of web browsing,the keys of the phone(back,home,sett) will stop working after sometime and you'll have difficult time ...
Is it possible to increase internal memory from1GB(approximate usage 315MB only) to 3 or 4GB?
Worst phone. Lags very often. Please don't buy.