Sony Xperia neo L review: Blast from the past
Blast from the past
GSMArena team, 11 August 2012.
Social phonebook
The visually customized phonebook of the Xperia neo L is virtually the same as the Xperia sola's and can store extensive contact information. A tabbed interface allows you to access contact details, recent calls and info from social networking services.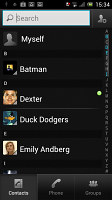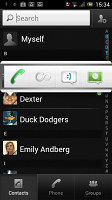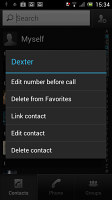 The phonebook • The quick contacts can save you a click or two • the available options
The contact list can be sorted by either first or last name. There are two contact search options - a dedicated search field on top of the contact list, and an alphabet scroll to jump to names starting with a specific letter.
You can sync with multiple accounts, including Exchange and Facebook, and you can selectively show or hide contacts from some accounts (you can fine-sift specific groups from an account), or set the phonebook to display only contacts with phone numbers or only contacts that are online.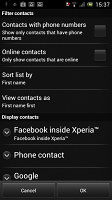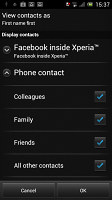 Filtering contacts in the phonebook
If a contact has accounts in multiple services, you can "link" their details to keep everything in one place. Their Facebook photos and interests (part of the Facebook integration) will show as extra tabs.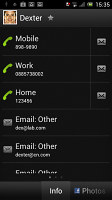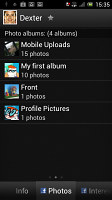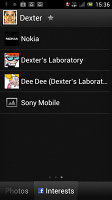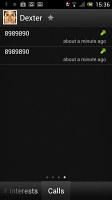 Viewing a contact entry • Photos and interests from Facebook • Call log for that contact
Quick contacts are enabled - a tap on the contact's photo brings up shortcuts for calling, texting or emailing the contact.
Each contact can have a variety of fields (and repeat fields of the same type), there's an Add field button and the X button lets you remove fields as needed. The fields cover anything from names (including a field to write the name down phonetically) to addresses, nicknames and notes.
There is an option to redirect calls directly to voicemail. Custom ringtones are enabled too.
Smart telephony
Receiving and making calls on the Xperia neo L was trouble-free. The built-in secondary microphone is used for active noise-cancellation so calls are loud and clear even in noisy environments.
The Xperia neo L phone app features smart dialing. It searches for matches in both the contacts' phones and names. There's voice dialing too (the quickest way to activate it is to press and hold the hardware Search key).
Thanks to the proximity sensor, the Sony Xperia neo L automatically disables the touchscreen when you lift it up during a call.
The call log is integrated in the dialer - it shows a list of recently dialed, received and missed calls in the top half of the screen and the keypad on the bottom half. Once you start typing, the call log is replaced by the smart dial list. You can hide the keypad the make more room for the call log.
We also ran our traditional loudspeaker test on the Sony Xperia neo L. Scoring a Good result, the Xperia neo L performed better than its newer siblings. More info on our loudspeaker test can be found here.
| | | | | |
| --- | --- | --- | --- | --- |
| Speakerphone test | Voice, dB | Pink noise/ Music, dB | Ringing phone, dB | Overal score |
| Sony Xperia sola | 60.9 | 59.0 | 61.7 | Below Average |
| HTC One V | 66.9 | 65.3 | 67.7 | Below Average |
| Apple iPhone 4S | 65.8 | 64.5 | 74.6 | Average |
| HTC Desire C | 64.6 | 64.7 | 75.7 | Average |
| Samsung Galaxy mini 2 S6500 | 69.7 | 66.6 | 71.5 | Average |
| Sony Xperia Go | 68.7 | 65.8 | 76.2 | Good |
| Sony Xperia neo L | 65.8 | 65.4 | 76.9 | Good |
| Motorola RAZR XT910 | 74.7 | 66.6 | 82.1 | Very Good |
| HTC Desire | 76.6 | 75.7 | 84.6 | Excellent |
On a 3G network, the Sony Xperia neo L has enough juice for 7 hours and 41 minutes of talk time. That's actually half an hour better than the officially advertised talk time, but an hour less than what the neo V achieved.
Messaging is business as usual
Text messages and MMS use standard threaded layout. Each thread is displayed as an IM chat session, the latest message at the bottom. You can manage individual messages (forward, copy, delete) and even lock them against deletion.
Search is enabled to locate a specific message in all conversations and you can also activate delivery reports.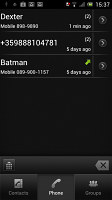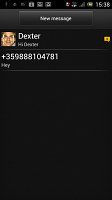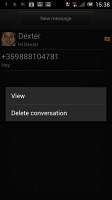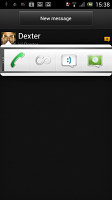 The messaging app • Starring a message • All starred messages • Adding multimedia to the message
Adding multimedia (photos, videos, sounds, etc.) will convert the message to an MMS.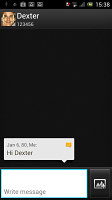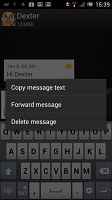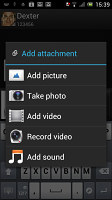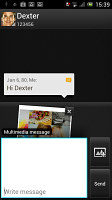 Composing a message • Message options • Attaching an image
Moving on to email, the Gmail app supports batch operations, which allow multiple emails to be archived, labeled or deleted. The app supports multiple Gmail accounts, but there's no unified inbox for other email services.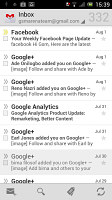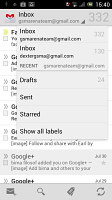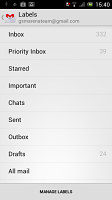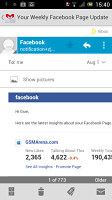 Gmail app supports batch operations and multiple (Gmail) accounts
However, the generic email app can do that as well. It can handle multiple POP or IMAP accounts and you have access to the messages in the original folders that are created online.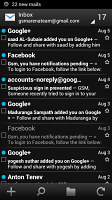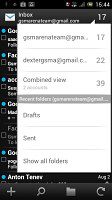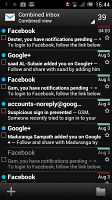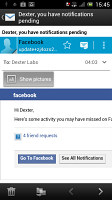 The generic Email client has a combined inbox option
Google Talk handles Instant Messaging. The GTalk network is compatible with a variety of popular clients like Pidgin, Kopete, iChat and Ovi Contacts.
As for text input, the Xperia neo L offers a customized on-screen full QWERTY keyboard. Typing on the portrait keyboard is fairly comfortable - the screen is big enough to house decently sized keys.
Flipping the phone to landscape gives you even bigger, easier to press buttons.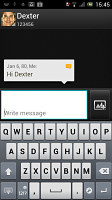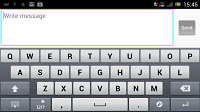 Xperia neo L keyboard is comfortable in either layout
You can also try the so-called Gesture input if hitting those keys individually doesn't give you the desired typing speed. It works the same as Swype. Even if you've never used Swype input before, you'll quickly get used to it.
Anonymous
06 Apr 2016
a3A
bsm,I've got one of these,it does not work fluently,battery life is so short that you have to charge phone every time you do 2hours of web browsing,the keys of the phone(back,home,sett) will stop working after sometime and you'll have difficult time ...
Is it possible to increase internal memory from1GB(approximate usage 315MB only) to 3 or 4GB?
Worst phone. Lags very often. Please don't buy.