Sony Xperia T3 review: Wits and looks
Wits and looks
GSMArena team, 11 August 2014.
User interface
The Sony Xperia T3 runs on Android 4.4.2 KitKat out of the box. The software package looks very much the same whatever the Android version though and that's why everything feels and seems so familiar compared to any of the latest Xperia phones. Sony has managed to sneak a few improvements along the way, but nothing major.
There goes our usual demo video to get you started.
The lockscreen is the usual affair - it supports widgets (one per pane), plus there is a shortcut to the camera at the bottom courtesy of Android KitKat. There are a few available default widgets, but you can always get more from the Play Store.
Naturally, you can protect your lockscreen by Face, Pattern, PIN or Password unlock, in ascending order of security.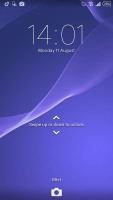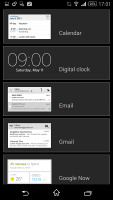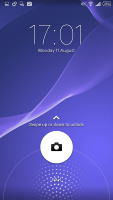 The lockscreen and its options
The Xperia T3 lets you add or remove homescreen panes (you start with five) and set any of them as default. You can't have more than seven panes at any given time though, nor can you change the order they're in.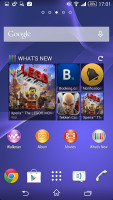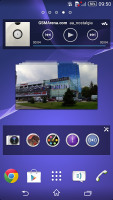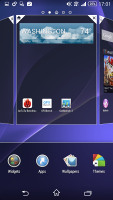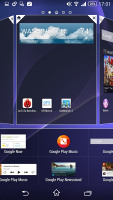 Adding stuff to the homescreens is very easy
Adding stuff on the homescreen is easy, as it is the customization. You can set various live and static wallpapers, add widgets and shortcut, or change the UI theme.
The notification area loses the quick toggles, but don't you worry, they've been just moved on a separate tab. You can gain quick access to the Quick Settings tab with a two-finger swipe from the top. The toggles are customizable and you can choose between 17 different toggles and have up to 12 of them visible in their dedicated page.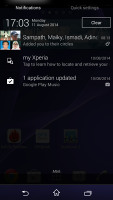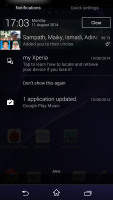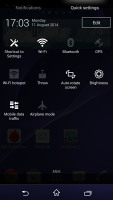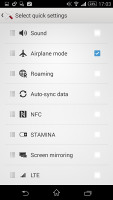 The notification area • Settings
The app drawer is laid out across multiple pages and you can sort the apps manually, alphabetically, by the most used or most recently installed. The menu with those settings is accessible via a swipe from the left edge of the screen and you can also search and even uninstall apps from there.
The Xperia T3 uses the stock Android task manager that lets you switch between recently opened apps, as well as terminate them with a side-swipe. There is a Close All button this time around though.
The so-called "small apps" are also available in the Xperia T3 and are accessible via the task manager. They are similar to Samsung's Mini Apps, and pop up tiny widget-like applications on your homescreen, which you can move around and use without having to open the full-fledged app. So far, there's a default set of nine: Active Clip, Chrome Bookmarks, Browser, Calculator, Calendar, Gmail, Timer, Notes, and Touch Lock. You can launch only one instance of a Small App, but you can open multiple Small Apps simultaneously.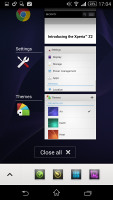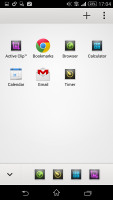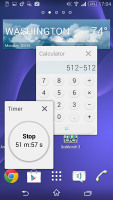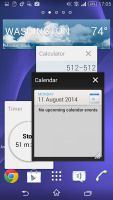 The task switcher • Small Apps list • Small apps in action
You can download more Small Apps off the Play Store or use the option to turn your favorite widgets into Small Apps. Just hit the Plus key at the top of the list and choose a widget.
What's new app is on board, though you can access it via shortcut only unlike the Xperia Z2 where it was available from within the Google Now quick access. This app has very beautiful UI and will show you the hottest apps and multimedia today, but it isn't limited to the Play Store only. It'll display content from Sony's PlayStation store too.
Naturally, you can access Google Now by swiping from the bottom of the UI. Google Now integrates with your Google account and can access your daily routine, internet searches, email, etc. and give you information relevant to your interests and daily needs.
It provides traffic information to your work or home, knows the scores of sports teams you follow and gives you the weather forecast for your location. It's great for at-a-glance info, but can handle voice input as well. It also has a dedicated homescreen/lockscreen widget.
You bet the user interface is buttery smooth, there is no lag and everything happens lightning-fast. The Sony launcher is lightweight and, combined with the snappy chipset and the fastest available Android OS, you'll get an amazing UI experience.
I faced same sim card problem... Then I contacted sony service center they told me to change my sim card to 64k or 128k
Stupid mobile gives me sim detection issues where same sim card was working fine on other mobiles...every time Ive to restart phone by removing sim card...moreover I bought it in Qatar when I go to India Sony center for service they won't do the serv...