Sony Xperia tipo review: Mini just got bigger
Mini just got bigger
GSMArena team, 21 September 2012.
A mid-range display
The Sony Xperia tipo comes with an HVGA LCD, measuring 3.2 inches in diagonal. The screen is nothing to write home about. It hasn't got the image-enhancing Bravia engine either: so we are in for some old-school experience here. To be fair though, the competition doesn't really offer much more in this price range.


The screen quality could have been better
The tipo's display has average viewing angles and sunlight legibility. Here go the Xperia tipo results from our traditional display tests. You can find more about the testing routine here.
Display test
50% brightness
100% brightness
Black, cd/m2
White, cd/m2
Contrast ratio
Black, cd/m2
White, cd/m2
Contrast ratio
Sony Xperia tipo
-
-
-
0.75
561
751
HTC Desire C
0.23
186
814
0.5
360
723
HTC One X
0.15
200
1375
0.39
550
1410
Sony Xperia U
0.35
287
831
0.55
515
930
Samsung S7500 Galaxy Ace Plus
0.27
239
873
0.6
528
888
Samsung Galaxy Pocket
0.31
238
774
0.62
468
753
Samsung Galaxy Y
0.40
247
624
0.72
471
625
Contrast ratio
Nokia 808 PureView
4.698
Samsung I9300 Galaxy S III
3.419
Samsung Omnia W
3.301
Samsung Galaxy S
3.155
Nokia N9
3.069
Samsung Galaxy Note
2.970
HTC One S
2.901
Samsung Galaxy S II
2.832
Huawei Ascend P1
2.655
Nokia Lumia 900
2.562
Apple iPhone 4S
2.269
HTC One X
2.158
Nokia N8
2.144
Apple iPhone 4
2.016
Sony Ericsson Xperia ray
1.955
Sony Xperia U
1.758
LG Optimus 4X HD
1.691
HTC One V
1.685
LG Optimus Vu
1.680
LG Optimus 3D
1.542
Nokia Asha 302
1.537
Nokia Lumia 610
1.432
Gigabyte GSmart G1355
1.361
HTC Desire C
1.300
LG Optimus L7
1.269
Meizu MX
1.221
Samsung Galaxy Pocket
1.180
Sony Xperia tipo
1.166
Samsung Galaxy mini 2
1.114
The Xperia tipo's RGB matrix under a microscope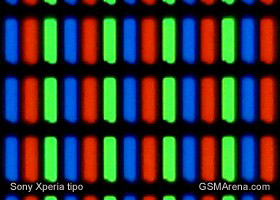 The Sony Xperia tipo display pixels
Handling the Xperia tipo
The phone allows a good grip and is comfortably pocketable. There are no build quality issues to warn against, though it does take some time to get used to the finish of the battery cover. This is the smallest screen to have on a Sony smartphone, and probably the cheapest - no Bravia engine and such. It's par for the course though, in terms of resolution and size.
The Sony Xperia tipo software overview is coming up.
4.0.4 is the last official, there would be no updates whatsoever but you can use CM10 ROM to get JB. Unlock bootloader needed.
This phone was smart simple and better but not now.... 2014 latest games doesn't support on tipo... Wil atleast tipo users get 4.1.2 update??
It's an extremely low- end phone, I don't recommend anybody to buy it. I got one less than a year ago, and I'm going to buy a new smartphone yet. There's no problem with Sony, but Tipo doesn't really deserve to be called a Sony Xperia. There's a big ...