Sony Xperia tipo review: Mini just got bigger
Mini just got bigger
GSMArena team, 21 September 2012.
Two galleries for the price of one
Oddly, the Xperia tipo comes with the Ice Cream Sandwich gallery, but you'll also find the so-called Xperia Gallery, which brings back the good old Gingerbread app. The two offer very similar functionality, so it's a mystery why Sony decided to include the older version as well.
In the Xperia Gallery, the different albums and folders appear as piles of photos, which expand into neat grids of photos sorted by date. If you have online albums over at Picasa, those show up as separate stacks as well.
Facebook and Picasa albums are distinguished by the small logo of the corresponding service. Facebook pictures can be "liked" with the thumbs up button in the upper right corner.
If you choose the native Gallery app, you'll find a similar arrangement by default - images sorted into albums. However, you can group photos by other attributes too (location, time, people and tags are the other available options).
When viewing individual images with this gallery app, you get a filmstrip of thumbnails at the bottom of the screen, which can be used to quickly jump between images.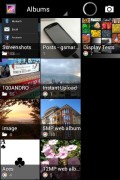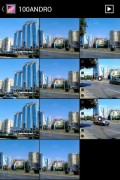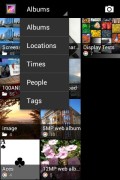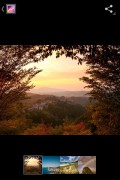 The native ICS gallery is also available
Images in both galleries can be cropped or rotated directly in the gallery. Quick sharing via Picasa, Email apps, Facebook, Bluetooth or MMS is also enabled.
Video player leaves much to be desired
There is no dedicated video player app on the Xperia tipo and the phone has very limited video playback support as a whole. We only really managed to get MP4 files to play and ran into plenty of issues with large files.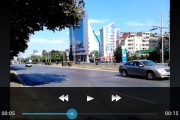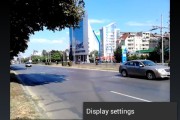 Watching a video on the Xperia tipo
Depending on where you choose to play the videos from (either the regular or the Xperia version of the Gallery app), you end up with a simple video playing interface that really only lets you jump to various parts of video.
You can download a video player off the Google Play Store with support for more video codecs but chances of getting a video (one not shot with the phone itself) to play are pretty slim.
The solid music player
The Sony Xperia tipo uses the same old music player as the one from before the NXT series. The interface is laid out in four tabs for the available sorting options: all artists, all tracks, playlists and albums.
If you hit the menu key you'll get a search shortcut, as well as send and delete options.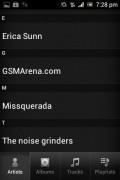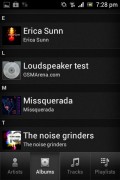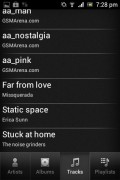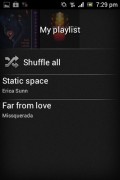 The music player is decent-looking and snappy
The Now Playing screen offers nothing but the standard music controls, shortcuts to the library and the Infinite key. The latter lets you quickly look up a song on YouTube or browse for lyrics.
Music fans will appreciate the selection of equalizer presets but there's no customizable preset. You also get Silent mode, which mutes all other sounds except for alarms - great for uninterrupted listening.
The only available visualization is the album art.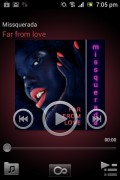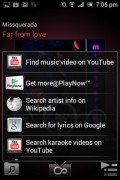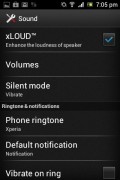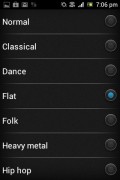 The Now Playing interface • The equalizer
While the rest of the music player is the same as what we saw on Sony Ericsson handsets, this one adds music controls to the lockscreen. They replace the clock, which might be annoying if you just want to check the time. Still, the clock slides out of view, so you have about a second to see what time it is (or just look at the small clock in the upper right corner).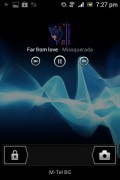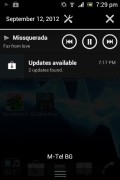 Music player controls on the lockscreen and notification area
FM radio with RDS and TrackID
The Sony Xperia tipo is equipped with an FM radio, which has a neat and simple interface. It automatically scans the area for the available stations and places "notches" on the frequency dial for easier scrolling to the next station. There's a Force mono option to use in case of poor reception.
The TrackID service is also available and works within the radio app. You can even like a song on Facebook.
Uninspiring audio quality
The Sony Xperia tipo didn't quite manage to impress in our traditional audio quality test. When connected to an active external amplifier the smartphone got mostly mediocre scores, and had volume levels way below average.
The degradation when headphones come into play consists of a rather small hike in stereo crosstalk, but since the rest of the readings were already average, that's not too great news. The overall performance is certainly not the best we've seen, but might do if you aren't too demanding.
And here come the full results so you can see them for yourselves:
| | | | | | | |
| --- | --- | --- | --- | --- | --- | --- |
| Test | Frequency response | Noise level | Dynamic range | THD | IMD + Noise | Stereo crosstalk |
| Sony Xperia tipo | +0.12, -1.22 | -75.9 | 78.2 | 0.018 | 0.119 | -79.1 |
| Sony Xperia tipo (headphones attached) | +0.43, -0.85 | -76.0 | 78.1 | 0.020 | 0.154 | -52.4 |
| Sony Xperia go | +0.03, -0.05 | -86.7 | 87.0 | 0.0084 | 0.019 | -87.3 |
| Sony Xperia go (headphones attached) | +0.44, -0.10 | -84.8 | 85.3 | 0.421 | 0.364 | -71.7 |
| Sony Xperia U | +0.03, -0.04 | -87.3 | 87.5 | 0.0091 | 0.020 | -87.7 |
| Sony Xperia sola | +0.03, -0.04 | -81.6 | 82.2 | 0.085 | 0.185 | -83.5 |
| Sony Xperia sola (headphones attached) | +0.45, -0.10 | -81.8 | 81.8 | 0.189 | 0.416 | -52.8 |
| Sony Xperia U (headphones attached) | +0.45, -0.10 | -86.4 | 86.6 | 0.393 | 0.352 | -66.5 |
| Samsung Galaxy Ace 2 I8160 | +0.20, -0.27 | -88.7 | 87.6 | 0.0086 | 0.018 | -88.9 |
| Samsung Galaxy Ace 2 I8160 (headphones attached) | +0.37, -0.08 | -88.6 | 87.6 | 0.044 | 0.221 | -57.9 |
| Samsung S7500 Galaxy Ace Plus | +0.14, -1.30 | -88.2 | 88.1 | 0.010 | 0.065 | -84.1 |
| Samsung S7500 Galaxy Ace Plus (headphones attached) | +0.12, -1.12 | -86.0 | 88.1 | 0.018 | 0.186 | -43.1 |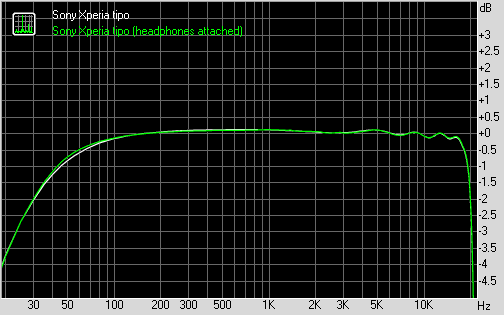 Sony Xperia tipo frequency response
You can learn more about the whole testing process here.
4.0.4 is the last official, there would be no updates whatsoever but you can use CM10 ROM to get JB. Unlock bootloader needed.
This phone was smart simple and better but not now.... 2014 latest games doesn't support on tipo... Wil atleast tipo users get 4.1.2 update??
It's an extremely low- end phone, I don't recommend anybody to buy it. I got one less than a year ago, and I'm going to buy a new smartphone yet. There's no problem with Sony, but Tipo doesn't really deserve to be called a Sony Xperia. There's a big ...