Sony Xperia X review: Rated X
Rated X
GSMArena team, 20 May, 2016.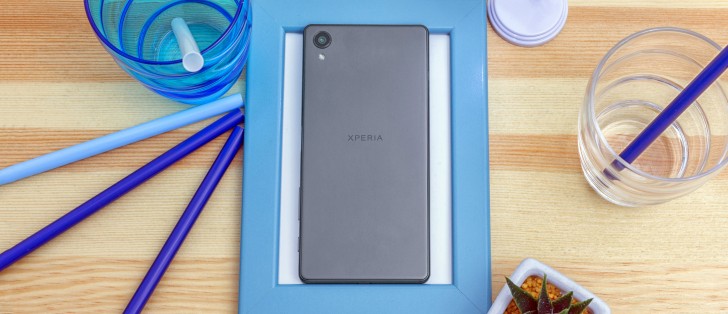 Display
The Sony Xperia X brings a Bravia, Triluminos, X-Reality display (hey, the names match!), 5" big with 1080p resolution. Sony won the sharpness wars with its 4K Xperia Z5 Premium, so the Xperia X is free to go for quality instead of bragging rights of a QHD display.
All those brand names really stand for an IPS LCD built on the Quantum Dot technology. It generates colors in a different way than vanilla LCD's and you can tell - even if you're used to AMOLED, the saturated colors of this screen look spell-binding.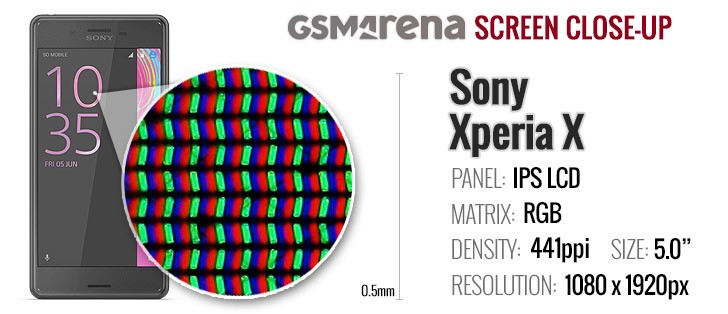 Despite their surreal appearance, Sony managed to keep color reproduction fairly accurate - the display scores an average deltaE of 4.0 - that's more than the best in this regard (the Galaxy S7 and iPhone 6s), but it's still better than quite a few devices (the Xperia Z5, LG G5, and Huawei P9). It's really the white balance that's off (it has a blueish tint), the rest of the color reproduction stays mostly under a deltaE of 6. The biggest deviation was 9.4.
There are sliders to adjust white balance, but you need to have a calibration tool as you really can't do much by eye.
Sony also worked to improve contrast and the Xperia X scores 1,200:1, better than the 1,000:1 the Z5 managed and the 800:1 of the Xperia M5. This was largely done by improving the black levels, which are still on the high side. Even so, in the dark, you can get the brightness as low as 4.9 nits, a boon for late-night notifications when a bright screen would blind you.
Display test
100% brightness
Black, cd/m2
White, cd/m2
Contrast ratio
Sony Xperia M5
0.63
527
839
Sony Xperia Z5
0.59
583
986
Sony Xperia X
0.44
539
1219
HTC One A9
-
366
∞
Samsung Galaxy A5 (2016)
0.00
421
∞
Samsung Galaxy A5 (2016) max auto
0.00
601
∞
Huawei Honor 7
0.32
450
1398
Sony does image post-processing in its gallery. You can turn it off, switch to X-Reality mode or go all in with Super-vivid mode (delivering self-described "surreal" images).
These modes sharpen images, boost contrast and (in super-vivid mode) enhance colors. You can get a side-by-side comparison to help you make your choice too.
The sunlight legibility marks a small improvement over the Xperia Z5 and M5. It's on par with, say, LG G5, but behind some mid-range AMOLED-packing phones.
Sunlight contrast ratio
Samsung Galaxy S6 edge+
4.615
Samsung Galaxy S7 edge
4.439
Samsung Galaxy S7
4.376
HTC One A9
4.274
Samsung Galaxy A3
4.241
Samsung Galaxy S6 edge
4.124
Samsung Galaxy Note5
4.09
Huawei Nexus 6P
4.019
OnePlus X
3.983
Oppo R7s
3.964
Samsung Galaxy A7 (2016)
3.918
Samsung Galaxy A5
3.895
Samsung Galaxy J7 outdoor
3.879
Samsung Galaxy J2 outdoor
3.873
Samsung Galaxy A8
3.859
Apple iPhone 6
3.838
Microsoft Lumia 950XL
3.837
Samsung Galaxy A9 (2016)
3.817
Motorola Moto X (2014)
3.816
Samsung Galaxy A5 (2016)
3.789
Apple iPhone 6s
3.783
Meizu Pro 5
3.781
Microsoft Lumia 650
3.772
Oppo F1 Plus
3.709
Vivo X5Pro
3.706
Apple iPhone SE
3.681
Samsung Galaxy A7
3.679
Meizu PRO 6
3.659
BlackBerry Priv
3.645
Apple iPhone 6s Plus
3.53
Acer Jade Primo
3.521
Microsoft Lumia 950
3.512
Oppo R7 Plus
3.499
Samsung Galaxy J7
3.422
Meizu MX5
3.416
Oppo R7
3.32
Samsung Galaxy J2
3.235
Motorola Moto X Play
3.222
Huawei P9
3.195
Lenovo Vibe Shot
3.113
Motorola Moto X Force
3.105
LG Nexus 5X
3.092
Huawei Mate S
3.073
Microsoft Lumia 640 XL
3.065
Apple iPhone 6 Plus
3.023
Sony Xperia X
2.989
Samsung Galaxy Note
2.97
Huawei Mate 8
2.949
LG G5
2.905
HTC One S
2.901
Sony Xperia Z5
2.876
Microsoft Lumia 550
2.851
Sony Xperia Z5 compact
2.784
LG V10
2.744
Xiaomi Redmi 3
2.735
Sony Xperia M5
2.69
Vivo V3Max
2.659
Xiaomi Mi 4i
2.641
Xiaomi Mi 4c
2.574
Microsoft Lumia 640
2.563
Oppo F1
2.528
Sony Xperia Z5 Premium
2.525
Sony Xperia M4 Aqua
2.503
Motorola Moto G
2.477
Lenovo Vibe K5 Plus
2.473
Huawei G8
2.471
Sony Xperia Z
2.462
Huawei Honor 7
2.406
ZUK Z1 by Lenovo
2.382
HTC 10
2.378
Samsung Galaxy J5 (2016)
2.378
HTC One E9+
2.305
Alcatel One Touch Hero
2.272
Lenovo Vibe K4 Note
2.254
Sony Xperia C5 Ultra
2.253
Xiaomi Redmi Note 3 (MediaTek)
2.249
Sony Xperia C4 Dual
2.235
Motorola Moto G (2014)
2.233
LG Nexus 5
2.228
Huawei P8
2.196
Xiaomi Redmi Note 2
2.166
OnePlus Two
2.165
HTC One X
2.158
LG Aka
2.145
Archos 50 Diamond
2.134
Xiaomi Redmi Note
2.119
Acer Liquid X2
2.084
Huawei P8lite
2.078
Moto G 3rd gen max manual
2.026
Sony Xperia E4g
1.972
OnePlus One
1.961
BlackBerry Leap
1.892
Meizu m2 note
1.892
HTC Butterfly
1.873
ZTE Nubia Z9 mini
1.759
Sony Xperia U
1.758
Asus Zenfone Selfie
1.68
Motorola Moto E (2nd Gen)
1.675
ZTE Nubia Z9
1.659
Motorola Moto E
1.545
Sony Xperia M
1.473
Xiaomi Redmi 2
1.311
Sony Xperia C
1.283
Meizu MX
1.221
The Display settings have a few additional perks. You can enable double-tap to wake (off by default), Glove mode (for cold winters) and Smart backlight control (keeps the screen on while you hold the phone).
Connectivity
The Sony Xperia X comes in single- and dual-SIM versions, ours is of the single-SIM kind.
For mobile data, LTE Cat. 6 (300Mbps down, 50Mbps up) along with HSPA as a fallback (42.2Mbps/5.76Mbps). You also get dual-band Wi-Fi a/b/g/n/ac (the Xperia M5 lacked ac), Bluetooth 4.2 with aptX and Low Energy, NFC and FM Radio with RDS (we know it's important to some people).
The Wi-Fi connection can be used for screen casting - either via Miracast or Google Cast. This goes great if you connect a DualShock controller, the Xperia X becomes a portable console. For cars, MirrorLink can connect to your head unit.
The microUSB 2.0 port (yep, no Type-C action from Sony in the foreseeable future) lets you charge the phone as well as hook up USB storage and accessories. MHL is not supported, there's no wired way to connect to to a TV.
Battery
Ask any Xperia owner about battery life and you'll hear good things. But the Sony Xperia X comes with a sealed 2,620mAh battery. Is it enough? That's the same capacity as the Xperia M5 and actually a bit less than the Xperia Z5 Compact (2,700mAh).
Note that the Xperia X is the first phone to launch with a Qnovo battery. It supports fast charging (Quick Charge 2.0 in this case)), but the company behind it claims it has a longer life and will last hundreds of charge cycles more than a conventional Lithium battery (especially one that's being fast-charged). This means that a year or two after you buy it, the X will continue to offer solid battery life while an aged regular battery will not be able to hold much charge (and this is important for a phone with a sealed battery).
Additional improvements, including a new chipset, help the Endurance rating to a good 67 hours. Not the best we've seen (Z3 Compact was a wonder), but we think it's actually an improvement over the Xperia Z5.
It comes down to the testing procedure - we used to set the brightness slider to 50% (which for the Z5 meant a low 90nits), but now we test all phones at 200nits. The only test the Xperia X loses compared to the Z5 is the browser test, but we think at equal brightness the Z5's lead will shrink.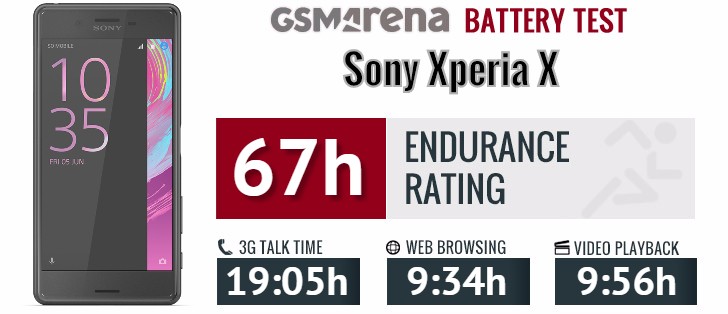 In comparison, the LG G5 scored 60h (50h with Always On screen), HTC 10 did 66h, Sony Xperia Z5 73h, Huawei P9 75h, Samsung Galaxy S7 80h (49h with Always On).
Sony's Stamina battery saving feature comes standard here. It has two modes: regular Stamina, and Ultra Stamina. The first disables non-essential features like GPS and vibration, and takes performance down a notch, but the Xperia does remain a smartphone.
Ultra Stamina is for absolutely dire occasions when you don't expect to be able to find a power outlet for a prolonged period of time. Enable that and it's back to basics where you get a single homescreen with access to the dialer and contacts, text messages, camera and clock.
You can read more about the Xperia X battery life in our blog post.
I have been using sony phones since the time of T610, i have always used sony, but this is my last phn iam ever usin, batt life sucks on this device, the only thing good on this phone is the small size and fingerprint scanner, but batt really sucks.
After a little more than 2 years of use the battery - just like with most phones I've used so far - started to get worse and worse. At this point I'm charging for about 7hrs to get it to 100% while one full charge doesn't get me through an entire day...