Sony Xperia X Compact review: Small and brave
Small and brave
GSMArena team, 17 September 2016.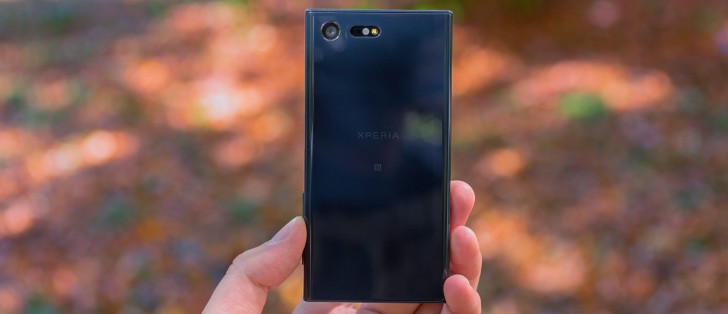 Phone
The Sony Xperia X Compact is a single SIM device, and previous Compacts haven't been available as a dual-SIM version so we wouldn't hold our hopes up for this one.
The call log is separated from the contacts, but there's a shortcut to those in the upper right corner. It can be filtered by missed, incoming and outgoing calls. Smart dial is supported too.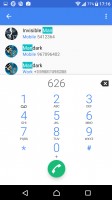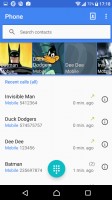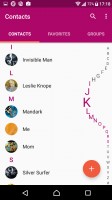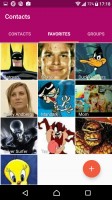 Dialer with smart dial • Call log • Phonebook • Favorites
Loudspeaker
The Sony Xperia X Compact has front firing stereo speakers and the benefits of this setup are rather obvious. The ones on the X Compact aren't very loud, though, in fact they fall in the Below average category in our test.
You can't expect more from such a small device and in the past Sony's smartphones haven't excelled in this test either. All that said, the Xperia Z5 Compact was still a notch louder.
| | | | | |
| --- | --- | --- | --- | --- |
| Speakerphone test | Voice, dB | Pink noise/ Music, dB | Ringing phone, dB | Overall score |
| Sony Xperia X | 61.3 | 61.1 | 65.7 | Below Average |
| Sony Xperia X Performance | 63.4 | 65.8 | 67.8 | Below Average |
| Sony Xperia X Compact | 64.1 | 65.1 | 69.5 | Below Average |
| Apple iPhone SE | 63.6 | 68.0 | 68.0 | Below Average |
| Sony Xperia Z5 Compact | 66.3 | 65.0 | 70.5 | Average |
| Samsung Galaxy S6 | 68.1 | 66.3 | 73.7 | Good |
| Huawei nova | 69.2 | 71.9 | 80.6 | Very Good |
Messaging
The Sony Xperia X Compact has a customized messaging app with all the possible bells and whistles. If you haven't transferred all your texting to other platforms, of course.
Ours came with panda stickers pre-installed, but you can download more (free and paid sticker packs are available). You can also send your own creations drawn in the Sketch (obviously, this changes the message type to MMS).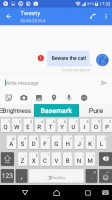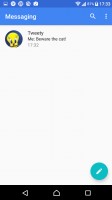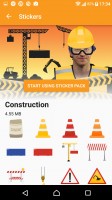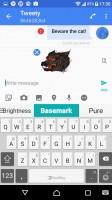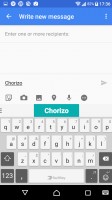 Messaging app • Stickers are available, just like in chat apps
For text entry, Sony picked the SwiftKey keyboard. It's touted as having one of the best prediction algorithms, which is fine and dandy, but means you can't remove the suggestions bar at all. Other than that limitation, the keyboard offers multiple layouts and themes, 5 different sizes, undocking, secondary symbols upon long press, swipe input - pretty much everything.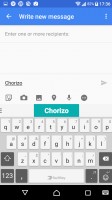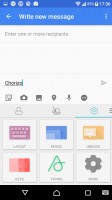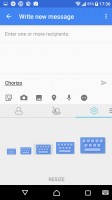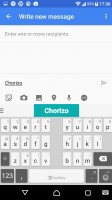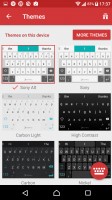 Customizeable SwiftKey keyboard
The keyboard is highly customizable - you can change the layout, choose what characters are available (accented characters, emoji), enable a number row, resize the keyboard or even undock it. The Messaging app also handles voice input.
Other apps
Lifelog tracks a host of daily activities, including walking, running and sleeping, but also the music you listen and the photos you take or the apps you use. It then presents the info in a split-screen view with a timeline on top and detailed numbers on the bottom.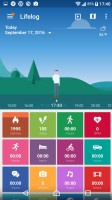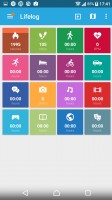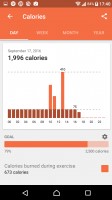 Lifelog tracks more than just steps and calories
The News app is a news aggregator, pulling stories from sources on topics of your choice. It can also issue two daily bulletins for you at a time you specify, so you don't miss out on current events.
Xperia lounge is Sony's own entertainment app, feeding you exclusive content and competitions related to music, movies and games.
My sony xperia gets heated up whenever i start my phone camera. I cant use the back camera!! Any advice???
Oh yeah! Plastic phones FTW! And Compact ! And... It is a Sony! I'm No fan boy, bit I have always liked Sony products, from stereo to phone. My gf has this one before. It is really Sturdy but the camera is No Good.
No SONY No PARTY
06 Dec 2018
sS$
Awesome