Sony Xperia XA2 Plus review
GSMArena team, 14 September 2018.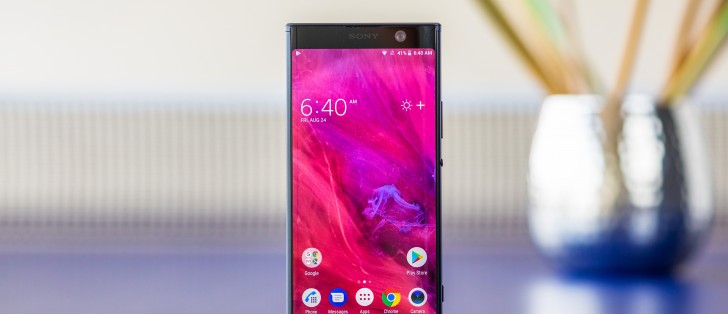 Android 8.0 Oreo with Xperia skin
The Sony Xperia XA2 Plus runs on Android 8.0 Oreo. Sony already has a few Xperia phones running on Android Pie, but the XA2 Plus is not one of those. The Xperia UI us quite familiar as it hasn't been changed in years and it's pretty much the same as what we saw on the XA2 and XA2 Ultra. Like many other manufacturers, the Japanese giant has mostly decoupled its signature UX from the Android underneath, to deliver a familiar experience across its lineup.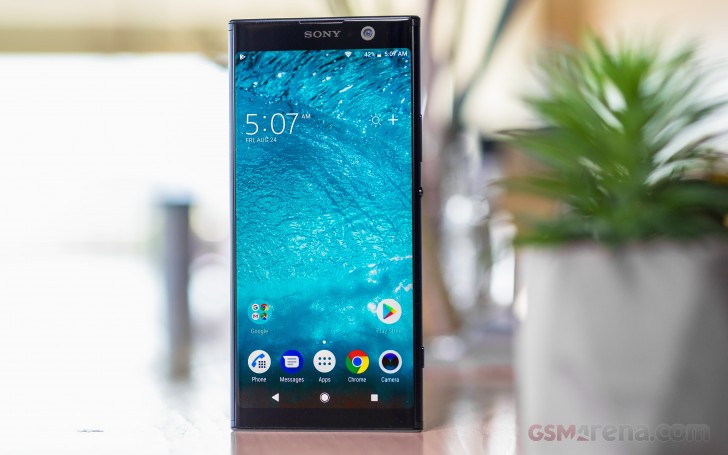 During setup, the Xperia Launcher prompts for your approval of a big chunk of said apps. If you don't like or need any of the non-essentials, you can simply tick them off the list and never deal with them again.
Long-term Sony fans should feel right at home with what is the same Xperia launcher. The homescreen appears unchanged from previous Xperia generations. This includes the swipe down gesture, which shows a screen of the apps you use most along with recommendations for new apps to install. The search field is highlighted so you can start typing the app's name immediately. There is also a Google Feed pane, accessible through a left swipe on the home screen.
Themes are available (both free and paid) that can customize the look and sound of the Xperia XA2 Plus. These are managed through a dedicated interface but seem to be distributed via the Google Play Store. Some themes are even interactive, with their wallpapers reacting to your touches.
The notification drawer and the task switcher are very similar to the vanilla Android ones. There is also a Split Screen feature available to a limited number of apps.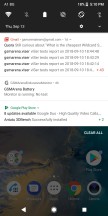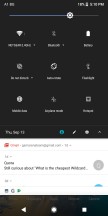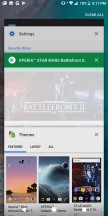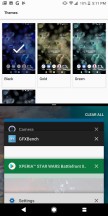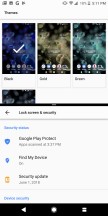 Notification shade • Quick toggles • Task switcher • Split screen • Split screen
The traditional app drawer is present and even if you opt out of all the additional app installs during setup, you will still end up with at least a few essentials. Sony takes great pride in the A/V prowess of its devices, and the multimedia apps are all custom and feature-rich - Album, Music, Video and FM radio apps.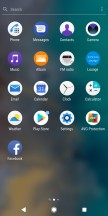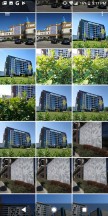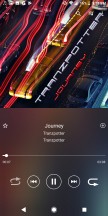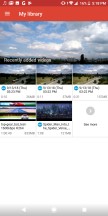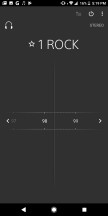 App drawer • Album • Music • Video • FM radio
The Xperia Assistant is on board, too. Naturally, in keeping with current trends, it utilizes AI, but nothing too fancy, like Bixby, Siri or the Google Assistant. Unlike those, the Xperia app lacks a voice of its own, at least for now that is and is more of an interactive manual and convenient management hub for some of the device's features. The main interface is arranged in a chat manner, although you rarely get to actually typing. Rather, the Assistant guides you via suggested topics.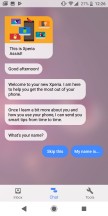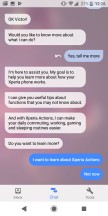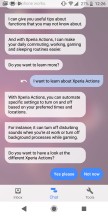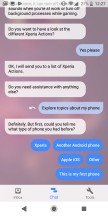 Xperia Assistant main chat interface
It's a fairly intuitive mode of operation, even if not particularly speedy. When you reach a certain juncture in your conversation, the Xperia Assistant can drop convenient links to features you might be interested in checking out. Those cards, or notifications, of sorts, also end up in your inbox, for quicker access later, without having to repeat the conversation with the AI. In some cases, the assistant can directly navigate you to an interface of interest. It can also remind you of various things and send you tips through its own volition when it deems them applicable. You can thankfully enable or disable this behavior on a per-topic basis.
The third and final tab in the Xperia Assistant UI is titled Tools and serves as a convenient management hub for convenient Xperia features, like the extensive STAMINA mode battery-saving platform and the Battery Care feature.
We particularly like the latter, since modern batteries do actually benefit from proper care, or rather avoiding certain unfavorable scenarios, like keeping the device charged up all the way for prolonged periods of time. We wish more manufacturers extended such efforts to preserve the longevity of their sealed-in battery backs.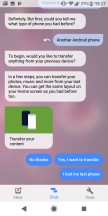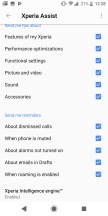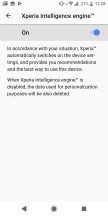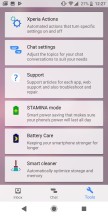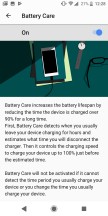 The assistant drops tip cards • Assistant settings • Xperia Assistant tools
Finally, in addition to the fingerprint unlock, you can set up Smart Lock. It gives you conditional security - trusted nearby devices, locations, faces, or voices can allow you to skip the security protocol that you may have set up on the phone.
Performance and benchmarks
The Sony Xperia XA2 Plus, just like the XA2 and XA2 Ultra, uses the Snapdragon 630 chip by Qualcomm. It is replacing the widespread and very efficient Snapdragon 625 that was the heart of a lot of smartphones throughout 2017.
We would have liked a to see the Plus model getting the even better 636 model, but it wasn't meant to be.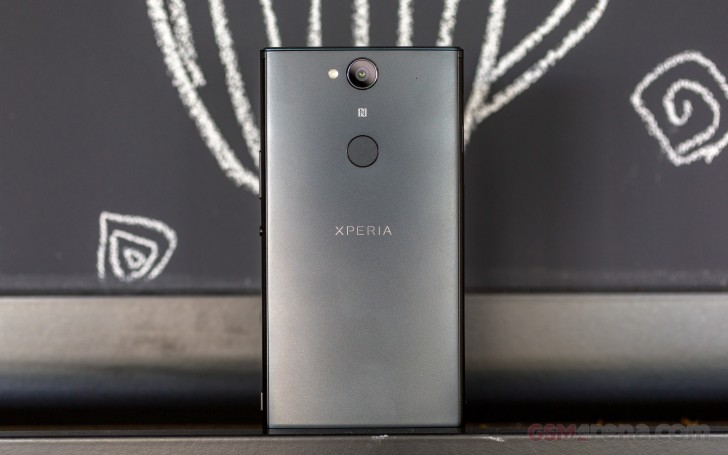 The Snapdragon 630 chip offers a classic octa-core Cortex-A53 processor now clocked at 2.2GHz. The GPU in charge of graphics is Adreno 508. The Sony Xperia XA2 Plus also comes with 4 or 6 gigs of RAM depending on the storage option.
GeekBench is where we go first, and the Xperia XA2 Plus scored the same as its XA2 series siblings. Unfortunately, that's already behind the curve - the Snapdragon 636 inside the Nokia 6.1 Plus has Kryo 260 cores for demanding single-core operations and it's blazing-fast there. The Helio P60 in the vivo V11 and Oppo F9 has Cortex-A73 cores, which are also much better than the A53 cores inside the Xperia.
GeekBench 4.1 (single-core)
Higher is better
Honor Play
1899
Honor 10
1894
Xiaomi Mi 8 SE
1890
Nokia 7 plus
1634
Oppo Realme 1
1511
Oppo F9 (F9 Pro)
1497
vivo V11
1457
Nokia 6.1 Plus
1331
Huawei P20 Lite
938
Nokia 6 (2018)
882
Sony Xperia XA2 Ultra
866
Sony Xperia XA2
865
Sony Xperia XA2 Plus
839
Oppo Realme 2
790
GeekBench 4.1 (multi-core)
Higher is better
Honor Play
6696
Honor 10
6591
Xiaomi Mi 8 SE
5908
Nokia 7 plus
5893
Oppo Realme 1
5741
Oppo F9 (F9 Pro)
5673
vivo V11
5535
Nokia 6.1 Plus
4929
Nokia 6 (2018)
4225
Sony Xperia XA2
4215
Sony Xperia XA2 Ultra
4198
Sony Xperia XA2 Plus
4144
Oppo Realme 2
3881
Huawei P20 Lite
3756
Looking at some GFXBench onscreen graphics scores, the Adreno 508 inside the XA2 Plus is on par with the Adreno 509 GPU inside the Snapdragon 636, so there are no big difference between those two at least.
GFX 3.1 Manhattan (onscreen)
Higher is better
Honor 10
37
Honor Play
36
Xiaomi Mi 8 SE
22
Nokia 7 plus
14
Oppo Realme 1
12
Oppo Realme 2
12
vivo V11
12
Oppo F9 (F9 Pro)
11
Nokia 6 (2018)
10
Sony Xperia XA2 Ultra
10
Sony Xperia XA2
10
Nokia 6.1 Plus
9.6
Sony Xperia XA2 Plus
9.1
Huawei P20 Lite
4.9
The performance is still behind the curve but adequate for the mid-range market. Obviously, the Snapdragon 660 (Nokia 7 Plus) and the Helio P60 (Oppo, vivo) offer better graphics performance but not by a large margin.
GFX 3.1 Car scene (onscreen)
Higher is better
Honor 10
21
Honor Play
21
Xiaomi Mi 8 SE
12
Nokia 7 plus
8.6
Oppo Realme 1
7.5
vivo V11
7.4
Oppo F9 (F9 Pro)
6.5
Oppo Realme 2
6.3
Nokia 6 (2018)
6
Sony Xperia XA2 Ultra
6
Sony Xperia XA2
6
Nokia 6.1 Plus
5.9
Sony Xperia XA2 Plus
5.1
Huawei P20 Lite
2.8
Finally, we ran AnTuTu - the most popular compound benchmark - and we got another underwhelming score. Once again - it's quite alright for the mid-range segment, but the competition is already making big jumps in performance, and Sony should be following suit.
AnTuTu 7
Higher is better
Honor Play
204876
Honor 10
200440
Xiaomi Mi 8 SE
170218
Nokia 7 plus
140820
Oppo Realme 1
138524
Nokia 6.1 Plus
115571
Nokia 6 (2018)
90918
Sony Xperia XA2 Ultra
89110
Huawei P20 Lite
87431
Sony Xperia XA2 Plus
86374
Oppo Realme 2
75434
The Sony Xperia XA2 Plus delivers acceptable performance for its class, but the competition has faster phones to offer. On a positive note, the XA2 Plus has balanced performance across the board, and we didn't experience any major hiccups with the most popular games, social and office apps. We didn't notice any throttling or overheating either. But the test scores are far from impressive.
I hope I could still buy this despite stopping of Sony's phone production here in the Philippines. :(
Did you try before comment? Try both, sony more durable than samsung(mine made in viet) Is fair expensive better quality