Sony Xperia XZ1 Compact review
GSMArena team, 25 September 2017.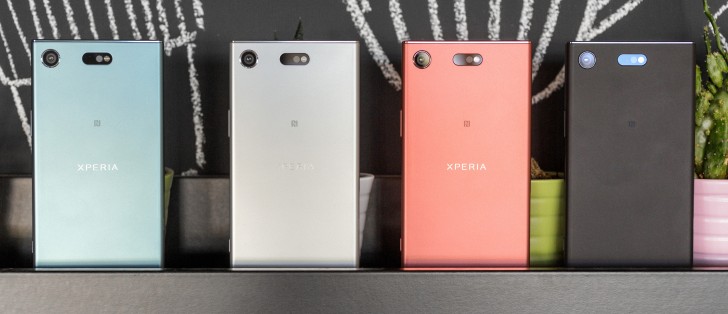 Sony's Album is your gallery
The Album app that handles image viewing on the Xperia XZ1 Compact is among the most comprehensive and feature-rich gallery apps we've seen, and it's fast and easy to use.
At the very top of the list is a slideshow, showing off your photos. Lower down, the first photo of each month is shown at twice the size of other images.
Photos are organized by month, and you can use pinch-zoom to change the size of thumbnails (then they smoothly animate into the grid).
You can also browse photos on a map (you can manually add geotag info too) or by folder. This includes network storage so that you can view photos from a DLNA server (your home computer, for one). Then there's integration with online albums - Facebook, Flickr, and Google Photos (someone should tell Sony engineers this is no longer called Picasa).
The default Photo Editor app is quite powerful. Filters, frames, basic corrections, levels - all accounted for.
Movie Creator is similar to the Google Photos Assistant. It automatically creates short videos from the photos and videos you've shot. You can do it manually too: pick photos and videos, change their order, and add color effects and music (you get a small audio collection to start off with, but you can use custom files too). Then tap the Share button and send out your animated slideshow.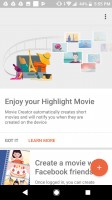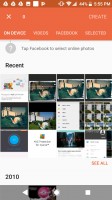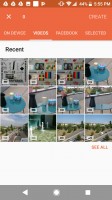 The Movie Creator can automatically or manually make shareable slideshows
3D Creator
There is a new Sony feature making its debut on the Xperia XZ1 and XZ1 Compact. It is not a camera mode, but rather a separate application called 3D Creator, though its advanced feature set is likely dependent of the Motion Eye camera and potentially a few other bits of hardware as well. The 3D Creator's purpose is the three-dimensional capture of objects for later use in things like digital avatars or even 3D prints. In its current state, it supports preset modes for a scanning a face, head, food, as well as a freeform mode.
The process is rather fiddly, taking a long time and some awkward panning and hovering around the subject, but the results show potential - especially considering that it's all done without the use of specialized sensors or even a second camera. The calculation is done on the phone itself too, so you don't even need an internet connection. We are definitely looking forward to see where Sony takes this one.
Music app
The Music app is Sony's custom player that comes pre-installed on the Xperia XZ1 Compact and it feels like part of the same software package. The contextual side menu offers many of the same browsing options - by folder, network folder, and online services like Spotify (it's just a link to the Spotify app though). You can share music from the phone to compatible players.
The app can find the track's video on YouTube, look up info about the artist on Wikipedia, and search for lyrics on Google. It can also find and download album art automatically - all awesome stuff.
The Music app offers a variety of audio settings - ClearAudio+ determines the best audio quality settings depending on the track you're listening to. Then there's DSEE HX, which uses an almost wizardly algorithm that is supposed to restore - or rather extrapolate - compressed music files like MP3s into high-res audio. According to Sony, the result is near Hi-Res Audio Quality, but it only works with wired headphones. It also helps with streaming audio, but not Spotify.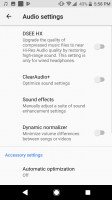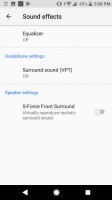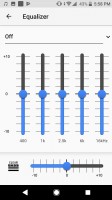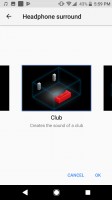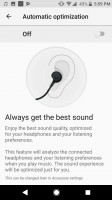 Xperia XZ1 Compact equalizer settings
Dynamic normalizer evens out the volume differences across tracks, which is great if you've mixed multiple albums from multiple sources. While in this menu, don't forget to dive a step further into Sound effects. This is actually where virtual surround toggle for both the speakers and headphones are hidden. Both are also turned off by default. Of course, there is an equalizer as well.
There's no FM radio on the Xperia XZ1 Compact, which seems to be the case with most flagships these days. Also, Sony's proprietary song recognition app Track ID doesn't come pre-installed. It's still available to download from the Play Store, of course.
Video
The aptly named Video app might have lost its TV guide functionality fairly recently, but it still has a few tricks up its sleeve. Extensive subtitle customization support is one such goodie. Then there is also the ability to connect to compatible storage devices and read or even stream media in other directions.
That is likely the reason why background video playback is an option, but sadly, there is still no pop-out interface. It would be great if Sony could implement the Android Oreo picture in picture API at some point.
Audio output has its ups and downs
The Sony Xperia XZ1 Compact audio output is in line with most of its Xperia siblings lately. This means excellently clean output when used with an active external amplifier, but only average loudness.
Clarity degradation caused by headphones consists of a moderate hike in stereo crosstalk and a little intermodulation distortion. The volume drops a bit too and is now below average - so it's a decent, rather than impressive performance.
| | | | | | | |
| --- | --- | --- | --- | --- | --- | --- |
| Test | Frequency response | Noise level | Dynamic range | THD | IMD + Noise | Stereo crosstalk |
| Sony Xperia XZ1 Compact | +0.01, -0.02 | -93.7 | 93.6 | 0.0031 | 0.0081 | -85.5 |
| Sony Xperia XZ1 Compact (headphones) | +0.23, -0.21 | -93.4 | 93.3 | 0.0082 | 0.218 | -54.2 |
| Sony Xperia XZ1 | +0.01, -0.03 | -93.3 | 93.2 | 0.0028 | 0.0083 | -90.2 |
| Sony Xperia XZ1 (headphones) | +0.23, -0.23 | -92.7 | 92.7 | 0.0077 | 0.216 | -55.6 |
| Xiaomi Mi 6 | +0.01, -0.02 | -94.3 | 94.3 | 0.0039 | 0.0068 | -90.9 |
| Xiaomi Mi 6 (headphones attached) | +0.08, -0.03 | -93.9 | 93.8 | 0.011 | 0.110 | -68.1 |
| Samsung Galaxy S8 | +0.04, -0.00 | -92.5 | 92.5 | 0.0016 | 0.0072 | -92.8 |
| Samsung Galaxy S8 (headphones attached) | +0.03, -0.03 | -92.3 | 92.3 | 0.0056 | 0.060 | -77.2 |
| LG G6 | +0.01, -0.02 | -93.3 | 93.3 | 0.0059 | 0.0095 | -94.4 |
| LG G6 (headphones attached) | +0.01, -0.02 | -93.4 | 93.4 | 0.0067 | 0.020 | -56.3 |
| Huawei P10 | +0.01, -0.04 | -93.0 | 94.8 | 0.0019 | 0.0080 | -93.5 |
| Huawei P10 (headphones attached) | +0.25, -0.02 | -92.7 | 93.0 | 0.192 | 0.175 | -59.5 |
| Apple iPhone 7 | +0.06, -0.10 | -92.4 | 92.3 | 0.0015 | 0.0093 | -80.9 |
| Apple iPhone 7 (headphones attached) | +0.03, -0.11 | -92.3 | 92.3 | 0.0011 | 0.012 | -77.0 |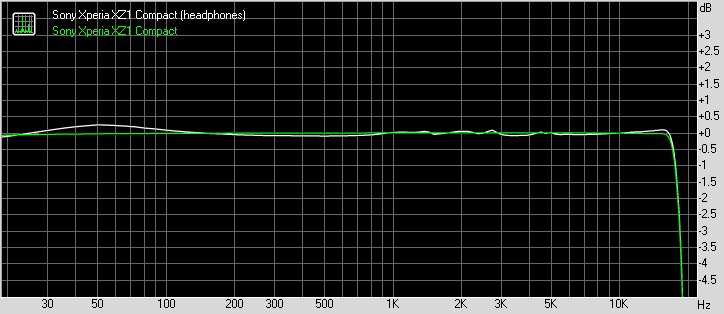 Sony Xperia XZ1 Compact frequency response
You can learn more about the tested parameters and the whole testing process here.
After a Samsung A40 (small but slow), a very forgettable Honor Play, a Mi 9 T Pro (yeah... ok... why not) and a Note 10 Plus (far too big and not worth the money, though I like the screen), I come back again and again to the Compact line. The writ...
i'm a breakdown recovery technician and the most important thing to me about a phone is battery life and the xz1 is the king of every phone i've had or tried
Just broked my old friend for 3 years by droping a mug on it. That is really sad because there is literally nothing to replace it on a market right now. Either some seriosly pricey stuff or ridiculously large cr🐵pphones, so my heart broke along with ...