Sony Xperia XZ2 review
GSMArena team, 14 March 2018.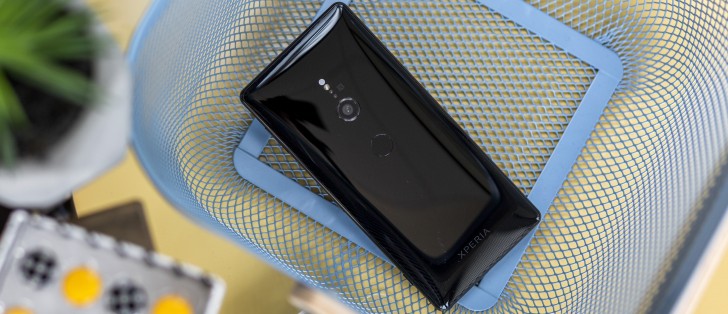 Xperia Launcher on top of Android Oreo
The Sony Xperia XZ2 runs on Android 8.0 Oreo. Despite the latest Android OS, don't expect a radical change in the UI of the device compared to its siblings, like the XA2, XA2 Ultra, or most of its recent predecessors, like the XZ1, for that matter. Like many other manufacturers, the Japanese giant has mostly decoupled its signature UX from the Android underneath at this point, so as to deliver a familiar experience across its lineup.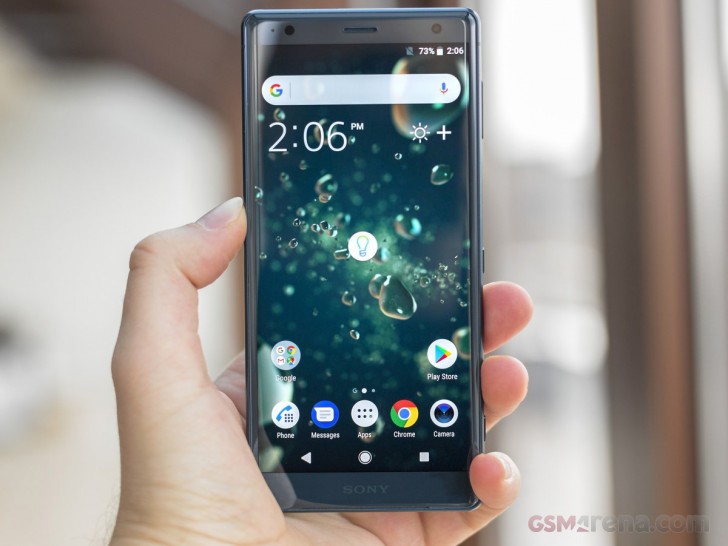 It is worth noting, though, that unlike the mid-range XA2 pair, the flagship XZ2 duo is still not part of Sony's Open Device program. We can only hope it's a question of time, though, since participation not only facilitates custom ROM development but also means a vanilla Android build - available straight from Sony.
Even in the absence of stock Android, the Xperia launcher has gotten pretty lightweight. Not only is the bloat reduced significantly, but most of it isn't even technically pre-loaded out of the box.
During setup, the Xperia Launcher actually prompts for approval for a big chunk of said apps. If you don't like or need any of the non-essentials, you can simply tick them off the list and never deal with them again.
Anyway, long-term Sony fans should feel right at home with what is essentially the same Xperia launcher. The homescreen appears unchanged from previous Xperia generations. This includes the swipe down gesture, which shows a screen of the apps you use most along with recommendations for new apps to install. The search field is highlighted so you can start typing the app's name immediately. There is also a Google Feed pane, accessible through a left swipe on the home screen.
You can also toggle most of these additional features on and off, as per your liking. The Xperia Launcher actually lends itself to quite a bit of tweaking.
Themes are available (both free and paid) that can customize the look and sound of the Xperia XZ2. These are managed through a dedicated interface but seem to be distributed via the Google Play Store - pretty straightforward. Some themes are even interactive, with their wallpapers reacting to your touches. Besides themes, the Xperia launcher also offers wallpapers, grid settings and various transition animation options.
The notification drawer and the task switcher are very similar to the vanilla Android ones. There is also a Split Screen feature available to a limited number of apps.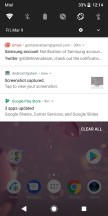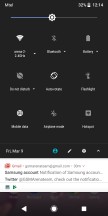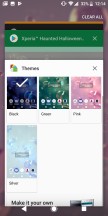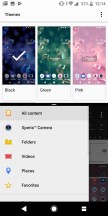 Notification shade • Quick toggles • Task switcher • Split screen
The traditional app drawer is present and even if you opt out of all the additional app installs during setup, you will still end up with at least a few essentials. Sony takes great pride in the A/V prowess of its devices, and the multimedia apps are all custom and feature-rich - Album, Music, and the Video app.
The Music app, for instance, offers a plethora of added goodies, like Google Drive and personal media server integration, themes, automatic music info and artwork download and management, Not to mention access to Sony's formidable selection of audio optimization options and equalizers.
The Xperia Assistant is a new addition to the mix. Naturally, in keeping with current trends, it utilizes AI, but nothing too fancy, like Bixby, Siri or the Google Assistant. Unlike those, the Xperia app lacks a voice of its own, at least for now that is and is more of an interactive manual and convenient management hub for some of the device's features. The main interface is arranged in a chat manner, although you rarely get to actually type. Rather, the Assistant guides you via suggested topics.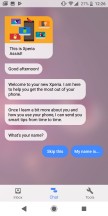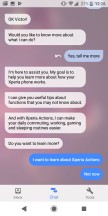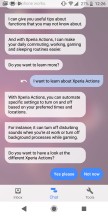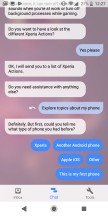 Xperia Assistant main chat interface
It's a fairly intuitive mode of operation, even if not particularly speedy. When you reach a certain juncture in your conversation, the Xperia Assistant can drop convenient links to features you might be interested in checking out. Those cards, or notifications, of sorts, also end up in your inbox, for quicker access later, without having to repeat the conversation with the AI. In some cases, the assistant can directly navigate you to an interface of interest. It can also remind you of various things and send you tips through its own volition when it deems them applicable. You can thankfully enable or disable this behavior on a per-topic basis.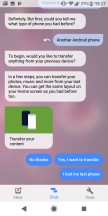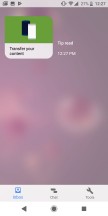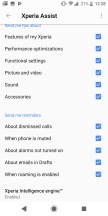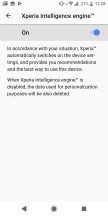 The assistant drops tip cards • Card inbox • Assistant settings
The third and final tab in the Xperia Assistant UI is titled Tools and serves as a convenient management hub for convenient Xperia features, like the extensive STAMINA mode battery saving platform and the Battery Care feature.
We particularly like the latter, since modern batteries do actually benefit from proper care, or rather avoiding certain unfavorable scenarios, like keeping the device charged up all the way for prolonged periods of time. We wish more manufacturers extended such efforts to preserve the longevity of their sealed-in battery backs.
Finally, in addition to the fingerprint unlock, you can set up Smart Lock. It gives you conditional security - trusted nearby devices, locations, faces, or voices can allow you to skip the security protocol that you may have set up on the phone.
Fingerprint reader in backside. Xperia performance it was power/fingerprint button and side mounted. And Sony is implementing that configuration back, because it's most logical placing of a button.
Yes indeed it is very reminiscent of Xperia performed.. Looks design wise the same, only taller, little smaller bezels and power button removed just back.
if you need to compare this with the Samsung A9 ..... ?