Sony Xperia XZ3 long-term review
GSMArena team, 08 March 2019.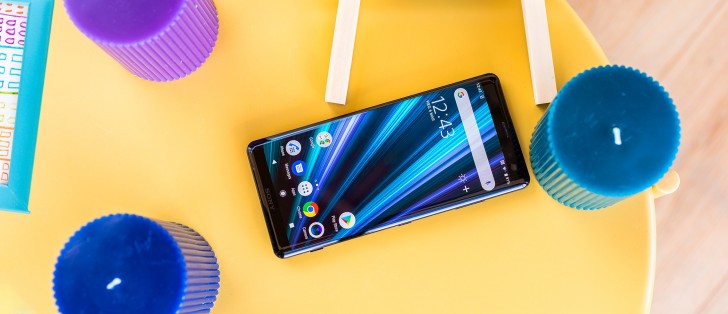 Software
Sony's interpretation of Android has always been lighter than most. Overall it does have a very similar vibe (and look) to what you can see on a Pixel, but there are subtle differences here and there - as well as a lot of Sony additions.
The notification area looks and behaves the same as Google intended, and the Quick Settings are familiar too if you're coming from a Pixel or Nexus. The Settings menu has pretty much the same paint job, although the colored icons for categories are themselves different. The layout is the same, though, with a single searchable list and no tabs. Sony's moved some things around (and added its very own Xperia Assist entry) but overall the feeling is that this is very close to stock.
The launcher has an app drawer thankfully, but while you can enable swiping up from the bottom of any home screen in order to reach the drawer, the company hasn't gone far enough in mimicking the Pixel launcher because this one scrolls horizontally in the app drawer. That means you can't quickly swipe up and then keep swiping up to find your desired app. It's a minor niggle, this, but it would've aided usability in our view to keep the scrolling direction consistent, especially since the multitasking rolodex vertically scrolls too.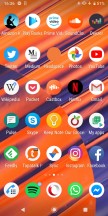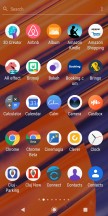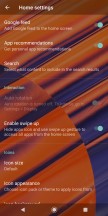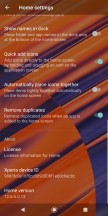 Home screen, app drawer, settings
That brings us to the fact that Sony hasn't gone with the default Android Pie way of doing things here, and instead uses a multitasking menu that seems identical to what Google was offering in Android Oreo. Perhaps this is somehow related to the fact that there's no gesture navigation system on the XZ3 whatsoever. Not Google's weird and rather pointless attempt (since it doesn't actually free up any screen real estate), not something better either. You're just stuck with the familiar (pre-Pie) three navigation buttons sitting in their own bar at the bottom.
We're sorry for repeating this ad nauseam, but here's yet another area in which Sony simply chose to ignore what everyone else has been doing in the Android world in the past year and go another way. Or, differently put, it chose to stubbornly resist change.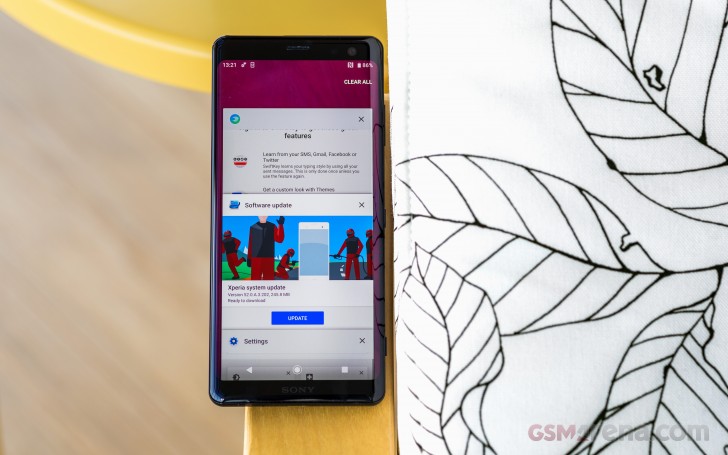 The software experience on the XZ3 is very pleasant if you enjoy 'stock' Android, since it looks and works almost exactly like that. If you're coming from a device with a heavier skin like MIUI, EMUI, ColorOS, or FunTouch OS, then an adjustment period may be required, but we assume it won't be very long.
Performance
In day to day use, you may be tempted to keep double-checking on our specs page whether the XZ3 really has a Snapdragon 845 chip at the helm. Don't get us wrong, it performs well, but, as with many other things, it just can't match up to what most of its competitors are able to achieve. As usual, this being a long-term review, we're not discussing synthetic benchmarks here, just the overall feel of using this smartphone all day everyday.
And to put it bluntly, it comes short in this area. Its performance is good, but more on the level you'd expect from an upper-midrange device in 2019 and not a flagship, be it even a few months old. There are stutters everywhere and a persistent lag that brought back bad memories of Samsung flagships prior to 2018. That's what you should expect because that's what you're going to get.
Before you ask, yes our unit is running the absolute latest software version at the time of writing, and yes we have performed a full reset after installing this release and before we started using the XZ3 for an extended period of time for the purposes of this review. Although its security update isn't the latest anymore, Sony has been rather quick to issue these for the XZ3 and its other past flagships too, so at least from this point of view you probably have nothing to worry about.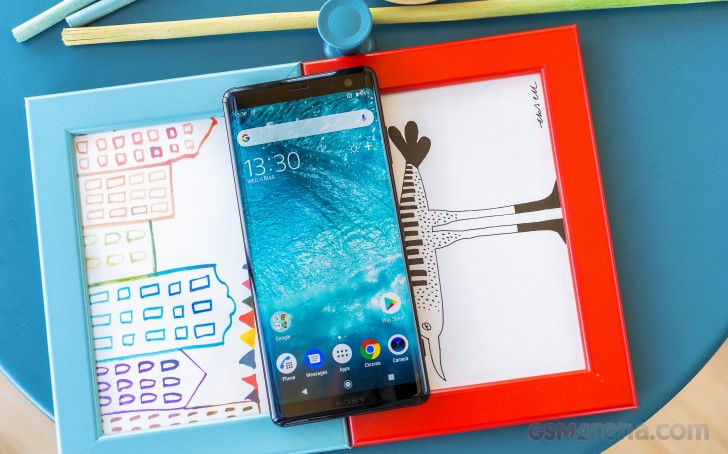 Smoothness, though, is another matter entirely. Over the past year or so we've gone through quite a bunch of top of the line handsets in our long-term reviews, and there really is no nice way to sugarcoat the fact that when it comes to smoothness, the XZ3 is at the bottom of the pack. It's very far removed from what a new Pixel will offer you out of the box, but it's also lagging behind competing offerings that cost about half as much (the recently long-term reviewed Pocophone F1 and Xiaomi Mi 8 come to mind).
We're once again tempted to rant that Sony should have focused on lag-less, stutter-free, smooth performance all-round for the XZ3 instead of wasting resources on, for example, achieving a camera hump-free back or filling the phone with loads of software gimmicks left and right (more on those in the Frustrations page).
Now, on the other hand, if a Galaxy S8 (or S7, or any generation before that) felt "smooth" to you at any point during its existence, then you'll probably be very satisfied with the XZ3, because it provides a similar experience.
Hitting the multitasking button always results in a lag before the rolodex of running apps comes up, and if you double-tap that button to quickly go to the previously used app you'll find that in more than half of the cases the second tap simply wasn't registered.
Tapping on an app from the multitasking view also results in a half-second lag before it's brought up, and these are just the easiest things to write about when it comes to the consistent stutters we've encountered everywhere throughout the UI.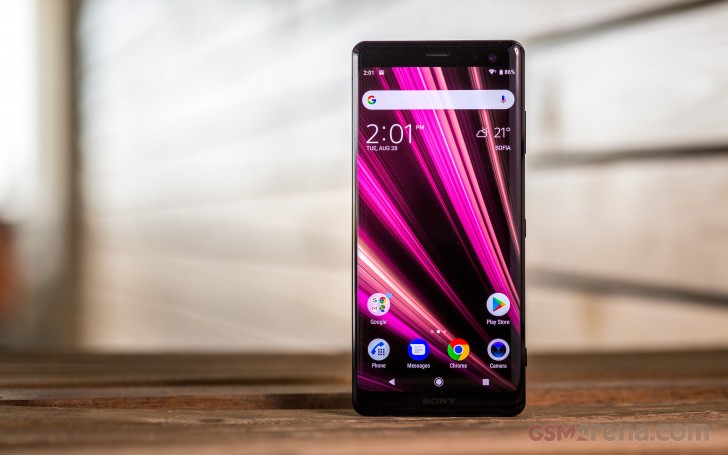 Bonus round: taps on the keyboard are sometimes (randomly) not registered, so while the display itself looks very nice there may be some issues with the "touch" part of "touchscreen", which may or may not be connected to the palm rejection necessary because of the curved sides of the panel (although the palm rejection itself works very well as we've already described in the Display section).
This is simply a bad user experience in our book, but we could have overlooked it (at least slightly) and not insisted so much upon it if this was a phone that didn't claim to be a proper flagship. The 4GB of RAM in all markets but Taiwan is another baffling move at this price point where you'd expect at least 6GB, then again Google's been doing that too so maybe that makes it okay? On the plus side we haven't found that this negatively influences multitasking in day to day use, at least not more than the aforementioned lags and stutters.
Battery life
A 3,300 mAh cell isn't small, but lately Sony's competitors have been fighting to outdo each other in this department while the Japanese company was having none of that - can you spot a theme at all, with Sony going its own way in spite of market trends? Anyway, battery life on the XZ3 has been good, but far from what we've achieved with competing devices that come with larger cells - which is exactly what we expected.
In our use scenario for long-term reviews we are mostly connected to Wi-Fi in a 12-16 hour day off the charger, but we throw in an hour or two of 4G LTE connectivity as well. Bluetooth is always on and streaming music for an hour or two, location is set to the most accurate option and we use GPS navigation 30 minutes to an hour. With this use we got 5 hours of screen on time pretty consistently each day by the time the battery meter reached 5 to 10%. Our record is 7 hours and 22 minutes from 100% to 5%, as you can see in the screenshot below.
That's definitely not bad, but we wish Sony would just get with the times and use larger batteries in its flagships already. That would ensure that its devices would last a full day on a charge no matter how demanding your personal use scenario may be. While we didn't feel the need to top-up before going to bed, that's because of the specifics of our use - if you go with 4G LTE connectivity for most of the day and move around in areas of weak signal, the numbers will go down compared to ours. The good thing is that you can use a Qi wireless charger to fill up your XZ3 as well as USB-C.
A weird detail is that while the XZ3 supports USB-PD quick charging (the same standard that Google chooses), the charger that comes in the box is not USB Power Delivery compliant. Sony is obviously pulling an Apple in this case, willing to sell you a PD charger separately if you want one.
As Sony user cant be so happy have different type of phone among other million people using the same one.
funny that this is the drop period for Sony coz they ruined it that time, that's why you don't see many buyers... GSMA posted the lowest sales for Sony mobile. whatever comes up, eventually will fall.... and maybe will rise again.... nobody wi...
google can't sell many phones because they dont sell their phones worldwide. many people want to buy pixel but sadly it doesnt available in their countries. And sony, sony cant sell many phones because users avoid to buy xperia. Hence.. making s...