Sony Xperia Z1 Compact review: Mini gone big
Mini gone big
GSMArena team, 28 January 2014.
Controls
The Sony Xperia Z1 Compact's layout of controls similar to that of its bigger sibling. You get an RGB notification light on top of the display, alongside the proximity and ambient light sensors and the front-facing camera.
The front-facer is a 2.1MP unit, enough resolution for 1080p video. The status LED is hidden inside the earpiece this time around. It's a bit small and, being inside the recessed earpiece, visibility at an angle is worse. Again, we would have liked to see a large strip below the screen - there's plenty of unused space there to begin with, and big RGB strips are both attractive and easy to see as previous Xperia designs have demonstrated.


A familiar arrangement above the screen
With the area beneath the screen perfectly bare, all the important stuff is on the sides. There is a camera key here, located on the right side, underneath the signature Xperia power key and the volume rocker. Unfortunately, the shutter button, useful as it may be for launching the camera from anywhere, is very tiny and inconvenient. It's better than nothing, but we often resorted to using the on-screen button for actually taking photos.



There are three buttons on the right
With the back panel fixed, the card slots are located under two flaps on the left of the Xperia Z1 Compact. The microSD goes near the top, underneath the microUSB port, which is covered by a flap of its own. The microSIM slot is further down the same side, after the docking pogo pins. All those flaps are hardly the most convenient solution, but they are necessary for the device to live up to the IP58 dust and water protection rating and certainly improve looks too - too many holes on the side would have looked bad.



A trio of flaps hides the card slots and the microUSB jack on the left
The top of the phone holds the 3.5mm audio jack that has been left exposed. That's not a cause for concern though as the jack has been waterproofed. The loudspeaker grille at the bottom is pretty large, and in a few minutes we'll see if that translates into actual output - the Xperia Z1 wasn't the loudest handset around, so here's hoping the Compact does better.





The waterproof 3.5mm audio jack • The loudspeaker grille
The back of the phone is one big slab of scratch-resistant plastic.



Sony managed to fit a 1/2.3" inside the Xperia Z1 Compact
Anyway, the back holds the headline feature of the Sony Xperia Z1 Compact, the 20.7MP camera lens, along with the LED flash. The camera module has a wide 27mm Sony G Lens with a fast F/2.0 aperture and a Sony Exmor RS back-illuminated (BSI) sensor, which is 70% bigger than the majority of smartphone camera sensors. There's also a secondary microphone here - neatly tucked under a small grille at the top of the back panel.



One-handed operation of the smartphone is trouble-free
Display with a right attitude
The Sony Xperia Z1 Compact comes with a 4.3" Triluminous display backed up by the company's proprietary X-reality engine. On paper, 720p resolution sounds like a serious step down from the full-HD screen of the regular Z1, but at this size it still results in the more than pleasing 342ppi.
So the screen is tack-sharp and you wouldn't really feel any downgrade at all - in fact 1080p would probably have been an overkill at this screen size, and a strain on the battery.


The 720p Triluminous screen is gorgeous
The good news is sharpness is not all the Xperia Z1 Compact display has going for it. It also offers excellent contrast with impressively deep blacks, bringing every image to life. Color accuracy is pretty great too and there's even a setting for manually tuning the white balance if you aren't perfectly happy with it.
Display test
50% brightness
100% brightness
Black, cd/m2
White, cd/m2
Contrast ratio
Black, cd/m2
White, cd/m2
Contrast ratio
Sony Xperia Z1 Compact
-
-
-
0.34
626
1819
Sony Xperia Z1
-
-
-
0.38
580
1513
HTC One
0.13
205
1580
0.42
647
1541
Samsung Galaxy S4
0
201
∞
0
404
∞
Apple iPhone 5s
0.14
163
1145
0.49
596
1219
More impressively, Sony has finally managed to get the better of its oldest rival when it comes to smartphone screens - viewing angles. The Xperia Z1 Compact is by far the best performing smartphone in that department to come from the Japanese company. There's only moderate contrast shift when you go to extremes, but everything on the screen remains legible no matter how wide the tilt.
Alas, the sunlight legibility isn't as spectacular as the rest of the screen, but it's not too bad either.
Sunlight contrast ratio
Nokia 808 PureView
4.698
Apple iPhone 5
3.997
Samsung Galaxy Note 3
3.997
Samsung I9300 Galaxy S III
3.419
Nokia Lumia 925
3.402
Samsung I9505 Galaxy S4
3.352
Samsung Omnia W
3.301
Samsung Galaxy S
3.155
Samsung Galaxy S4 mini
3.127
Samsung Galaxy S4 zoom
3.118
Nokia N9
3.069
Samsung Galaxy Note
2.970
Sony Xperia Z1
2.950
HTC One S
2.901
BlackBerry Q10
2.856
Samsung Galaxy S II
2.832
Samsung Galaxy S II Plus
2.801
BlackBerry Z30
2.790
Huawei Ascend P1
2.655
Sony Xperia ZR
2.672
Nokia Lumia 900
2.562
HTC One Max
2.537
Nokia Lumia 720
2.512
HTC One
2.504
Sony Xperia Z
2.462
Samsung Galaxy S III mini
2.422
Motorola RAZR i
2.366
Samsung Galaxy Note II
2.307
Alcatel One Touch Hero
2.272
Apple iPhone 4S
2.269
HTC Desire 600 dual sim
2.262
LG Nexus 5
2.228
HTC One X
2.158
Nokia N8
2.144
Oppo Find 5
2.088
BlackBerry Z10
2.051
Apple iPhone 4
2.016
HTC One mini
2.003
LG G2
1.976
Sony Ericsson Xperia ray
1.955
Samsung Galaxy Camera
1.938
HTC Butterfly
1.873
Huawei Ascend P6
1.865
Nokia Lumia 1520
1.813
Sony Xperia V
1.792
Sony Xperia Z1 Compact
1.772
Sony Xperia U
1.758
Meizu MX3
1.754
LG Optimus 4X HD
1.691
HTC One V
1.685
BlackBerry Q5
1.682
LG Optimus Vu
1.680
LG Optimus GJ
1.666
HTC Desire V
1.646
Sony Xperia Z Ultra
1.578
Samsung Galaxy Core
1.563
LG Optimus G Pro
1.552
LG Optimus 3D
1.542
Nokia Asha 302
1.537
Sony Xperia M
1.473
Oppo N1
1.470
Nokia Lumia 610
1.432
Gigabyte GSmart G1355
1.361
HTC Desire C
1.300
Nokia Asha 503
1.281
Nokia Asha 501
1.270
LG Optimus L7
1.269
LG Optimus L9
1.227
Meizu MX
1.221
Sony Xperia E dual
1.203
Samsung Galaxy Pocket
1.180
Sony Xperia tipo
1.166
Samsung Galaxy mini 2
1.114
All in all, the Sony Xperia Z1 Compact display may not look like it on paper, but it actually has the best display we have seen by the company in a while. Granted, the sheer size makes the regular Z1 screen a bit more impressive to look at, but per-inch that's the highest quality the Japanese have delivered.
Battery life
The Sony Xperia Z1 Compact packs a 2,300mAh battery - 700mAh smaller than that of its larger sibling, but it also has a far smaller screen of lesser resolution. So how do those balance out?
Quite successfully as it turns out - the Xperia Z1 Compact posted an endurance score of 65h in our dedicated test, faring excellently in the web browsing and video playback tests. It easily bettered the achievement of the full-size Xperia Z1 proving that Sony made the right call going for a 720p screen.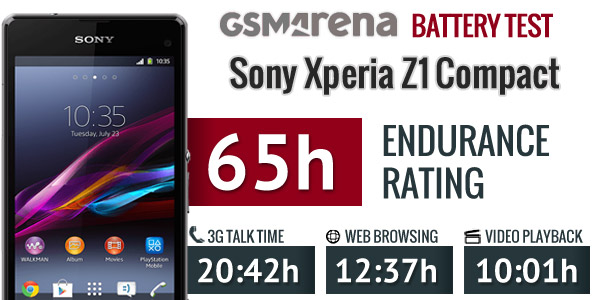 Its been 4 years that I have Sony Xperia Z1 Compact and never failed me. only 2 times I changed the battery and I can open heavy files with it easily. I Love it, it is a loyal phone :_)
Great 4g enabled phone Only mediocre battery life Sorry sony but galaxy s3 took far better pics...
How can I prepare battery for Z1 compact ?? Or how can I get new one