Sony Xperia Z5 Compact review: The overachiever
The overachiever
GSMArena team, 7 October, 2015.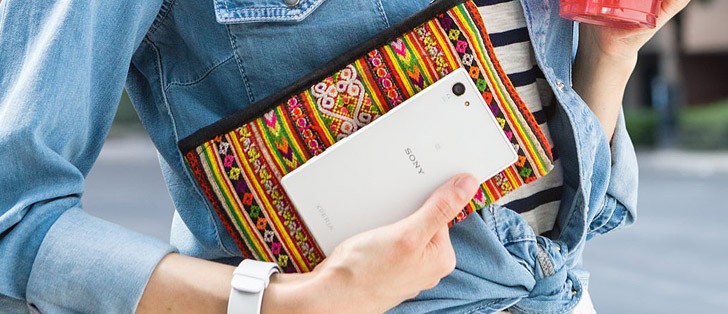 Great phonebook
The contacts app uses a tabbed interface, consisting of Contacts, Favorites and Groups. It is no longer bundled with the phone app, but you can still quickly jump to it from the dialer. The contact list has a dedicated search filed plus it offers a very nicely animated alphabetical scroll bar.
Editing a contact is pretty straight-forward and the Xperia offers a wide variety of additional fields you can append to your acquaintances.
Linking contacts is also available, the quick contact feature is here too.
Telephony
The Sony Xperia Z5 Compact was able to hold onto signal very well. Calls remained uninterrupted and the sound quality was okay. Voices came out loud enough. Clarity was also quite good.
The dialer supports smart dialing, so you can seamlessly search for a number or a name using the corresponding keypad buttons.
The noise cancelation system is also pulling its own weight ensuring pretty good background noise suppression, as reported by the other side.
The Sony Xperia Z5 Compact loudspeaker is fairly loud and scored an Average mark in our loudspeaker test. The score was achieved with Sony's Clear Audio optimization turned off, as it does take away some of the loudness.
We have definitely seen louder devices, but let's not forget that the Z5 Compact does have stereo speakers, ideally positioned at on the front of the device, hidden away near the top and bottom edges under almost invisible grills.
This helps for a much more immersive multimedia experience, be it for watching videos, playing games or listening to music and most phones with stereo speakers are hardly chart toppers in terms of loudness.
| | | | | |
| --- | --- | --- | --- | --- |
| Speakerphone test | Voice, dB | Pink noise/ Music, dB | Ringing phone, dB | Overall score |
| Xiaomi Mi 4 | 62.0 | 62.1 | 66.6 | Below Average |
| Asus Zenfone 2 ZE551ML | 62.9 | 61.7 | 67.7 | Below Average |
| Sony Xperia Z5 Compact (ClearAudio) | 65.0 | 62.2 | 67.0 | Below Average |
| Sony Xperia M5 | 65.6 | 68.9 | 64.0 | Below Average |
| Motorola Nexus 6 | 66.5 | 66.2 | 66.3 | Below Average |
| Sony Xperia Z5 Compact | 66.3 | 65.0 | 70.5 | Average |
| LG G Flex2 | 66.5 | 65.8 | 70.5 | Average |
| Lenovo Vibe X2 | 66.0 | 67.7 | 71.8 | Average |
| HTC One M9 | 65.2 | 64.6 | 76.1 | Average |
| Huawei Honor 6 | 65.9 | 64.6 | 75.6 | Average |
| ZTE Nubia Z9 | 67.9 | 66.5 | 73.5 | Average |
| Huawei P8lite | 66.5 | 66.6 | 75.7 | Good |
| LG G4 | 66.9 | 71.8 | 74.7 | Good |
| Samsung Galaxy S5 | 70.7 | 66.6 | 78.0 | Good |
| OnePlus 2 | 75.7 | 73.5 | 80.7 | Excellent |
Messaging
Messaging hasn't really changed and is the same familiar Xperia experience (yeah it does sound weird), but now with a prettier Material design interface. Text messages and MMS use standard thread layout. Adding multimedia (photos, videos, sounds, etc.) will convert the message automatically into an MMS.
Naturally, the Gmail client and the default Email apps are onboard. Gmail can not only sync with multiple Google accounts, but now has the ability to pull messages form ant POP or IMAP server. This does render the default messenger somewhat obsolete, but it still has its place if you want to keep your work communication completely separate from Google.
Text input
As for text input, the Xperia Z5 Compact offers a customizable full QWERTY keyboard. You can choose a different layout (keypad, QWERTY, QWERTY with extra symbols), add/remove the coma and period button, the smiley and voice input buttons and also enable things like bilingual word suggestions if you have more than one language enabled. Different keyboard skins are available too.
You can also try the so-called Gesture input if hitting those keys individually doesn't give you the desired typing speed. It's similar to what Swype offers, and even if you've never used a Swype-like input before, you'll quickly get used to it.
Single-hand size keyboard is available too. If enabled, it squeezes the onscreen keyboard to the left or right side of the screen so it gets more comfortable for single handed text input.
Bought it in 2016 on sale for 200€ and still works. It got slower but still perfectly useable besides demanding games and it has all practical features of new phones. I consider this phone to be one of mine best buys of all time. And considering...
I have 3 Z5c, white, black, yellow. All on 7.0. 7.1 is a big battery drain, but fast no lags. On 6.1 was good, but 7.0 is the best. Had too Root to revert back to 7.0. Just love the boxy oblong sharp edges Monolithic design omnibalance flat back...
What is that third-party app you used? The results are indeed much better than what you get out of the stock Sony app.