Sony Xperia ZR review: Ready to dare
Ready to dare
GSMArena team, 30 July 2013.
Controls
The layout of controls on the Sony Xperia ZR sticks to what seems the norm across the Sony smartphone lineup.
Starting from the top of the front panel you get the earpiece, with the VGA front-facing camera on one side, and the ambient light and proximity sensors on the other.


The front-facer has been downgraded to VGA resolution
Like the rest of its siblings launched this year, the Xperia ZR relies on virtual on-screen keys rather than hardware buttons, so there is nothing to see below the display.


There's no need for hardware keys under the screen
The primary microphone has been moved to the bottom of the phone, right next to the lanyard eyelet. The secondary one is at the back, but it's only visible when you remove the back cover.



The primary microphone is at the bottom
On the left you get the MHL-enabled microUSB with USB host support. It's located underneath a small plastic cap, which helps maintain the IP58-required levels of water resistance. There are a couple of dock connectors below the port, too.



The microUSB port and the dock connectors on the left
Jumping to the Xperia ZR's right side you see the volume rocker, the smartphone's signature power/lock key and the camera key. The shutter key could have been a bit wider and could have provided more tactile feedback, but it's certainly something you can get used to quickly enough.




There's a trio of keys on the right
Launching the camera straight from sleep state and enabling more comfortable photo taking without introducing needless camera shake by touching the screen, the camera key is a definite asset. It's also something the Xperia ZR can use to lure some people away from the Xperia Z, which lacks such a button.
At the top, you get another plastic lid with the 3.5mm audio jack hiding underneath. While the cover does well to keep dust away (in addition to the water-proofing), it does have a somewhat negative effect on its accessibility.
Around back, we spot the 13 megapixel camera lens, the LED flash and the loudspeaker grille. That's the exact same camera as on the Xperia Z flagship, but we are hoping Sony got the processing right this time (an update was issued for the Xperia Z specifically for that).



The 13MP camera lens is the star backstage
Underneath the back cover sit the microSD and microSIM card slots as well as the smartphone's juice pack.
Battery life
According to the official numbers, the 2300 mAh battery that should keep the smartphone going for up to 13 hours of talk-time or 520 hours of stand-by. The numbers come slightly short of what the Xperia Z promised, but the real-life performance is a market improvement over the 5" flagship. The Xperia ZR managed an endurance rating of 62h in our dedicated test, easily beating its sibling in each of the tests and matching its stand-by efficiency.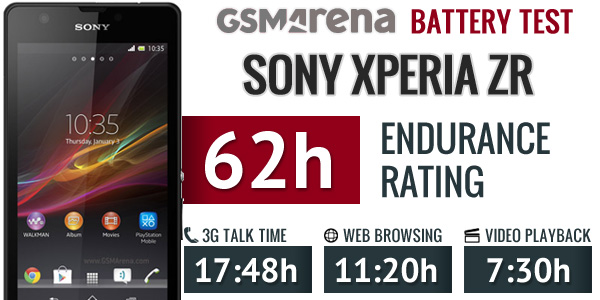 That's hardly a surprise considering that the batteries and chipsets are the same and the ZR has a clear advantage as far as screen estate and resolution are concerned. We did experience strange battery drain on a couple of occasions when we left the phone idle overnight, so it wasn't always so great, though.
Display
There's a 4.55" 720p (1280 x 720) LCD on the Sony Xperia ZR and the Mobile BRAVIA 2 engine to boost image quality.
The resolution is more than twice lower than on the Xperia Z, but since the screen size has also been decreased so the pixel density stands at the cool 323 ppi. It's as great as on the Xperia Z, but frankly you'd have to be looking from way closer than is comfortable to notice it. And since 1080p would have lead to an increase in battery consumption we'd say Sony made the right call here.
Brightness is adequate and the contrast looks good even without the Bravia engine optimizations. You can enable the BRAVIA 2 for a dash of extra punchiness to your colors.
Display test
50% brightness
100% brightness
Black, cd/m2
White, cd/m2
Contrast ratio
Black, cd/m2
White, cd/m2
Contrast ratio
Sony Xperia ZR
0.13
128
1001
0.58
581
1004
Sony Xperia ZL
-
-
-
0.44
575
1294
Sony Xperia Z
-
-
-
0.70
492
705
HTC One
0.13
205
1580
0.42
647
1541
HTC Butterfly
0.14
173
1200
0.45
501
1104
Samsung I9505 Galaxy S4
0
201
∞
0
404
∞
Oppo Find 5
0.17
176
1123
0.51
565
1107
Samsung N7100 Galaxy Note II
0
215
∞
0
402
∞
LG Optimus G Pro
-
-
-
0.41
611
1489
Nokia Lumia 920
-
-
-
0.48
513
1065
LG Optimus G
0.14
197
1445
0.33
417
1438
Apple iPhone 5
0.13
200
1490
0.48
640
1320
Surprisingly, the viewing angles on the Xperia ZR display are somewhat better than those of the Xperia Z screen. It's still far from perfect and you start to see contrast compression and color shift quite quickly, but the screen remains legible for longer than the Xperia Z.
Using the Sony Xperia ZR in bright outdoor conditions turned out quite a trouble-free experience. The smartphone even managed to slightly outdo the Xperia Z in our test.
Sunlight contrast ratio
Nokia 808 PureView
4.698
Apple iPhone 5
3.997
Samsung I9300 Galaxy S III
3.419
Nokia Lumia 925
3.402
Samsung I9505 Galaxy S4
3.352
Samsung Omnia W
3.301
Samsung Galaxy S
3.155
Samsung Galaxy S4 mini
3.127
Samsung Galaxy S4 zoom
3.118
Nokia N9
3.069
Samsung Galaxy Note
2.970
HTC One S
2.901
Samsung Galaxy S II
2.832
Samsung Galaxy S II Plus
2.801
Huawei Ascend P1
2.655
Sony Xperia ZR
2.672
Nokia Lumia 900
2.562
Nokia Lumia 720
2.512
HTC One
2.504
Sony Xperia Z
2.462
Samsung Galaxy S III mini
2.422
Motorola RAZR i
2.366
Samsung Galaxy Note II
2.307
Apple iPhone 4S
2.269
HTC One X
2.158
Nokia N8
2.144
Oppo Find 5
2.088
BlackBerry Z10
2.051
Apple iPhone 4
2.016
Sony Ericsson Xperia ray
1.955
Samsung Galaxy Camera
1.938
HTC Butterfly
1.873
Sony Xperia V
1.792
Sony Xperia U
1.758
LG Optimus 4X HD
1.691
HTC One V
1.685
BlackBerry Q5
1.682
LG Optimus Vu
1.680
HTC Desire V
1.646
LG Optimus G Pro
1.552
LG Optimus 3D
1.542
Nokia Asha 302
1.537
Nokia Lumia 610
1.432
Gigabyte GSmart G1355
1.361
HTC Desire C
1.300
LG Optimus L7
1.269
LG Optimus L9
1.227
Meizu MX
1.221
Sony Xperia E dual
1.203
Samsung Galaxy Pocket
1.180
Sony Xperia tipo
1.166
Samsung Galaxy mini 2
1.114
You can find all about our display testing routines here.
Anonymous
19 Nov 2021
d$@
Can i use xperia zr without battery as tv box? It support mhl and mhl charge speed not enough to power on zr all the time.There is a dock charge port and alkol micro usb port.
Anonymous
25 Jul 2020
7jZ
You should need a old charger cut the pin of charger and get red wire in positive terminal of bettery and negitv to negitive after 3 to 4 minuts clean the bettery connecter using blad or knife and clean the bettery gold plated pins using blade or kni...
Zeeqqqzzz
25 Dec 2019
tue
My Xperia ZR cant power on...can someone help me how to power on my device...please help me