Tecno Camon 17 Pro review
GSMArena Team, 16 June 2021.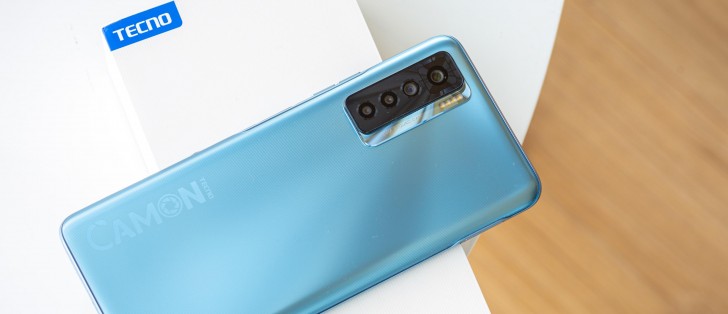 Android 11 with HiOS on top
The Camon 17 Pro runs Android 11 with a layer of Tecno's in-house HiOS on top. We were less than thrilled with the company's aggressive advertising policies and pre-installed bloatware when we reviewed the Camon 16 Premier, but what we see here is a somewhat toned-down approach, a development we appreciate.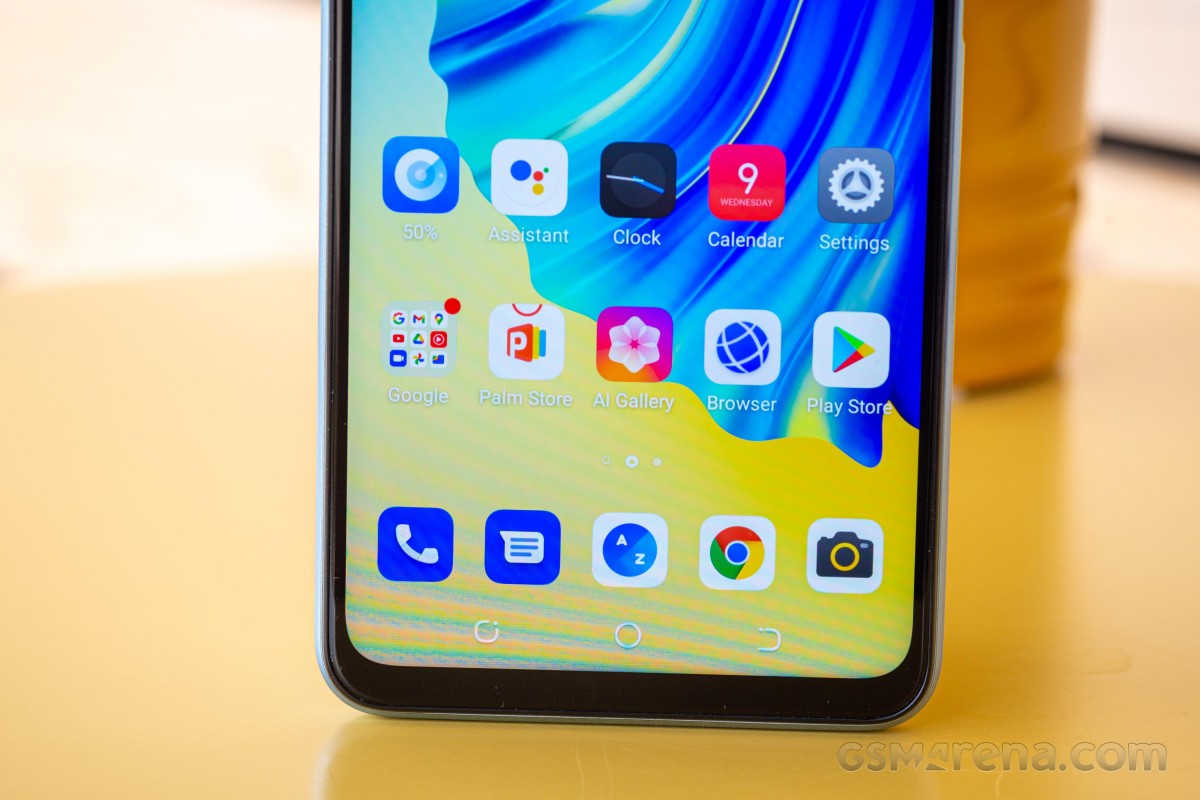 That's not to say there isn't a whole bunch of pre-installed apps and utilities, and an in-house gallery and video player, and an app store - no, these are all still here. That app store still pushes a ton of notifications, nudging you to install this or that app or game.
But you can disable the Instant apps row in the app drawer, the Phone master shortcuts in the notification shade aren't there, and aside from the Palm store's suggestions, there aren't really any other ads. The situation still isn't ideal, but we're finding it to be more tolerable now.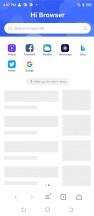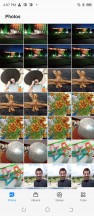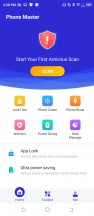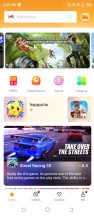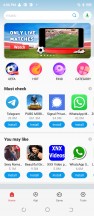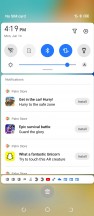 Hi Browser * AI Gallery  * Phone Master * AHA Games * Palm Store * Palm store notifications
Getting into the Camon 17 Pro is business as usual with both fingerprint and face recognition available. You can have the fingerprint reader unlock with just a tap, or require a press as well, and you can do that for the face recognition as well.
The lockscreen has a single shortcut in the bottom right to access the camera. Once you're past that, you arrive at a standard homescreen interface. The leftmost pane, called Zero screen, holds cards with suggested news, weather and quotes widgets and an app usage widget. You can disable the Zero screen in the 'Desktop settings'. There's an app drawer by default which you can access from the old-school A-Z orange icon at the bottom or with an upward swipe from the bottom.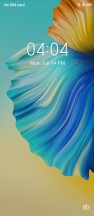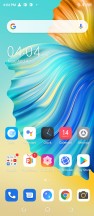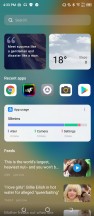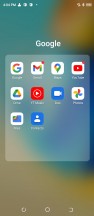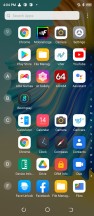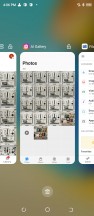 Lockscreen • Homescreen • Zero screen • Folder view • App drawer • Task switcher
All the custom bits found on the Camon 16 Premier are here on the 17 Pro as well. That includes the Game mode with all the settings statistics and parental controls, the Smart panel with slide-from-the-side shortcuts, the Social Turbo toolset (a WhatsApp enhancer of sorts), as well as the CarIcare aftersales assistance utility. You can read more about all of these in the software section of the Camon 16 Premier review.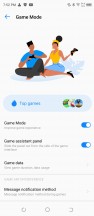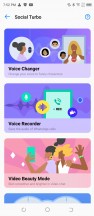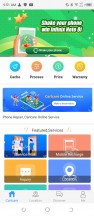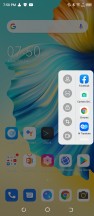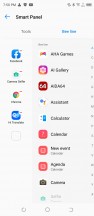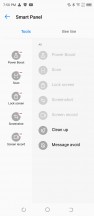 Game mode • Social Turbo • CarIcare • Smart Panel
Synthetic benchmarks
The Camon 17 Pro is powered by the Mediatek Helio G95, a pre-5G chipset made on a 12nm process. Its octa-core chipset is in a 2+6 configuration (2x2.05 GHz Cortex-A76 & 6x2.0 GHz Cortex-A55), and the GPU is the Mali-G76 MC4. We're only finding a single 8GB/256GB RAM/storage configuration in online stores, and it's a plenty generous one. Oddly, our review unit has 128GB on board.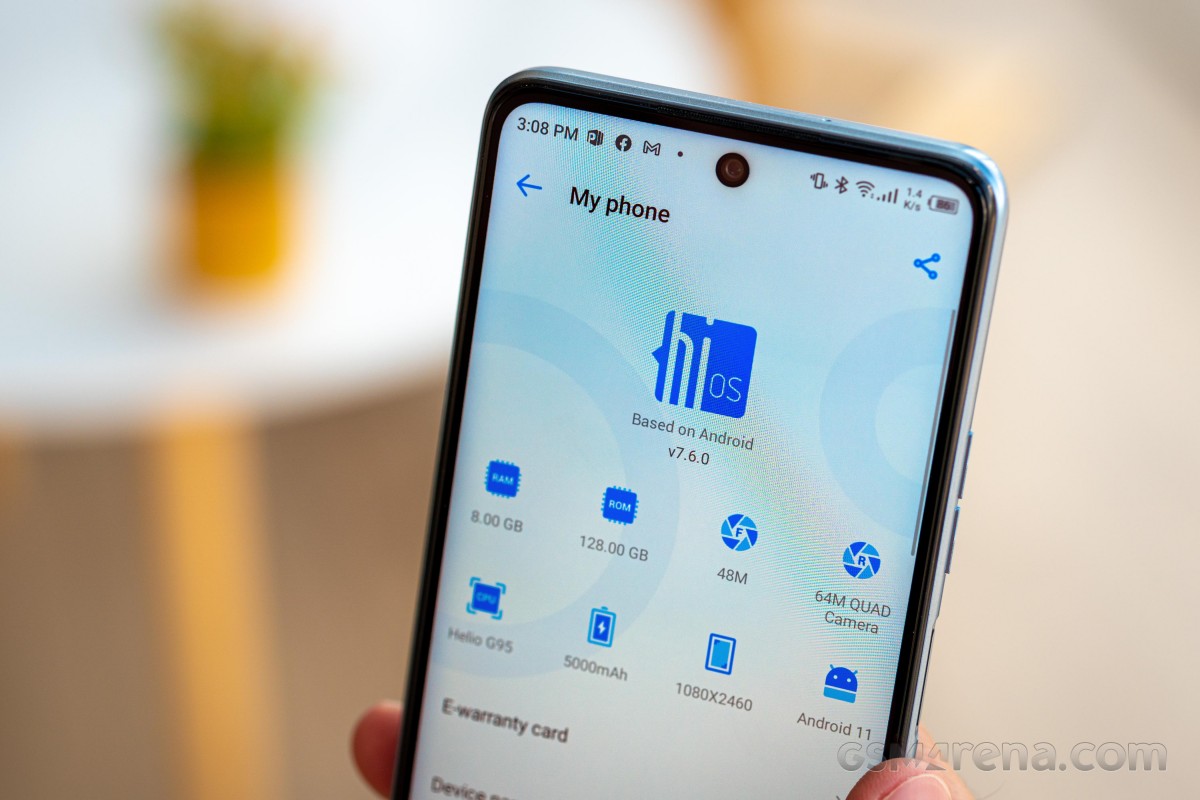 The Camon put out respectable numbers in our benchmarks, comfortably outperforming the Galaxy A32, and posting similar results to the Redmi Note 10 Pro and the Galaxy A52. We didn't observe thermal throttling or any significant drop in results after repeated benchmark runs either.
GeekBench 5 (multi-core)
Higher is better
Xiaomi Redmi Note 10 Pro
1780
Realme 8
1690
Tecno Camon 16 Premier
1672
Tecno Camon 17 Pro
1668
Realme Narzo 20 Pro
1666
Infinix Zero 8
1663
vivo V21 5G
1600
Samsung Galaxy A52
1577
Xiaomi Redmi Note 10S
1576
Samsung Galaxy A32
1277
GeekBench 5 (single-core)
Higher is better
vivo V21 5G
574
Xiaomi Redmi Note 10 Pro
569
Realme 8
533
Tecno Camon 16 Premier
532
Infinix Zero 8
532
Samsung Galaxy A52
525
Realme Narzo 20 Pro
517
Tecno Camon 17 Pro
511
Xiaomi Redmi Note 10S
502
Samsung Galaxy A32
361
AnTuTu 8
Higher is better
vivo V21 5G
336699
Tecno Camon 17 Pro
309107
Realme 8
298328
Xiaomi Redmi Note 10 Pro
295442
Realme Narzo 20 Pro
291407
Tecno Camon 16 Premier
283847
Infinix Zero 8
282348
Samsung Galaxy A52
261282
Samsung Galaxy A32
174332
GFX Manhattan ES 3.1 (offscreen 1080p)
Higher is better
Realme Narzo 20 Pro
34
vivo V21 5G
34
Tecno Camon 17 Pro
33
Realme 8
33
Tecno Camon 16 Premier
30
Infinix Zero 8
30
Samsung Galaxy A52
29
Samsung Galaxy A32
15
GFX Manhattan ES 3.1 (onscreen)
Higher is better
vivo V21 5G
31
Realme 8
29
Tecno Camon 17 Pro
28
Realme Narzo 20 Pro
28
Tecno Camon 16 Premier
26
Infinix Zero 8
26
Samsung Galaxy A52
26
Samsung Galaxy A32
13
GFX Car Chase ES 3.1 (offscreen 1080p)
Higher is better
Tecno Camon 17 Pro
20
Realme Narzo 20 Pro
20
Realme 8
20
vivo V21 5G
20
Xiaomi Redmi Note 10 Pro
19
Tecno Camon 16 Premier
18
Infinix Zero 8
18
Samsung Galaxy A52
17
Samsung Galaxy A32
9.3
GFX Car Chase ES 3.1 (onscreen)
Higher is better
Realme 8
18
Tecno Camon 17 Pro
17
Realme Narzo 20 Pro
17
vivo V21 5G
17
Xiaomi Redmi Note 10 Pro
16
Tecno Camon 16 Premier
15
Infinix Zero 8
15
Samsung Galaxy A52
15
Samsung Galaxy A32
8.1
3DMark SSE ES 3.1 (offscreen 1440p)
Higher is better
vivo V21 5G
3331
Tecno Camon 17 Pro
2719
Realme Narzo 20 Pro
2683
Realme 8
2610
Infinix Zero 8
2537
Tecno Camon 16 Premier
2531
Samsung Galaxy A52
2529
Samsung Galaxy A32
1323
3DMark SSE Vulkan 1.0 (offscreen 1440p)
Higher is better
vivo V21 5G
3050
Realme Narzo 20 Pro
2735
Realme 8
2639
Tecno Camon 17 Pro
2593
Tecno Camon 16 Premier
2577
Infinix Zero 8
2556
Samsung Galaxy A52
2406
Samsung Galaxy A32
1371
3DMark Wild Life Vulkan 1.1 (offscreen 1440p)
Higher is better
vivo V21 5G
1605
Tecno Camon 17 Pro
1498
Realme 8
1486
Samsung Galaxy A52
1040
Samsung Galaxy A32
686
Pls is there an issue with the fingerprint unlock of tecno camon 17 Pro, I read a review somewhere and about 5 people mentioned it and more people backed up that claim
Everyone has their own preference sha, for some, they are attracted to the phantom x cos it's curvy
I love tecno phones very much ,my first tecno phone was tecno camon , and now I am using phantom 9 , I will use only tecno phones in future also I decided