Testdriving Sony's Concept for Android on the Xperia X - the stock Nougat experience
George, 21 December 2016
Sony launched its Concept for Android initiative all the way back in the summer of last year as a means to get early feedback on future software releases from real-world users. A year and a half later, the project lives on and everyone can get on board. Well, everyone with an Xperia X in Europe, but that's still pretty liberal.
Sony reached out to us and sent an Xperia X our way for us to try out its beta Nougat firmware. What's typically been the case in the past with Sony custom Android builds is to add a small feature here and there (one was called Small Apps) - useful and unobtrusive, and bundle a few in-house multimedia apps - for example the Walkman-branded music player. Well, the Small apps were retired at one point, and Walkman turned into Music but kept its core functionality.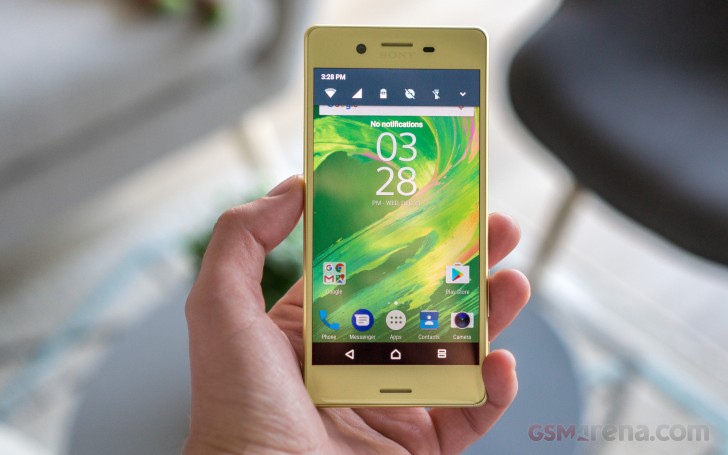 But before we go over what you can expect to find on Sony Nougat builds, we'll just quickly walk you through the process of signing up for the program and installing the firmware.
For starters, it's not like your average OTA update - you need to go the Play Store and download the Concept Installer app to be able to get the firmware. The installer is only 2MB in size, but the firmware is a pretty hefty download at 1173MB, so you better have the internet connection to handle it.
The new firmware will wipe the storage, too, so be sure to back up first.
The good news is that if you decide at a later point that you no longer want to be using the experimental firmware, you can easily revert to the consumer-grade releases.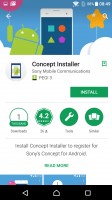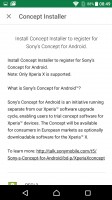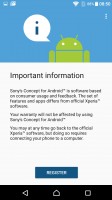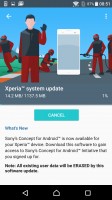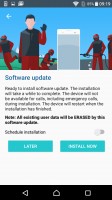 Concept Installer in the Play Store • Firmware download
So, Nougat boots, we go through the initial setup process, and we're greeted by the homescreen. For a brief instant, we thought the process must have failed as nothing seemed changed. Well, it wasn't, it was Nougat alright.
So we set out to find Sony's customizations to this otherwise stock Android build. The first one is immediately visible, and a most welcome one too - a percentage indicator in the battery icon in the status bar. Why Google insists on not having that in vanilla Android 7 is beyond us, so kudos to Sony for adding it.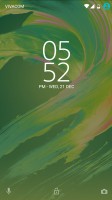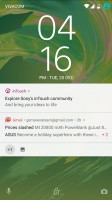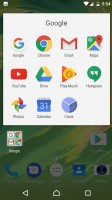 Lockscreen looks the same • ...until the Nougat notifications show up • The usual homescreen
While we're up there, pulling down the notification shade results in the same animation as on the Pixels, and just as on Google's own phones, there's no Auto brightness toggle - and it all started so great with the battery indicator.
The Settings menu follows closely Google's arrangement, there are no different interpretations on how stuff should be grouped. Sony has thrown some color into the whole thing instead of Google's plain blue icons - okay, perhaps it makes the sections more easily recognizable.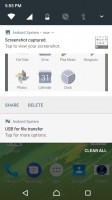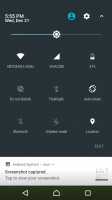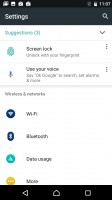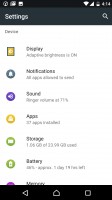 Notification area • Nope, no Auto brightness • Settings
Sony is offering the default way of opening the app drawer. There is none of the fancy slide up action we've seen in the Pixel phones.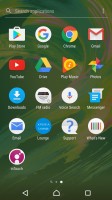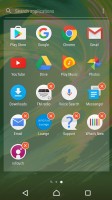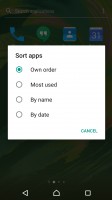 App drawer • Suggestions • App management • Sorting options
Sony's take on the subject allows for some more functionality, though, all of it familiar from the Marshmallow builds. A whole tab of suggestions, both local and from the Play Store, multiple sorting options, and mass removal mode (sort of) add a fair bit extra functionality compared to Google's barebones app drawer. None of it is new, though - it's all been part of Sony's customizations for a while now.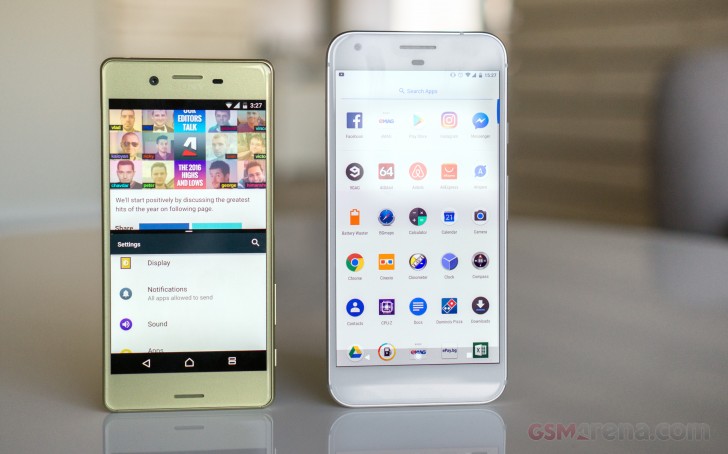 Xperia Nougat and um.. vanilla Nougat
Sony's Camera, for one, is here to stay. The custom app was thoroughly reworked for the Xperia X launch and it only makes sense for Sony to stick with it.
What's gone missing are the multimedia apps. Instead, it's the Google suite all the way - Photos for gallery, Play Music for music play, and for video - well, nothing. There are a couple of email apps, but the generic Email can be removed (proper removed, not just disabled) so you can go with Gmail. Whatever is left of Sony's home-brewed apps - What's New, Xperia Lounge, and InTouch can be deleted too.
Speaking of InTouch, it's part of the essence of the whole Concept for Android project. It gives you a direct line of communication with Sony engineers, it lets you report issues, and share experiences with other participants.
So as you can see, not much has changed with the Concept for Android Nougat release for the Sony Xperia X. To be honest, we like that Sony hasn't abandoned the customizations it's offered on recent Android builds, and we appreciate being able to remove what's not to our taste.
We're sure Sony fans will like to see the program available to the other current models in the company's portfolio. So far, we have no information when that may happen.
Related
Make it available for Z5 Compact also
Anonymous
23 Dec 2016
9xx
blame qualcomm
Anonymous
22 Dec 2016
P%u
When Nexus 5 gonna get nougat?
Popular articles
Popular devices
Electric Vehicles