The 5G Moto Mod stops by the FCC - US release imminent
Victor, 16 February 2019
Back in August last year Motorola, or Lenovo, depending on you preference, unveiled the Moto Z3 - still its current flagship offer. Along with it at the special Chicago event came the 4G Moto Mod - a somewhat odd result of a new-found 5G hype, combined with an ongoing promise of Modo Mod compatibility and investment in the ecosystem.
After that initial wave of viral media coverage for what was essentially, at the time, a shell, with a 2,000 mAh battery pack and space to eventually fit in one of Qualcomm's X50 5G modems, the 5G Moto Mod slipped into obscurity. Until late last month, when Motorola released a software update for the Moto Z3 adding in support for said snap-on accessory.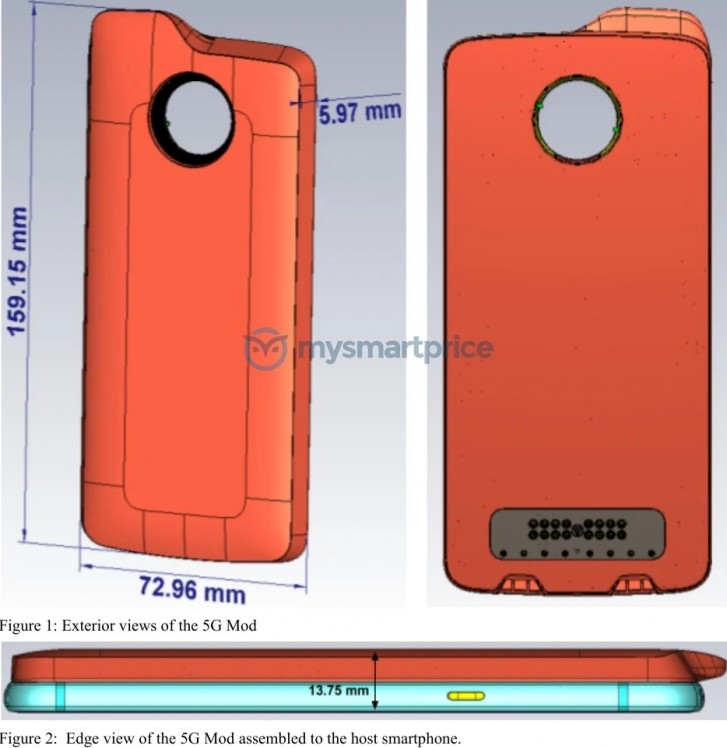 Now an FCC certification for the 5G Moto Mod has surface as well, proving that the company does, indeed intend to follow-through with the product and prove that it wasn't just a PR stunt. There is still no word on actual pricing or availability for the 5G mod, but spending the extra money and extending the effort to get FCC approval does mean that a release is imminent.
The enclosed sketches also show that the design and dimensions of the module haven't really been changed after its announcement. Meaning that it is still just as big and cumbersome as we remember from our hands-on experience with a hardware mockup a while back. The 5G Moto Mod measures 59.15 x 72.96 x 5.97mm, standing even taller than the Moto Z3 itself due to the inclusion of a protruding antenna. When snapped to the back of the phone, it makes the entire package 13.75mm thick and with a combined weight of a hefty 281 grams. Other, less than ideal aspects of the product include the fact that it is designed to only work on the Verizon network and has a separate non-removable SIM or eSIM module, vastly limiting its versatility. Or at least that was the case when it was announced.
Also, at least from what we've seen so far, it seems that no other Moto Mod compatible devices, besides the Moto Z3 will be able to use the 5G mod. There have been rumors for planned Moto Z2 compatibility, but that doesn't really seem too likely.
All this being said, there are still certain positive aspects to the 5G Moto Mod. For one, our original estimates on the 5G adoption rates were a bit too optimistic, it seems, since 5G handsets are only now starting to emerge. This could make the 5G Moto Mod at least a bit more relevant from a timing perspective during this initial early-adopter 5G stage. Also, we do appreciate the fact the accessory has a separate USB Type-C interface of its own, which could allow it to plug into a PC and connect it to a fast 5G network. Here's hoping Verizon doesn't make the device and data plan pricing too prohibitive.
Related
Seriously guys? According to rumours you will need that 5g for 60 seconds at max. After that you can simply take mod off .. it's surly better than not having an option on your note 9 beast. Fun fact.
So awkward it's an instant classic
Popular articles
Popular devices
Electric Vehicles